Army veteran Maddison Van Der Mark is honored for her work in public service
Rutgers–New Brunswick junior Maddison Van Der Mark didn't realize the public service work she had been doing most of her life – namely serving her country in active duty as a sergeant in the army, volunteering to teach boxing to at-risk youth and tutoring veterans in writing – weren't just hobbies until she came to campus.
"Growing up, there were many people who helped me out, even though they didn't have to," the 24-year-old veteran said. "The act of giving back comes naturally to me. I have structured my entire schedule around finding that sense of fulfillment, which has always somehow led to helping others."
As a result of this lifelong passion, Van Der Mark was named a Harry S. Truman Scholarship Foundation winner.
Van der Mark, who studies history and military science at the School of Arts and Sciences, is among the 62 outstanding college students chosen nationwide for the scholarship. The Truman Scholarship is a national award given to the nation's top students pursuing government or public service careers. Recipients receive a $30,000 scholarship that provides for two or three years of graduate study, along with leadership training, career counseling, and special internship and fellowship opportunities within the federal government.
President Jonathan Holloway and Rutgers-New Brunswick Chancellor-Provost Francine Conway surprised Van Der Mark with the news that she was selected under the guise of summoning her to the office to sign paperwork.
"I was so happy to have the honor of breaking the news to Maddison. In all she has done as a sergeant in the U.S. Army, as a Rutgers student, and as one of the first Rutgers Summer Service interns, Maddison illuminates what it means to put people and public service foremost in life," President Jonathan Holloway said. "As an outstanding Truman scholar, she truly represents the future of public service." 
"Maddison is an outstanding Scarlet Knight whose compassionate heart, can-do attitude, and experience as a veteran have empowered her to help so many people in such impressive ways," Rutgers–New Brunswick Chancellor-Provost Francine Conway said. "She truly embodies the Rutgers values of establishing a beloved community and serving the common good. Her Truman Scholarship is a well-deserved recognition."
The newly named scholars were selected from 705 candidates nominated by 275 colleges and universities. This year's awardees join a community of 3,504 Truman Scholars named since the first awards in 1977.
"It was a dream moment to hear the words, 'Maddison, you are a Truman scholar,'" the Wall, N.J., native said. "The whole process made me feel a bit like an imposter, and I didn't want to think about winning. But everything I've done has led me to this moment. To have Provost Conway and President Holloway standing before me sharing the news … the feeling is surreal."
Before attending Rutgers, Van Der Mark served four years on active duty as a sergeant in the Army, including a year in Germany. Van Der Mark, an Army Reserve Officers Training Corps member, enlisted at 18 years old, looking for stability and a full-time career after moving around a lot as a child.
The veteran hopes that her success will serve as an inspiration to others who follow a similar path.
"It's important for veterans to know that we can keep up with traditional students in academic settings, and it's not scary," she said. "One of the one of the main reasons I chose Rutgers was because of the ROTC program and the work the university does with veterans. But the overall academic system nationwide is just not set up to help us."
To help bridge this gap, Van Der Mark created Rutgers' Veterans Tutoring Veterans writing program, which provides writing assistance to military-affiliated students.
A four-year full tuition scholarship, called the Army ROTC Green to Gold Division Commander's Hip Pocket Scholarship Program, enabled Van Der Mark to leave active duty and attend school, which she thought "would be a way to get my degree and further my career in the Army."
Throughout her career as a sergeant, she developed a strong sense of pride in serving her community and country domestically and abroad. However, she first had to address the challenges of adapting to civilian life, which was resulting in frustration and anger. Van Der Mark picked up amateur boxing to help reconcile those feelings.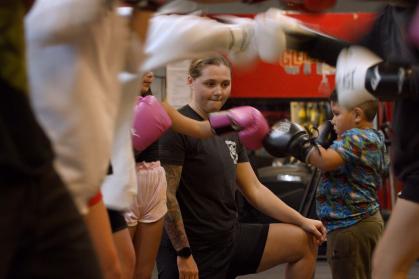 To also help with the transition, she applied for the Rutgers Summer Service Internship Initiative, which provides summer internship experiences to undergraduate students at public service-oriented nonprofit organizations. During the summer, she taught boxing and mentored at-risk youth at the nonprofit New Jersey Give a Kid a Dream in Long Branch.
She still volunteers three days a week at the Long Branch gym as a program director. Roughly 700 hours have been logged since August. Jackie Atkins, who founded the nonprofit for at-risk youth, was Van Der Mark's first call when she found out the Truman news.
Anne Wallen, director of the Office of Distinguished Fellowships at Rutgers-New Brunswick, also helped Van Der Mark realize her interests in serving others was more than just a passing fad.
"As I watched Maddison speak of her experience working with these children, and hear about what it meant to her, I knew that this was not just a hobby," said Wallen, who encouraged Van Der Mark to apply upon listening to her discuss the internship, and assisted during the competitive application process. "It was lifestyle."
Following graduation and her military service, where she hopes to commission as an Adjutant General Officer, Van Der Mark plans to pursue a master of arts in teaching in middle and high school with a specialization in social studies.
One of her goals is to influence discipline reform by eliminating out-of-school suspensions for nonviolent offenses and replacing them with restorative justice.
She believes in a teaching style that aims to increase students' abilities to think critically, reflect and set goals both in and out of the classroom. She also currently interns at the Sanar Institute as part of the Institute for Women's Leadership (IWL) Leadership Scholars Certificate Program, assisting in grant writing for the nonprofit that helps those affected by labor and sex trafficking.
"As a coach and mentor, I have seen the education system's challenges facing at-risk youth," Van Der Mark said. "I realize now that a great way to bridge gaps between communities is through education. My goal is to ultimately teach students that what they experienced as a child does not define who they are today."
Those interested in the Truman Scholarship program or other competitive fellowships should contact Wallen at the Office of Distinguished Fellowships at Rutgers–New Brunswick.