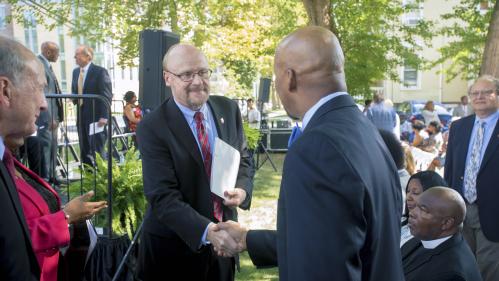 Advancing Our Higher Purpose
The Office of the Chancellor is committed to furthering the university's mission of excellence in teaching, research, and service that benefits the public good in New Jersey, the nation, and the world.
Chancellor Christopher Molloy leads the Rutgers University flagship, a national research powerhouse that is steeped in history, innovation, and diversity. Rutgers University–New Brunswick generates new knowledge and new scholars, and is an institution whose faculty, students, staff, and alumni tackle issues ranging from health care to climate change, from technology to nutrition, from the arts to engineering.
Rutgers is strengthening its reputation as a leading national research university and New Jersey's preeminent, comprehensive public institution of higher education.
In clinics and centers, in labs and libraries, in the field and across the globe, Rutgers faculty and students create knowledge, advance economic progress, improve lives, and enrich humanity.
Recent Communications
Provost Leadership Transition
October 22, 2020
Chancellor Molloy appoints Dr. Francine Conway as Provost and Executive Vice Chancellor of Academic Affairs.
Rutgers–New Brunswick Plans for Spring 2021
October 8, 2020
Chancellor Molloy offers some insight into the planning underway for the spring semester.
Mourning the Loss of Justice Ruth Bader Ginsburg
September 19, 2020
Chancellor Molloy remarks on the legacy of the pioneering Supreme Court justice.
Community Safety Following Sunday's New Brunswick Shooting
September 14, 2020
Students are urged to remain aware of their surroundings, refrain from large gatherings, and report suspicious activity or persons to the police immediately.
The Start of a New Academic Year
September 1, 2020
Chancellor Molloy welcomes faculty and staff back for the fall semester and announces some administrative changes.
The Start of a New Semester
September 1, 2020
On the first day of classes, Chancellor Molloy welcomes students back for the fall semester.
View archived news and communication messages from Chancellor Molloy.
Speech Request
To request that Chancellor Molloy speak at an upcoming event, please send us information about your event by completing our online request form.