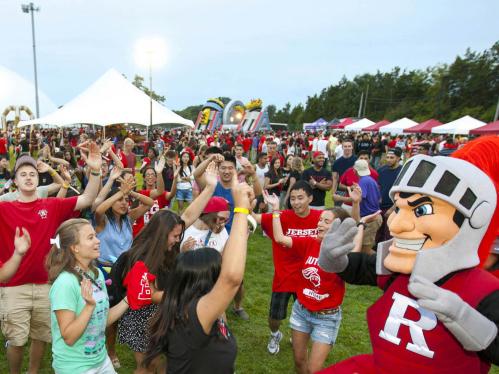 Student Experience
Rutgers University–New Brunswick is a bustling and vibrant community of diverse individuals. The opportunities for both academic and personal growth are yours for the taking.
It All Happens Here
With 2,685 sprawling acres, you have room to explore a diverse environment where you can discover new ideas. A robust range of extracurricular activities supports all manner of community service, including New Jersey's largest student-run philanthropic event. A member of the Big Ten Athletic Conference, the university also has a thriving squad of sports fans cheering on our Scarlet Knights.
Rutgers students from all 50 states and over 100 countries
Student organizations plus more than 80 fraternities and sororities
Students working out in our fitness centers each day
Raised since 1999 by the Rutgers University Dance Marathon, benefitting the Embrace Kids Foundation
Where Bigger is Better
Rutgers sits on the shores of the Raritan River, its five campuses—Busch, College Avenue, Cook, Douglass, and Livingston—each pulsing with a distinct vibe. At a total "population" of some 50,000 students, Rutgers University–New Brunswick holds the diversity, the charm, and the surprise of a small city, just waiting to be explored. With its proximity to New York and Philadelphia, the opportunities to explore the world of work and gain experience are endless.
Never a Dull Moment
What happens outside the classroom is an essential part of the college experience. Rutgers has more than 750 student organizations plus more than 80 fraternities and sororities, offering endless opportunities to connect with like-minded new friends, or try something completely different, and even give back.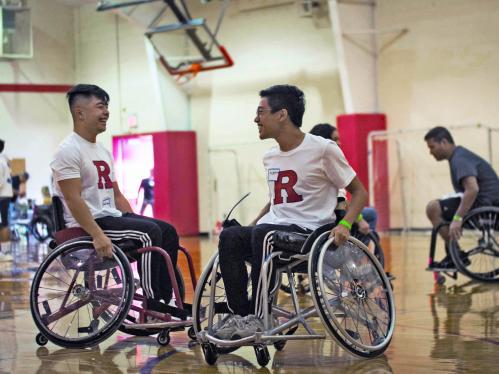 The Big Ten Experience
You're on your feet cheering with your fellow students, alongside faculty, alumni, and devoted locals. It's school spirit you can really feel, and something you'll take with you long after graduation. That's one more perk of being a Big Ten university.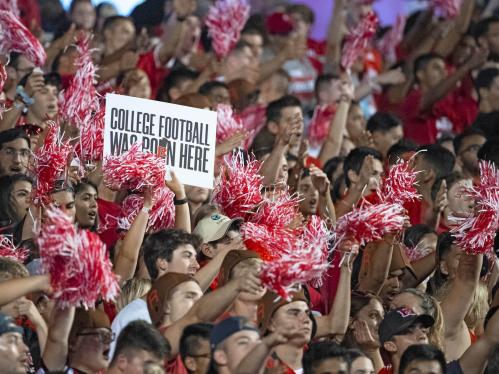 America Converges Here
As one of the nation's most diverse universities, Rutgers–New Brunswick draws strength from the rich variety of perspectives and life experiences represented in our community. Our core values illustrate how we advance, promote, and nurture an inclusive environment.