Campus Safety
Creating a safe environment at Rutgers–New Brunswick is our top priority.
Emergency Info
The Rutgers University Police Department (RUPD) helps creates a safe and secure environment and operates a fully staffed police headquarters—24 hours a day, 365 days a year.
For an Emergency (Police, Fire, Medical):
Dial 9-1-1 or "Call when you can...Text when you can't."
Emergency Numbers from a University Phone:
Obtain an outside line, then dial 9-1-1
For a Non-Emergency on Any Campus:
Call 732-932-7211, or press 2-7211 on any campus phone.
Alternatively, text RUNB to 69050 to reach RUPD for non-emergency concerns or to send requests for help.
Non-Emergency Phone Numbers
Designated police officers on each campus provide students with a familiar and reliable point of contact.
Busch Campus: 732-445-6281
College Avenue Campus: 732-932-1032
Douglass Campus: 732-932-6789
G. H. Cook Campus: 732-932-6789
Livingston Campus: 732-932-1368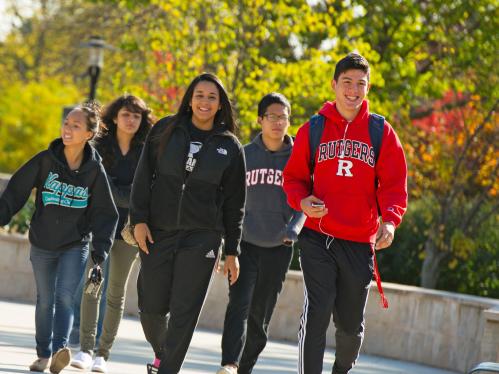 Late-Night Safety
Always reach your destination safely: The Knight Mover Shuttle service and on-campus walking escorts provide extra security getting around campus after-hours.
Shuttle: 732-932-RIDE (7433) runs 3–6 a.m. Monday to Thursday during fall and spring semesters
Walking Buddy: 732-932-7211 or use a campus emergency phone, available 24/7
More Resources
Find help for difficult situations, important contacts, and answers to safety-related questions.
Safety Tips
There are many easy ways for you to help keep our campus safe.
Sign up for text alerts to receive emergency updates (NetID required).
Stay alert and aware of people and your surroundings.
Avoid alcohol/drugs: Persons under the influence are much more likely to become victims.
Immediately notify Rutgers University Police of any suspicious person or activity.
Know your route before you go, checking the online campus map.
After dark, walk with others. Use well-lighted paths. Study with friends.
Use university transportation and walking chaperone services. Never hitchhike or pick up hitchhikers.
Do not prop open any building doors.
Keep your dorm door locked. Make sure first-floor windows, fire escape windows, and security screens are locked.
Do not allow strangers into residence buildings.
Do not leave property unattended.