Crowds visited Rutgers–New Brunswick campuses for hundreds of events and activities, including a football scrimmage 
The rain showed up strong, but the spirit of the community showed up stronger for the 14th annual Rutgers Day on Saturday, which drew a crowd despite the soggy conditions.
The popular rain-or-shine event, which began at Rutgers University–New Brunswick in 2009, took place on Busch campus in Piscataway and the College Avenue and Cook/Douglass campuses in New Brunswick. Many activities were moved indoors.
"We're thrilled that despite the challenging elements, so many of our alumni, faculty, staff, students, community members and visitors from across New Jersey came out to enjoy this much beloved Rutgers tradition," said Melissa Selesky, a senior director of Rutgers Communications and Marketing.
"Rutgers Day is a wonderful opportunity for sharing and connecting, as community members discover some of our most colorful innovations, and our campus shows off the ways we elevate the public good through excellence in education, research and service," said Rutgers–New Brunswick Chancellor-Provost Francine Conway.
Hundreds of events, demonstrations and activities included games, trivia and music performances on the College Avenue campus, children-friendly science experiments on Busch campus, and farm and agricultural activities at the Cook/Douglass location.
 
At the College Avenue Student Center, visitors celebrated the 125th birthday of Paul Robeson, one of Rutgers' most distinguished alumni. The party, sponsored by the Rutgers African-American Alumni Alliance Inc., featured music and dance performances, poetry and Robeson-themed quizzes.
Hundreds of cupcakes were distributed in the center's atrium, where visitors could tour the "R" Garden.
Kelsey Luckenbaugh, 17, an admitted student at the School of Arts and Sciences, was with her parents Pam and Scott at the College Avenue Gymnasium to learn more about potential activities. The rain didn't faze her.
The Hillsborough High School senior plans to study physics and participate in theater when she starts at Rutgers in the fall. She's excited about starting.
"I like the idea that it's a big school because it means there are people for everybody,'' she said. "So, usually, if you have something you like doing, you're going to find someone who does the same thing as you, right?"
 
At the nearby Zimmerli Art Museum, student interns provided tours of art collections and exhibitions.
Returning after its 2022 debut was the Health Village – a space focused on Rutgers Biomedical and Health Sciences (RBHS) programs and other health-related initiatives – at Busch campus.  
 
"I was delighted to see our faculty, staff and students showcasing the many different ways Rutgers keeps the New Jersey community healthy," said RBHS Chancellor Brian Strom. "I think people also had fun engaging with biomedical science in an interactive way."
 
Rutgers Day 2023 also featured the annual Scarlet-White Game, a preseason scrimmage between members of the Rutgers football team, at SHI Stadium in Piscataway.
 
Meanwhile at the Cook/Douglass location, music artists took the stage at the New Jersey Folk Festival. This Rutgers Day staple is presented by the Department of American Studies at the Rutgers School of Arts and Sciences.  
 
This year's theme was "New Directions in Folk" to highlight musicians "who are bringing tradition and social justice into the conversation with the present, the future and the avant-garde," organizers noted.
 
The Cook/Douglass location also was home to Ag Field Day. Presented by the Rutgers School of Environmental and Biological Sciences, Ag Field Day was an opportunity for members of the Rutgers community to learn more about and participate in the university's environmental and agriculture-related programs. The celebration featured student exhibitions of dairy cattle and other farm animals, arts and crafts, plant and flower sales, and student club activities.
 
Rutgers Day also boasted another child-friendly popular attraction: the petting zoo, presented by the Veterinary Science Club.
Crowds Flock to a Rainy Rutgers Day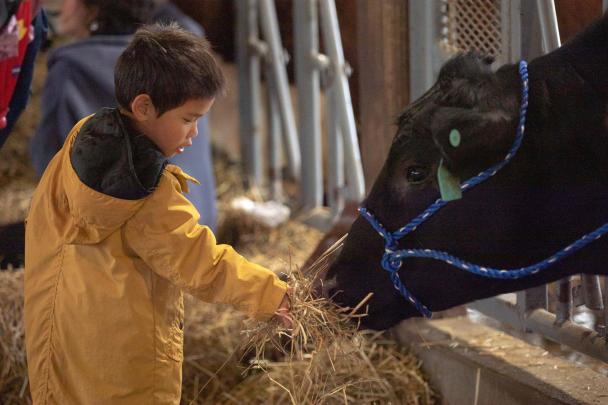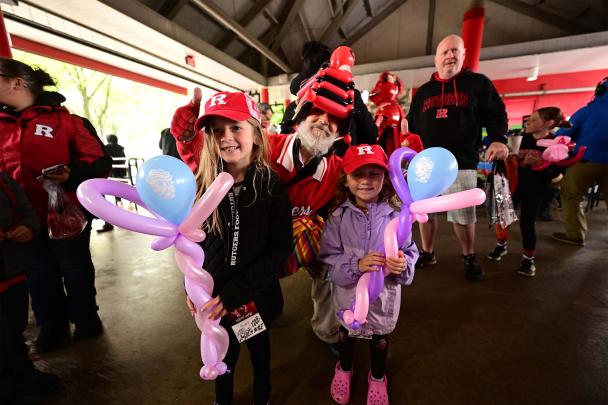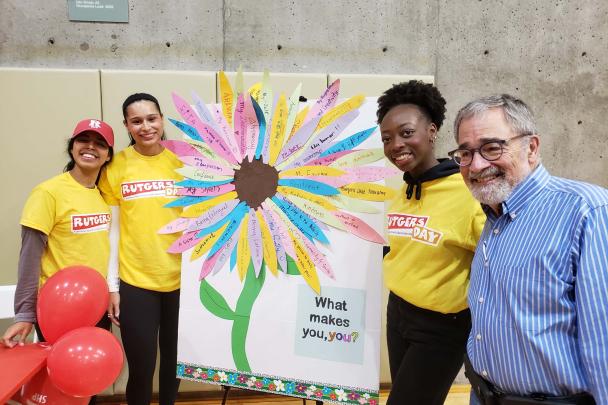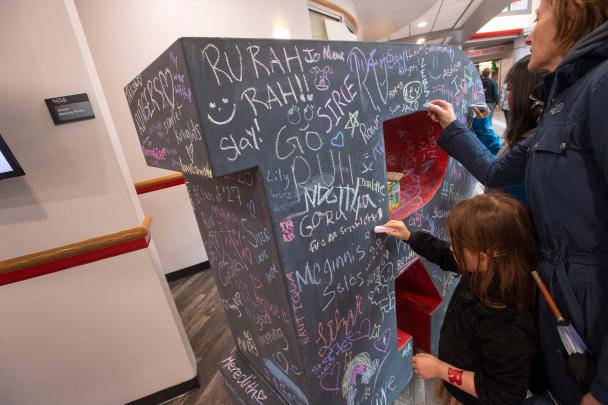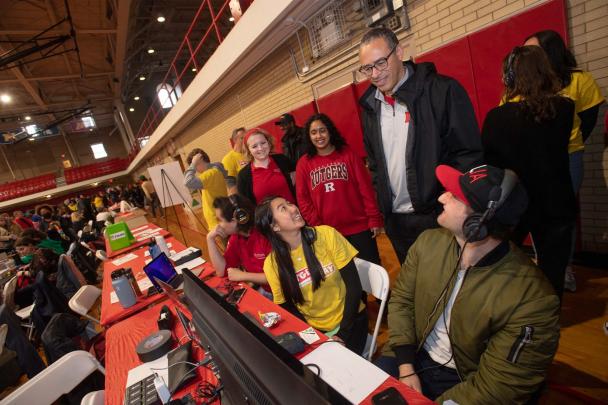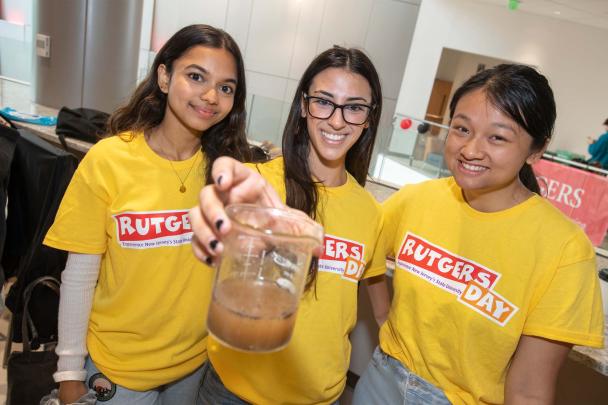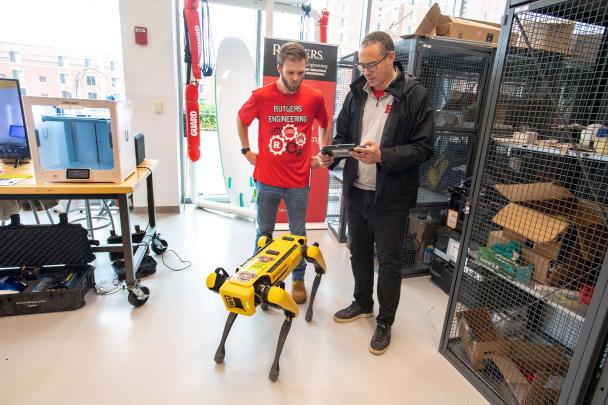 Rutgers farm is always a popular destination on Rutgers Day.
John Munson/Rutgers University
Families braved the rain for the Scarlet-White preseason scrimmage.
Rutgers University Athletics
The Health Village – a space focused on Rutgers Biomedical and Health Sciences programs and other health-related initiatives – returned to Busch campus.
Luca Mostello/Rutgers University
The "R" Garden drew visitors to the College Avenue Student Center.
Nick Romanenko/Rutgers University
President Jonathan Holloway had a behind-the-scenes look at the live Rutgers Day broadcast with students from Scarlet Media and the Department of Journalism and Media Studies.
Nick Romanenko/Rutgers University
Students demonstrate drinking water treatment at the Environmental Engineering program table in Richard L. Weeks Hall.
Nick Romanenko/Rutgers University
President Holloway also received a lesson in how to operate Boston Dynamics Spot Robot at Rutgers Day during a demonstration in Richard L. Weeks Hall.
Nick Romanenko/Rutgers University