Mark Your Calendar
Rutgers Day is set for Saturday, April 29, 10:00 a.m. - 4:00 p.m. on the Busch Campus in Piscataway and the College Avenue and Cook/Douglass campuses in New Brunswick. Get ready for the ultimate celebration of everything Rutgers!
A Day for Everyone
Rutgers Day offers something for everyone, with live performances, exhibits, plenty of kids' activities, demonstrations, and so much more to see and do... and it's all free. Check out what this annual event is all about.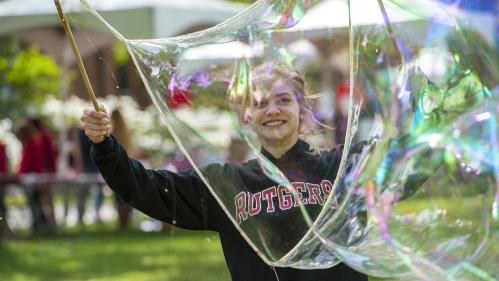 Sponsorship Information
Help make Rutgers Day a success and be part of all the exciting things happening at The State University of New Jersey. Learn about sponsorship opportunities and benefits.
Program Provider Information
Whether you're planning a science experiment, hands-on demonstration, performance, art exhibit, or other fun and rewarding activity, review policies and guidelines and find resources to help make your Rutgers Day program a success.
A NetID and Rutgers Box account is required to access program provider resources.