Diana Vitkovska's eight-year journey to begin her training in medicine was driven by a desire to extend her family's legacy and turn their support – and sacrifice – into an impactful career of service to others. 
Vitkovska began the study of medicine at age 17 while at a university in her home country of Ukraine. For the daughter of a surgeon who still practices in the war-torn nation, it was a path that was obvious, if not expected.
But Vitkovska left during her first year, along with her older sister who also was studying medicine, to join their mother and grandmother in the United States. Settling in Long Island, she spent the last eight years putting herself through college and then earning a master's in biochemistry.
A leadership position organizing a mission to Tanzania, where she learned to build collaboration and consensus in order to optimize positive outcomes, influenced Vitkovska's decision to pursue medicine in the United States. Serving as a medical assistant in an orthopedic practice piqued her interest in the specialty and solidified her desire for a career where she could connect with patients and find gratification in an expedient solution to a patient's physical ailment. But witnessing the hour-long journey her grandmother took from Long Island to Brooklyn, NY, to visit a physician who spoke her native language was the tipping point.
"I was raised with the values of physicianship, a focus on integrity and doing the right thing," Vitkovska says. "While my pursuit of a career in medicine appeared a set path for me, it was my experiences in the last eight years that allowed me to learn so much more about myself and know that this is truly what I want to do."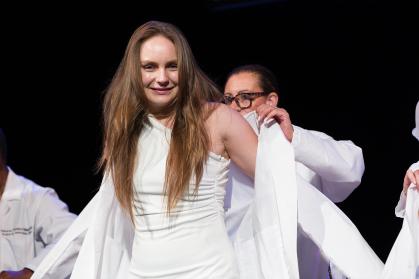 Vitkovska's mission to sustain her father's legacy officially began when she joined 164 peers at the Rutgers Robert Wood Johnson Medical School White Coat Ceremony on Friday at the State Theatre New Jersey in New Brunswick, where they were coated by medical school faculty and recited the Oath of Hippocrates, swearing to uphold the ethical standards of medicine.
The White Coat Ceremony, held annually to welcome incoming medical students and emphasize the importance of practicing humanism in medicine, culminates a week-long orientation and signifies the students' entrance into the medical profession. Rutgers New Jersey Medical School will hold its ceremony on August 10 welcoming 174 incoming students.
During the ceremony, Amy P. Murtha, dean of Robert Wood Johnson Medical School, reflected on the meaning of the white coat as a symbol of hope to patients and their families.
"We are not superheroes in our white coats, but we do make a heroic promise to ease suffering, and to heal with compassion," said Murtha. "Learning the power to heal cannot be entered into lightly or without a full understanding of the gravitas and dignity of the practice of medicine. Today, you commit to the same duties as all physicians, to treat each and every individual with dignity and respect that honors and embraces their lived experiences."
Dean Murtha's message resonated with another incoming student, David Eniola, who will pursue a career in family medicine, hoping to ensure access for affordable, quality care to individuals of all ages.
"I anticipate the chance to care for a person from each life stage," Eniola said. "I would like to experience how a doctor's style of providing care changes depending on the age and development of their patient."
Alan Lee, president of Robert Wood Johnson University Hospital, was the keynote speaker at the ceremony.
"Self-awareness and reflection both ground us and advance us," Lee told the incoming class. "It is our belief that our students have answered a calling: to respond to an innate desire to preserve life and to optimize the experience of life. Your work will aid in saving lives as well as aid in improving lives for our global communities. Allow yourselves time, frequently, to reflect on your why – your reason for being."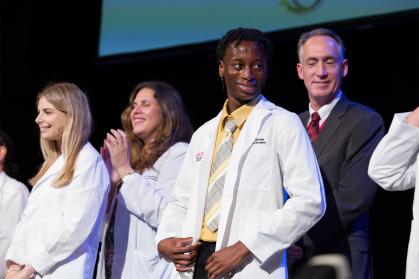 For Eniola, his "why" is intrinsically a part of the specialty he hopes to pursue, as primary and preventive care in family medicine provide an opportunity for addressing bias in health care and diminishing systemic barriers to achieving health and well-being. 
"As a result of systemic barriers to care, I watched my uninsured family members struggle to access affordable care for their health conditions," explains Eniola, a graduate of Princeton University, who is from Philadelphia. "I want to become a physician for whom people from communities that have historically been mistreated by doctors and researchers can trust. I believe that training as a physician will give me the knowledge and skills I need to serve the historically marginalized communities that are so close to my heart."
Vitkovska's reasoning for becoming a physician, while rooted in family legacy, has become a personal pursuit drawn from tenacity, resiliency and a self-reliance few experience as a young adult.
Models of excellence with distinct journeys to becoming physicians, Vitkovska and Eniola, collectively with their classmates, will move forward as students at Robert Wood Johnson Medical School with purpose to provide healing and create lasting change through medicine.