The Rutgers art museum provides children ages 7 to 14 a unique setting to get creative under the guidance of professional teaching artists 
Summer Art Camp, where children can channel and explore their creativity under the guidance of professional artists, is back at the Zimmerli Art Museum at Rutgers University–New Brunswick. 
This year's camp features five weeks of classes for ages 7-10 and 11-14. Morning and afternoon sessions for both age groups begin on Monday, June 27, and continue through July. 
Campers may register for full-day sessions or morning or afternoon classes. New this summer: Camp organizers are offering aftercare until 5 p.m. 
The art camp returns to the Zimmerli as an in-person event after being disrupted by the COVID-19 pandemic for the past two years. After the camp was canceled in 2020, organizers held a scaled-back, half-day virtual version in 2021. 
"We're very excited to be able to have everyone back in person this summer," said Claire D'Amato, Assistant Curator of Education and Outreach at the Zimmerli.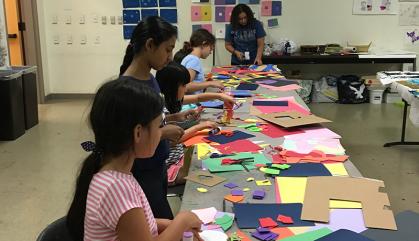 D'Amato added that not only are campers taught by professional teaching artists, they are taught in a unique setting: an art museum. 
"You can teach art anywhere, but to be able to teach within a museum setting and have the campers have immediate access to art collections on the wall, that's something really special," she said. 
In addition to a few new instructors joining the program, the camp features a new class for the younger age group, "Over the Rainbow," in which campers use different mediums to explore color. 
D'Amato said other favorite classes returning include:  
"Art Meets Science," in which students will learn how art and science go hand-in-hand, "from the physics of light and color to the chemistry of art materials," according to the course description.  

"The Artist in Nature," in which young artists will get creative "en plein air," a French expression referring to the act of painting outdoors. Campers will venture outside to the shaded, grassy Vorehees Mall next to the museum to sketch landscapes and explore various artistic mediums. 
One class, "Say it With Art: Making Art With a Message," is for the older campers and "is all about teaching kids how to use their voice and support causes that are important to them" through art," D'Amato said.  
The clock is ticking on class availability. Organizers said a number of classes are filling up, but still have some spots remaining. A few classes are full but have a wait list 
To register, visit this course webpage and select "Zimmerli Art Museum" under the "Rutgers Department" field to pull up the list of classes. Weekly pricing covers one class (half-day) or two classes (full day) and includes supplies. Aftercare is an additional fee for each week. Discounts are available for Zimmerli members. For full classes, email education@zimmerli.rutgers.edu to be added to the wait list.