Whether crafting cartoons or recreating animals from the Chinese zodiac, the Rutgers art museum offers a variety of classes for children ages 7 to 14
Summer Art Camp, where children can channel their inner Frida Kahlo or Jack Kirby under the guidance of professional artists, returns to the Zimmerli Art Museum at Rutgers University–New Brunswick.  
This year's camp features weekly classes for ages 7-10 and 11-14. Morning and afternoon sessions begin Monday, June 26, and continue through late July at 71 Hamilton St., New Brunswick.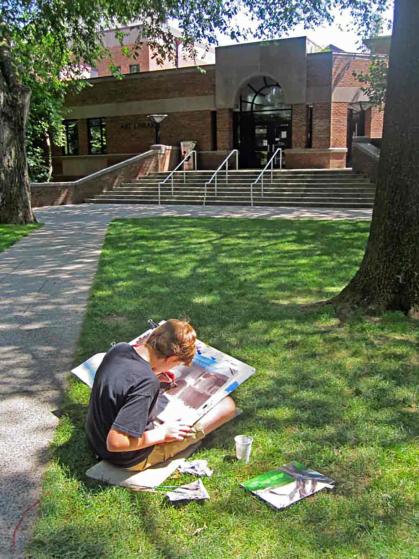 Parents and guardians may register campers for full-day sessions or morning or afternoon classes. In addition, camp organizers are offering aftercare until 5 p.m.  
Brandon Truett, head of learning and community engagement at the Zimmerli, said the art camp "offers the unique experience for children to create art in the context of a museum where physical works of art can spark powerful moments of creativity and wonder." 
"Our teaching artists take advantage of this vivid environment by bringing campers into the galleries to observe and learn from the museum's collection," Truett said. "This is a powerful and enriching experience for our campers, especially for those who do not routinely visit museums." 
This year's camp features a new class, "Creating STEAM," which introduces campers to the relationship between science, technology, engineering, art and math.  
Other classes include:   
"En Plein Air" – Young artists will get creative "en plein air," a French expression referring to the act of painting outdoors. Campers will venture outside to the shaded, grassy Voorhees Mall next to the museum to sketch and paint landscapes and explore various artistic mediums.  
"Crazy About Cartoons" – Children will learn essential cartooning techniques such as creating characters, laying out stories, inking, and using word balloons to help develop their own comic books, cartoons or graphic novels. 

"Leap Into Chinese Culture" – Learn about the art of China and learn about the country's varied traditions. Projects include practicing calligraphy, paper folding and recreating the animals from the Chinese zodiac.   
Time is running out on class availability. A number of classes are filling up, but still have some spots remaining, organizers said. Several classes are full but have a wait list. 
To register, visit the Division of Continuing Studies course webpage and select "Zimmerli Art Museum" under the "Rutgers Department" field to pull up the list of classes.  
Weekly pricing covers one class (half-day) or two classes (full day) and includes supplies. Aftercare is an additional fee for each week. Discounts are available for Zimmerli members. For classes that are full, email education@zimmerli.rutgers.edu to be added to the wait list.