Leaders outline efforts to transform the student experience, focus on health and well-being and address society's grand challenges 
Rutgers University-New Brunswick is embarking on a comprehensive mission to reimagine the student experience and community well-being as well as drive the university's research and community involvement to benefit society throughout the state of New Jersey and beyond.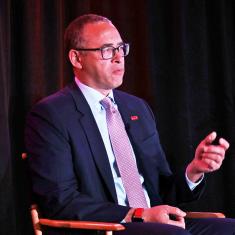 These changes begin with the implementation of Rutgers-New Brunswick's Academic Master Plan (AMP), a road map to excellence that embodies values expressed by the campus community through multiple town halls, surveys that yielded more than 4,000 responses and stakeholder meetings that included undergraduate and graduate students, faculty, staff and administrators. 
Rutgers President Jonathan Holloway and Rutgers-New Brunswick Chancellor-Provost Francine Conway presented an ambitious suite of Academic Master Plan initiatives during a forum on Wednesday evening at the College Avenue campus.  
The AMP implementation programs, which can be found on the Chancellor-Provost Strategic Priorities and Initiatives site, will drive equitable student success through Access to Academic Excellence; attend to the well-being of the Beloved Community; and deepen research, community and economic engagement to benefit the Common Good. 
This will be done through initiatives such as:  
Discovery Advantage, which will reimagine the student experience from enrollment to retention and ultimately graduation 
ScarletWell, which will create a public health approach to mental and physical well-being for students, faculty and staff 

The Excellence Scholar Collaborative, which will invest $15 million over the next five years for interdisciplinary scholarly communities focused on climate and sustainability, data science, artificial intelligence and other pressing global issues 
The Academic Master Plan is our blueprint for a stronghold of excellence that our faculty, staff, students and administration will shape together.

Francine Conway

Chancellor-provost of Rutgers–New Brunswick
"The Academic Master Plan is our blueprint for a stronghold of excellence that our faculty, staff, students and administration will shape together," Conway said. "It reflects the priorities shared by our campus community, which happen to align directly with President Holloway's vision. We are stronger together, and I am excited to embark on this journey with all of you."  
"Our commitment to serving the common good is embedded in Rutgers University's campus culture," Holloway said. "It drives our relentless pursuit of academic excellence and of opportunities to make a first-class education available to qualified students from all backgrounds and walks of life. It drives our aspiration to become a community of equity. And it is amplified in the Rutgers-New Brunswick Academic Master Plan." 
Conway said the campus community helped develop the Academic Master Plan during the 2021-2022 academic year and that members of the community are invited to take an active role in its implementation this year and beyond.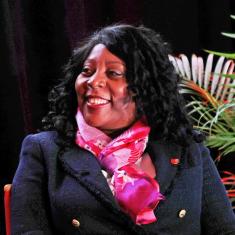 Community members are invited to visit the Chancellor-Provost Strategic Priorities and Initiatives website to learn more about AMP projects and to contact the Chancellor-Provost Office to express interest in joining the implementation teams. The office will work with deans and divisional leaders on nominations to the teams. 
During the coming weeks, Conway's office will announce the Chancellor-Provost Challenge, a call for new campus-wide initiatives to fulfill the goals of the AMP.  
"Great ideas can come from any member of our campus community, and we look forward to your proposals," Conway said. 
The Chancellor-Provost Office also will issue a call for the campus community to support the development of strategic initiatives within the school and divisional units. Such proposals will be reviewed and endorsed by divisional leadership prior to consideration by Conway's office. 
"As we have stated before, cultivating academic excellence is not something new at Rutgers, but is about building on what we already are and moving toward a vision of what can be," Holloway said. "Implementation of the Academic Master Plan is our first step toward reaching that vision together."