Anish Suresh – an Honors College student, double major and night owl – tinkered with the math behind a quantum gravity problem during the wee hours
For more than two months this summer down south, Anish Suresh, an Honors College student at Rutgers University–New Brunswick, derived an equation in quantum gravity "that encapsulates information about the expansion of the universe." 
A junior who is pursuing a double major in astrophysics and mathematics and a minor in computer science through the Rutgers School of Arts and Sciences, Suresh took part in the National Science Foundation-funded Research Experiences for Undergraduates program in physics and astronomy at Louisiana State University in Baton Rouge, La., where he worked with Professor Parampreet Singh on quantum gravity research in the theoretical general relativity group. 
"My understanding from his adviser there is that Anish solved an important problem in their field," said Tom Banks, a Distinguished Professor with the Department of Physics and Astronomy at Rutgers–New Brunswick and Suresh's adviser. "This attests to his mathematical skills."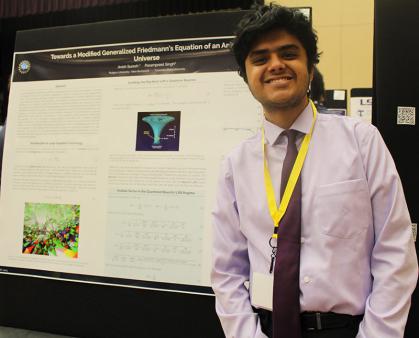 Suresh toiled over the equation not working side by side in a lab with his professor: Rather, he would stay up late at night alone in his room. 
"I'm a big room-working person," said Suresh. "My sleep schedule was pretty unique, too, because I'm very nocturnal. So, I'd go to sleep around like 7 a.m. and wake up like 2, 3 p.m." 
In an LSU interview, Suresh said one of Albert Einstein's "most impactful discoveries was general relativity, which redefined how gravity works overall. This explained things like light bending and the universe expanding. However, it also brought black holes and the Big Bang, which are examples of the incompleteness of the field, into the picture." 
The 20-year-old said in the past couple of decades, "scientists have been trying to combine quantum mechanics with general relativity to get rid of those issues." 
 
"When scientists made certain simplifications, they arrived at the modified Friedmann's equation in 2006, which got rid of the Big Bang," Suresh said in the LSU interview. "However, the Big Bang is not symmetrical by nature, so it is better to avoid making those simplifications."  
Suresh said his mission at LSU was to find a modified Friedmann's equation "without a specific simplification," adding that he was successful in finding a more general equation. 
Singh, Suresh's professor at LSU, said that "Anish has been working on a difficult problem of finding the modified generalized Friedmann equation in anisotropic cosmological models. This problem has remained unsolved for last 17 years." 
Singh added: "Our analysis provides a platform for solving the above problem and I would not hesitate to say that in the last 2 decades this has been the most significant progress on this complex problem." 
I'm a bit of a workaholic.

Anish Suresh

Honors College student at Rutgers–New Brunswick
Born in South India, Suresh moved to the United States as a young boy. Before attending Rutgers, he lived in Cherry Hill throughout his high school years. After coming to college, Suresh said he wanted to learn and research as much as possible.  
With his night-owl tendencies, working from his room in an apartment on the LSU campus made sense to Suresh. 
"For analytical stuff, the progress is a bit slow, so there's no need to meet with my professor every day or every other day," Suresh said. "I just, I don't know, wake up, start doodling potential next steps and if it doesn't work out, then I go to the next thing." 
 
He added if that next step doesn't work out, "I just keep doing that over and over again." 
"I'm a bit of a workaholic," said Suresh, adding that he took "like 20 and a half-credit semesters" last year. 
"Anish has worked with me on a research project unconnected to his LSU project," Banks said. "He's done a good job with that and we are continuing to work together."