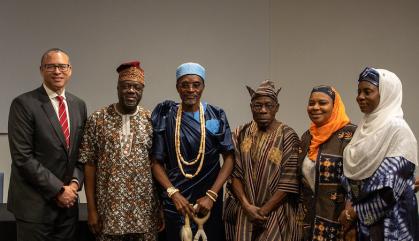 Rutgers Global and the Center for African Studies welcomed a delegation of Nigerian leaders to the Rutgers-New Brunswick campus this week to discuss areas of potential collaboration on topics including humanities, arts and culture, energy, climate change, agriculture and health and medicine.
The all-day meeting at the Alexander Library, which included Rutgers students, faculty, and staff including Rutgers-Camden Chancellor Antonio Tillis and Rutgers President Jonathan Holloway, sparked discussions into a range of possible joint projects and exchange programs between Rutgers students, faculty and staff and their Nigerian counterparts.
The delegation was headed by Chief Olusegun Obasanjo, the former president of Nigeria, and His Royal Majesty Saka Adelola Matemilola, king of the Owu Kingdom. Academic leaders in the delegation included the vice chancellor of the University of Ibadan, Kayode Adebowale, and professors from Olabisi Onabanjo University and Federal University of Agriculture, Abeoikuta.
"Rutgers has a deep interest in and history of engagement with Africa, and we were honored to welcome this distinguished delegation, learn more about higher education in Nigeria and share ideas for future collaboration," said Eric Garfunkel, vice president for Global Affairs at Rutgers.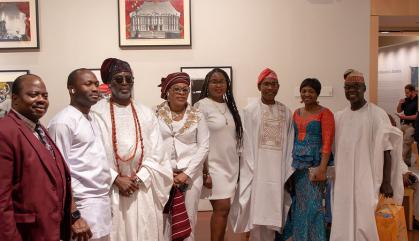 In addition to Rutgers' Center for African Studies, the university also hosts the headquarters of the African Studies Association (ASA), the U.S.-based association of scholars, students, practitioners, and institutions with an interest in the continent of Africa. The ASA was founded in 1957 and is the leading organization of African Studies in North America with a global membership of 2,000.
Another key Rutgers initiative is the Mandela Washington Fellowship, a flagship program of the Young African Leaders Initiative originally launched by President Obama. This fellowship empowers young African leaders through academic coursework, leadership training, mentoring, networking, professional opportunities, and local community engagement. Rutgers has hosted fellows since the 2014 inception of the program, which boasts 250 alumni, representing a significant number of fellows who are engaging in transformational work on the continent.
The university has agreements with institutions across the continent as well as a formal partnership with the country of Botswana. Rutgers currently hosts 38 Nigerian students at Rutgers, the most from any country in Africa, plus many more students from the Nigerian diaspora.