A social scientist and a graphic designer join forces with Hudson County Community College to create art, gather food stories and engage northeastern New Jerseyans
Two Rutgers faculty members – a health psychologist who studies food insecurity and a design professor whose work engages marginalized communities in self-advocacy – teamed up with staff and students from Hudson County Community College (HCCC) to promote New Jersey's Supplemental Nutrition Assistance Program (SNAP).
The ongoing project involved creating a print and digital publication featuring HCCC student art and anonymous testimonies and 15-foot decals displayed on the windows of the college's library in Jersey City, with the aim of decreasing the stigma and hesitancy around obtaining food benefits.
Graphic designer Jackie Thaw, an associate professor and the director of the Master of Fine Arts in Design program at the Mason Gross School of Arts at Rutgers University–New Brunswick, and Cara Cuite, a social scientist at the Rutgers School of Environmental and Biological Sciences (SEBS), initiated the collaboration with HCCC.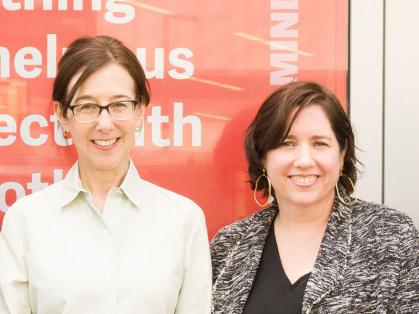 Thaw and Cuite, an associate extension specialist and associate professor in the Department of Human Ecology at SEBS, received a nearly $117,500 grant from the Robert Wood Johnson Foundation aimed at promoting SNAP, a federally funded program that provides food benefits to low-income families. 
"Our fundamental idea was to activate the entire campus in talking about personal stories of food and food insecurity, looking at it as something more than an economic problem, but a cultural problem, a social problem, a problem of family life and relationships, because food affects all these different things," said Thaw, adding she and Cuite wanted people "to think about their own food stories as something beyond have or have not, scarcity or plenty, but a more nuanced, human, complicated story." 
The foundation's grant helped the Rutgers Cooperative Extension, which provides science-based educational programs, to partner with the Mason Gross School of the Arts and HCCC to conduct a SNAP outreach campaign in Hudson County.
Cuite said based on surveys of students on campus, the project had engaged more than half of the students at HCCC, and that those students who engaged with the project were more likely to be aware of SNAP and to see it as a program that is intended for them.
Thaw and Cuite are creating a project toolkit to encourage other institutions of higher education, especially community colleges, to conduct similar art-based outreach projects.
My biggest takeaway from this experience is how common food insecurity is and how many forms there are of it.

Alexandra Toczynski

a Hudson County Community College student involved in the project
The foundation sought "innovative methods that really foregrounded the lived experience of people with food insecurity – and that led to thinking about an arts approach," said Thaw, who as a graphic designer, was "very interested in how image and text can work together to bring messages into the public sphere." 
 
Some 40 art students at HCCC participated in the "Food Fuels Minds" project, creating visual works in response to anonymous narratives from their peers about their experiences with food insecurity. Participants celebrated their efforts in May with art receptions – featuring foods from around the world – held at HCCC's main campus in Jersey City and its Union City location. 
Jeremiah Teipen, an HCCC professor and partner on the project, said the professional experience proved meaningful for the students, not to mention the exposure of their work. 
"And then of course there was the ability for them to see how their work can be powerful in affecting change in their community – how it can be used for advocating for themselves and others," said Teipen, an artist and coordinator of HCCC's computer arts program. 
Alexandra Toczynski, an HCCC student who was involved in the project, said she approached the issue of food insecurity by creating something relatable.  
"I read and heard the interviews from my classmates and peers of their food struggles and noticed a commonality between them: They often spoke of Hispanic meals as their comfort food," said Toczynski, a Bayonne resident who just earned her associate degree in studio arts. "So, I decided to create an art piece featuring the ingredients to make the meal I saw spoken of the most: rice and beans. My biggest takeaway from this experience is how common food insecurity is and how many forms there are of it."
"We asked these students to share their stories," said Cuite, who along with Thaw is a co-principal investigator on the project. "We didn't just ask about food insecurity: It was about food stories more generally. The thinking was that the art and stories would draw people in and get their attention, and then we could include information about SNAP into this bigger picture. This could break through the disinterest or stigma or whatever else might be stopping people from learning more about SNAP, and make people feel more like, 'Oh, SNAP is something that I should pursue for myself.'" 
Cuite said the "Food Fuels Minds" project demonstrates "how Rutgers can work closely" with community college administration, faculty and students.
"Really, the community college was the right place to do it because that's where students are struggling most in the state with food insecurity – and that's also who's most likely to be eligible for SNAP," Cuite said.
Other members of the project team include Stephanie Brescia of the Rutgers Graduate School of Education; Sara Elnakib and Delma Yorimoto of the Rutgers Department of Family and Consumer Health Sciences; and Katherine Morales, director of HCCC's Hudson Helps Resource Center.