Summer program provides students unique service experiences through paid internships
Rutgers-New Brunswick junior Amanda Henning comes from a small town in Tennessee that instilled in her a big sense of community. But the Honors College student also spent part of her childhood in the suburbs of Chicago, where she said the inequities of America's education system were glaring.
Over the summer, she'll bring both her small-town sensibility and passion for education justice policy to our nation's capital, where she'll work as an intern with the U.S. Department of Education. It's the opportunity of a lifetime made possible by Rutgers Summer Service in Washington, D.C. (RSS-DC). The new initiative grew out of the Rutgers Summer Service Internship (RSSI) program, which successfully launched last year.
"I'm excited because I want to see, from a policy perspective, how our schools are being affected and what I can do to help make them a better place for our kids. I want to go to the Department of Ed because they're the ones who lay out what happens and how it's going to happen," Henning said.  "I think having a voice on that stage from a rural area that doesn't often get heard helps navigate policy in a way that's inclusive of all regions."
RSS-DC provides selected students complimentary housing and a $3,500 stipend while interning in Washington, D.C., for a minimum of 150 hours over eight weeks. Under the direction of the Eagleton Institute of Politics, interns participate in a concurrent in-person internship course.
Rutgers held a kickoff event for the programs on Friday at the College Avenue Student Center, as 126 students from an expanded RSSI and 26 from RSS-DC joined President Jonathan Holloway and former New Jersey Governor Jim McGreevey to celebrate the opportunities ahead.
"Last year the program started with nearly 100 students around the state," said Holloway, whose New York Times op-ed evolved into the transformative initiatives. "This year we're aiming even higher with the idea of doing good for others as a way of life."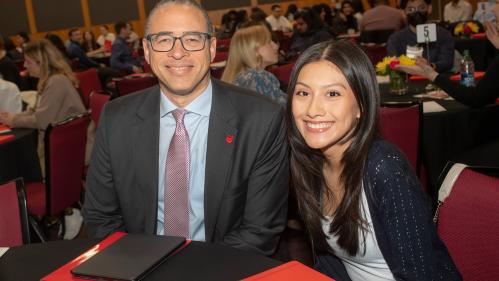 RSSI and RSS-DC provide selected Rutgers sophomores and juniors from all campuses with paid internships at government offices and public service-orientated nonprofit organizations. Students gain hands-on experience addressing national issues including public health, infrastructure, education and the environment while developing a better understanding of themselves and building relationships with others.
"It's really important to be intentional about your service," said McGreevey, who serves as chair of the New Jersey Reentry Corporation, a nonprofit committed to helping formerly incarcerated people reenter society. "I want you to understand, that as you're helping others, what you're doing is also a blessing to yourself."
Sophomore Rion Hunter, who is majoring in Criminal Justice and Public Policy at Rutgers University-Camden, knows internships are invaluable to students looking for a career in politics. But coming from a family without political connections can make the networking process feel daunting. That's why he is looking forward to gleaning all he can while interning at Congressman Donald Norcross's office, which represents the first Congressional District in South Jersey.
"It's an honor to be a part of this experience. I'm going to be exposed to information and learn from other staff and members of Congressman Norcross's office," said the Salem resident. "With it being paid, it makes it possible for me. I mean there's transportation costs, and some of us have full-time jobs on top of the internship. So, it supplements income and will help further my academic pursuits."
Students accepted into RSSI earn a $5,000 stipend while interning for a minimum of 150-hours over 10-12 weeks. Under the direction of the Rutgers-Camden Career Center, Rutgers-New Brunswick Office of Career Exploration and Success, and Rutgers-Newark Career Development Center, students also participate in a concurrent virtual, asynchronous internship course.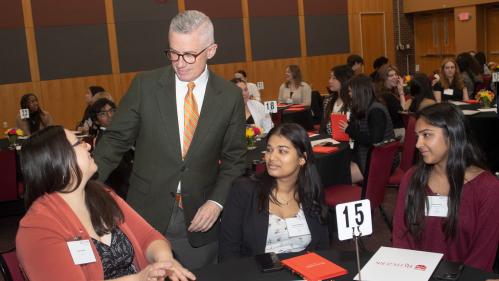 When Rutgers University-Newark sophomore Brooke Bachia was growing up in Maplewood, school was a struggle. Today she is a thriving member of the Honors Living-Learning Community and excited about her upcoming RSSI experience with the Sadie Nash Leadership Project. The Africana Studies and Women and Gender Studies major will mentor girls and gender-expansive youth of color who don't identify with traditional gender roles in the nonprofit's Newark location.
"I gravitate toward that specifically, especially for young Black and brown girls. I did similar mentorship programs when I was in high school and middle school. I really enjoyed it, and I wanted to give back that way," said Bachia. "I really struggled in middle school and high school, and it helped having mentors that looked like me saying 'Hey, just cause everything's not going right - it doesn't mean that you're a failure.' I want to showcase that you can still be successful even if you don't have it all together."
Rutgers-New Brunswick junior Novalee Tamayo Rodriguez aspires to be a public interest lawyer and work to defend those who have been wrongfully convicted of crimes. The political science and government major from Rockaway is confident that her experience on Capitol Hill with the Office of Representative Mikie Sherrill will bring her another step closer to achieving her goal.
"I've seen a lot of injustice in Latino and immigrant communities and that has driven me," said Rodriguez. "I've seen people in power not doing enough to improve the lives of those that are so continuously affected. So that's my motivation and drive, to get in that position of power and help my community."
Read and watch stories about last year's summer service internships.