Roxane Gay Appointed Gloria Steinem Endowed Chair in Media, Culture and Feminist Studies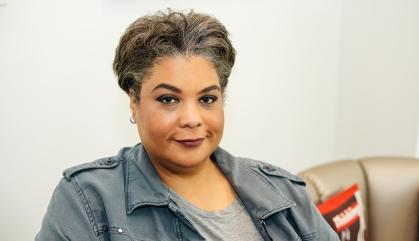 Roxane Gay, an internationally recognized writer, editor, cultural critic and educator, has been selected as the next Gloria Steinem Endowed Chair in Media, Culture and Feminist Studies at Rutgers University-New Brunswick.
"I am truly honored to serve as the new Gloria Steinem Endowed Chair at Rutgers," Gay said. "I walk and work in the footsteps of the many feminists and womanists who came before me, and Gloria is one of the giants among those women. I look forward to joining and contributing to a vibrant intellectual community both on and beyond campus." 
The Rutgers Board of Governors approved Gay's appointment.
Gay's pursuit of social justice makes her appointment especially powerful as she brings a commitment to centering underrepresented voices along with deep and broad experience in media. Her three-year tenure will be celebrated on Tuesday, Sept. 20 with a public conversation about contingent civil rights centered around Roe v. Wade as well as marriage equality and trans equality.
The chair is a collaboration among the Rutgers School of Communication and Information (SC&I), the Institute for Women's Leadership (IWL) and the Department of Women's, Gender and Sexuality Studies within the School of Arts and Sciences (SAS).
Jonathan Potter, the outgoing SC&I dean, said Gay "is incisive, analytic, disruptive and comfortable challenging authorities of all kinds. What a perfect match for Rutgers. I look forward to seeing her stir up the thinking of the next generation of students."
As chair, Gay will lead workshops to explore writing on cultural criticism, trauma, creating change and writing across difference.
"Being in a classroom with Roxane Gay is an extraordinary opportunity for students to grow as writers and amplify their voices as a force for social transformation," said Rebecca Mark, IWL director. 
Gay is the author of several books, including Ayiti, An Untamed State, The New York Times bestselling Bad Feminist, the nationally bestselling Difficult Women and The New York Times bestselling Hunger. Her writing appears in Best American Mystery Stories 2014, Best American Short Stories 2012, Best Sex Writing 2012, A Public Space, McSweeney's, Tin House, Oxford American, American Short Fiction and Virginia Quarterly Review. 
She holds a doctorate degree in rhetoric and technical communication from Michigan Technological University and has years of experience teaching creative, professional and technical writing at institutions of higher education. In 2019, Gay served as a presidential fellow in the Women and Gender Studies Department at Yale University, teaching a course on writing trauma. Gay also has taught at Occidental College, Michigan Technological University, Florida Atlantic University, Eastern Illinois University and Purdue University, where she received tenure.
Dafna Lemish, the incoming interim dean and Distinguished Professor of Journalism and Media Studies at SC&I, chaired the selection committee and noted Gay was chosen from an outstanding pool of candidates.
"We are so excited to welcome Roxane," Lemish said. "Her appointment is timely, as she serves as a wonderful role model of resilience, dedication to social justice and the value of being community-engaged. I have no doubt that Roxane will be inspirational and transformative for our campus. I can hardly wait for her to join us."
Funded by more than 425 donors, including a dozen foundations, the Steinem chair endowment was established to serve as a tribute to the groundbreaking leadership of Gloria Steinem. It was created to honor, retain and recruit eminent scholars and practitioners who will help immerse the university community in debate and scholarship about new media, social change and power structures. The chair launched in September 2018 with Naomi Klein serving as the inaugural occupant.