For 17th consecutive year, Rutgers students selected as Goldwater Scholars
Four Rutgers University-New Brunswick students are joining the next generation of research leaders as Goldwater Scholars, awarded for excellence in mathematics, science and engineering.
Students are performing research in bioinformatics to slow down chronic illnesses like muscular dystrophy, developing computers that can outperform conventional ones through quantum computing, using theoretical math like topology to analyze geometric objects and studying tiny particles called neutrinos to understand our universe better. 
 
Named after the late Sen. Barry Goldwater, the preeminent undergraduate research scholarship recognizes outstanding students and encourages them to pursue careers in mathematics and natural sciences and engineering. Rutgers-New Brunswick was awarded the most 2022 Goldwater Scholars in New Jersey with all four students nominated from the School of Arts and Sciences selected. This year's group ties a 2015 record for the most students from Rutgers named in a single year.
"These outstanding individuals – Eesh Gupta, Sohaib Hassan, Andrew Schwartz and Julia Shneidman – 
will surely make a great difference for the world in whatever careers they choose. And today they tell a story of excellence at Rutgers-New Brunswick, one that I applaud on behalf of our campus community," said Rutgers-New Brunswick Chancellor-Provost Francine Conway. "Their selection as Goldwater Scholars is a tremendous accomplishment for each of these students, and for our institution as a whole."
 
Universities and four-year colleges may nominate up to four Goldwater candidates annually. The recognition marks the 17th consecutive year that Rutgers-New Brunswick students have been selected as Goldwater Scholars, which awards recipients up to $7,500 to help cover costs associated with room and board, tuition, mandatory fees and books. Four hundred seventeen students were awarded the scholarship from a pool of over 1,242 college sophomores and juniors nominated by 433 academic institutions.
"The stars aligned for the second time, and what stars Julia, Sohaib, Eesh and Andrew proved themselves to be, too," said Arthur D. Casciato, director of Rutgers' Office of Distinguished Fellowships. "These four outstanding young scientists comprise perhaps the strongest slate of candidates Rutgers has ever sent forward for the Goldwater Scholarship."
Eesh Gupta, Physics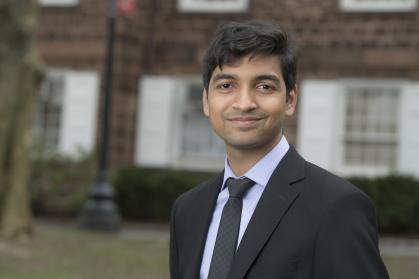 When Eesh Gupta started exploring physics, he was fascinated by black holes, dark matter and other mysteries of the universe. 
But as he progressed in the field his attention shifted from outer space to the smallest of particles. 
"It became clear that extraordinary things were happening at the smaller scale," says Gupta, a School of Arts and Sciences junior majoring in physics and minoring in mathematics and computer science. "I began focusing on quantum physics." 
Gupta, of Edison, N.J., was soon drawn to quantum computing, an emerging field that seeks to harness the properties of quantum physics for the development of computers that can vastly outperform conventional digital computers.
Quantum computing is still in its early stages, and the computers themselves are susceptible to errors – a problem that became the focus of Gupta's undergraduate research. He performed experiments on quantum systems through the IBM Cloud network that showed how one technique for resolving errors was unexpectedly more successful than another.
Although the project concluded that much more work needs to be done for quantum computers to solve complex chemistry problems, it served notice of Gupta's focus, determination and skills. This year he has received a Goldwater Scholarship, one of the premier awards for undergraduates in science, technology and mathematics. 
"I feel honored," he said. "And I am deeply grateful to my mentors."
The mentoring began early in his first year at Rutgers and reflects the depth and breadth of scholarship within the Department of Physics and Astronomy. He started by working with Stephen Schnetzer, a veteran professor who established one of the first undergraduate courses in the U.S. on quantum computing.
Gupta was soon tracking down expert papers and emailing preeminent scholars. And Schnetzer, a Rutgers professor for nearly 40 years and a mentor to previous Goldwater scholars, took notice of his new student's energy and intellectual curiosity. 
"Here is this freshman emailing the top people in field, and they are emailing him back," Schnetzer said. "That was incredibly impressive." 
Last summer, Gupta advanced further in the field, working at the Argonne National Laboratory outside of Chicago under Yuri Alexeev, a noted computational scientist focused on quantum computing algorithms.
And this year Gupta has been working with Srivatsan Chakram, a Rutgers professor who specializes in building quantum information processors. 
"Most of my earlier work addressed, 'What can you do with quantum computers?'"  Gupta said. "Now I am learning how to build them using superconducting circuits. That is very exciting." 
– John Chadwick
Sohaib Hassan, Genetics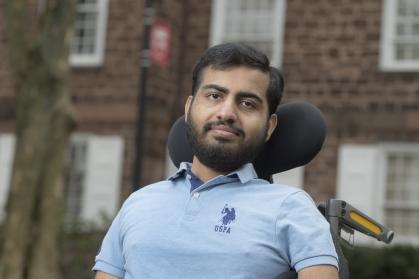 Since he was 10 years old, Sohaib Hassan had listened to doctors explain that gene therapy would be the way forward to treat muscular dystrophy, an illness he has struggled with his entire life.
But it was only toward the end of high school that Hassan set his sights on becoming a scientist. The Edison, N.J., native who is one of four Rutgers students named a Goldwater Scholar, said a career in science seemed like a long shot for someone suffering from a disease that causes progressive weakness and loss of muscle mass.
"I thought I would need to be in a lab, work with my hands and move around a lot, which is tough for me,'' Hassan said. "But I learned as a senior in high school you can use any device to analyze genomic data. You don't need to handle cell cultures or measure small volumes of liquids as in bioinformatics. I realized then that nothing can stop me."
Hassan, a junior majoring in genetics, is working to become a bioinformatician. Bioinformatics – when biology and computer science meet to analyze genomic data – uses techniques like single-cell RNA sequencing and bulk RNA sequencing to look at gene data, cell patterns and figure out how cells talk to each other to signal changes in the body. 
"If I am going to do something significant, I want it to be towards something that people like me can benefit from," said Hassan, who changed his education trajectory as a senior in high school from a degree in accounting to joining a computational lab.
For Hassan, being named a Goldwater Scholar was one of three goals which also included setting up his own bioinformatics organization – accomplished when he founded Rutgers-Seq: Bioinformatics Society, a bioinformatics-oriented undergraduate student group. When he goes to graduate school, Hassan is ready to tackle number three and develop a bioinformatics tool that could be used to investigate muscular illnesses like his own.
Hassan's mentor, Mike Verzi, an associate professor in genetics and fellow Goldwater Scholar, gave Hassan insight into various research opportunities, including examining new methods to decrease the development of tumors in the intestines and looking at what prevents tumor cells from growing.
"Sohaib is on his way to becoming an outstanding scientist,'' Verzi said. "He is bright, has the fortitude to tackle the most challenging problems and is eager to lift up those around him who can benefit from learning his informatics skills. Sohaib does this all with a smile – it's such a pleasure to have him as a colleague.''
Hassan's long-term goal is to pursue a doctoral degree in bioinformatics.
"I would like to develop a novel bioinformatics tool or technique to examine muscular dystrophy to help manage symptoms and slow the course of the disease," Hassan said. 
– Megan Schumann
Andrew Schwartz, Physics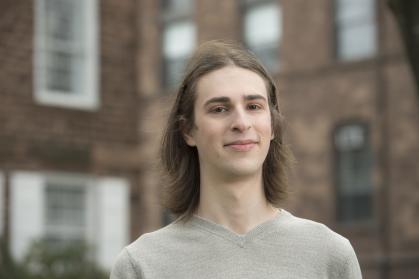 Andrew Schwartz wanted to pursue a career in science for most of their life. 
In elementary school, Schwartz at first wanted to be an astronaut. By middle school, Schwartz, who uses the pronouns they/them/theirs, decided to pursue the study of physics and astronomy, their curiosity fueled by TV shows such as Mythbusters and Cosmos: A Spacetime Odyssey.
"Instead of my interest fading – as it did for most children – those shows made me want to study physics and astronomy more," Schwartz said.
The Rutgers junior has been working in the field of particle physics to develop a better understanding of our universe. Their research focuses on more precisely detecting and studying neutrinos, the tiny particles created in large quantities in nuclear reactions and which almost never interact with matter. By learning more about the mysterious nature of neutrinos, we might someday answer grander questions about why there is any matter in the universe at all, Schwartz said.
Since their first year at Rutgers, Schwartz has been part of a research group with Andrew Mastbaum, an assistant professor in the Department of Physics and Astronomy. Mastbaum has played a key role inspiring Schwartz's research and keeping them focused on their goals and research.
"Professor Mastbaum has been my biggest mentor at Rutgers. His passion for the field, his kindness and his leadership in research have been great."
Schwartz, who is treasurer of the Society of Physics Students, says other physics majors have helped to create a sense of community and enhance their understanding of complex and often difficult topics. Schwartz, who grew up in Clifton Park in upstate New York, is also an avid reader.
Schwartz intends to use the award to help pay their out-of-state tuition. 
"The Goldwater Scholarship has also validated that the research I have been doing is valuable," Schwartz said. "I was surprised, since I didn't expect to win. I found out 15 minutes before my research group's weekly meeting, so I had time to call my parents to tell them the good news and I was in a really good mood for the rest of the day!"
Mastbaum said he was thrilled to learn Schwartz was named a Goldwater scholar.
"Andrew is a wonderful colleague and an exceptional student and researcher, tackling every new challenge with admirable intensity and always going the extra mile to gain a deeper understanding,'' Mastbaum said. "This is a well-deserved recognition of their dedication, talent and bright future in research.''
Schwartz's journey will continue, as they plan to attend graduate school to attain a doctoral degree in physics (specific subfield yet to be determined) and then perform further physics research, either in the realm of academia or elsewhere.
 – Christopher Chiarella
Julia Shneidman, Mathematics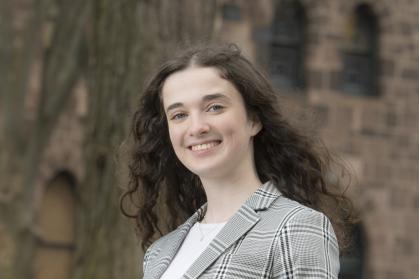 Julia Shneidman has competed against some of the best mathematics students in the world. 
And that was before she entered Rutgers. 
As a high school student at Bergen County Academies, she traveled overseas with her classmates for the World Math Team Championships, winning a silver medal in her senior year at the competition in Bulgaria.
During her first two years at Rutgers, she quickly racked up honors and accolades while establishing herself as a stellar undergraduate scholar.  
"By the end of her sophomore year, she had completed the two year-long honors courses that are the most demanding in the department's undergraduate curriculum and the first of her graduate courses as well," said Michael Beals, Distinguished Professor of Mathematics and chair of the Mathematics Undergraduate Honors Committee.
Her junior year has had its share of honors, too. As recently as last week, she received the Goldwater Scholarship, one of the premier undergraduate awards in the fields of science, mathematics and engineering.
"It's an honor, and it's exciting," said Shneidman, who is majoring in mathematics and minoring in computer science in the School of Arts and Sciences. "I feel like my hard work has paid off."
Shneidman, of River Edge, N.J., is drawn to math for what she sees as its singular mix of logic and creativity. She chose Rutgers in part because of the range of options available in the Department of Mathematics. 
She gravitates toward challenging areas of theoretical math such as topology, which focuses on the properties of a geometric object which are not changed through stretching, twisting, crumpling and bending.
After graduating from Rutgers, Shneidman wants to pursue a doctoral program focusing on math research. She also may explore roles in industry, such as software engineering or quantitative trading. 
"What I really like about math is that it teaches you how to think," she said. "Whenever you make a claim, you must prove it, and to prove it you have to be very logical. Yet at the same time, math requires a lot of creativity, especially when finding solutions to problems that may combine ideas from several different areas."  
               .
– John Chadwick