The Abbott Elementary star addressed the Rutgers-New Brunswick and Rutgers Biomedical and Health Sciences commencement
Sheryl Lee Ralph, an Emmy Award-winning actress, Broadway star and one of the first women admitted to Rutgers College more than 50 years ago, encouraged members of the Class of 2023 to chase their dreams and find their voice in a passionate speech that started with her singing and taking a selfie with the crowd.
"Don't chase money. Money will come," said Ralph, who made history in 2022 when she won the Emmy for Outstanding Actress in a Comedy Series for her role as kindergarten teacher Barbara Howard in ABC's hit sitcom Abbott Elementary. "Figure out what makes you happy. If you enjoy what you do, it doesn't feel like a job."
Before Ralph, only the second Black woman to win that Emmy, delivered the commencement address, President Jonathan Holloway bestowed upon her an honorary doctorate of fine arts during the 257th Anniversary Commencement of Rutgers University-New Brunswick and Rutgers Biomedical and Health Sciences (RBHS).
Honorary degrees were also given to Mark Angelson, chair of the Institute of International Education, a member of the U.S. President's Intelligence Advisory Board, former chair and current vice chair of the Rutgers University Board of Governors, and Katalin Karikó, award-winning neurosurgery professor and former senior vice president of BioNTech.
For members of the graduating class, Sunday's commencement at SHI Stadium in Piscataway marked the culmination of four years of great change shaped by the pandemic shutdown and return to school.
"I think it was a nontraditional experience for college. All of a sudden, we went from freshmen to upperclassmen, so it does feel like a bit of an interruption, but it was part of the story," said Nandita Vasantha from Princeton, who is graduating from the School of Arts and Sciences and Rutgers Business School–Newark and New Brunswick.
"I have definitely grown as a person," Vasantha said. "It is crazy to think I was here when I was 18. It is really nice to be able to wrap it all up here at the stadium. I am so grateful for the experiences I had here on the banks."
Looking out at the sea of students in their red and black regalia, Ralph – who at 19 was the youngest woman to graduate from Rutgers College at the time – told the graduating class that her late mother is loving this moment because she had skipped her own commencement in 1975 and was now on stage in a cap and gown getting a degree.
"Much to my mother's disappointment, there are no pictures of me accepting that well-earned degree because guess what, I was cast in a Skippy peanut butter commercial, and it was shooting the same day. I made the right decision. Look at me now," she said jokingly. "But seriously, what a blessing. I got to do the commercial, and today I get to take a picture in the cap and gown."
Ralph evoked the legacy of Paul Robeson, an athlete, actor, singer and civil rights activist who is one of Rutgers' most notable alumni. She noted this was a special year that would have been Robeson's 125th, saying he was "the inspirational reason I wanted to attend Rutgers.''  
Speaking to the graduates and thousands in attendance, Ralph said Rutgers is where her dreams started to take shape. While she entered as a premed student at the age of 16, she said she quickly realized neither medicine nor law would be her future.
"I found my passion on the stage of the Little Theater on the Douglass College campus," she said.
Remembering when she arrived at Rutgers five decades earlier, Ralph said she could imagine how many of the 2023 graduates came to Rutgers as "fresh-faced freshmen" with everything looking rosy and bright.
"Then our country and the world took a tragic, difficult turn," she said. "Kobe [Bryant] died, George Floyd was killed, and then the world stopped, and everything changed when COVID-19 reared its ugly red, spiked head and shut down the world for three years."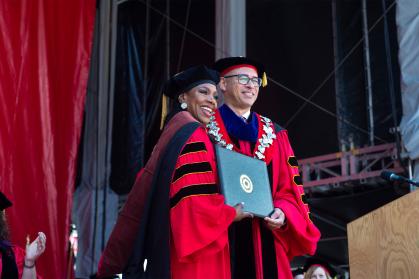 Holloway, a historian who specializes in post-emancipation U.S. history, focused on similar themes, telling graduates that they could help bring together communities while acknowledging all the mothers in the audience in different languages in honor of Mother's Day.
For the university's 21st president, "a beloved community" has been a touchstone of his presidency.
"It is my hope that the community that you have made at Rutgers will resonate in positive ways for decades to come," Holloway said.
"Talking about the community that you have made here in ways that are robust, nuanced and truthful will mean that you will need to use a few keywords that I believe important on this day: love, gratitude and responsibility," he told graduates.
"In this moment of social and political fracture, we need people who are ready to talk without shame about our love for one another and about our love for institutions," Holloway said. "We need people who are ready to embrace the responsibilities of privilege – and make no mistake, every single one of you is privileged – and say, enough with the blame and the scapegoating, how about we work together to find some solutions?"
Ralph urged students to be open to change. "Bring your best to the world," she said. "We need it. You see the shape we're in. Bring your best work, your best ideas."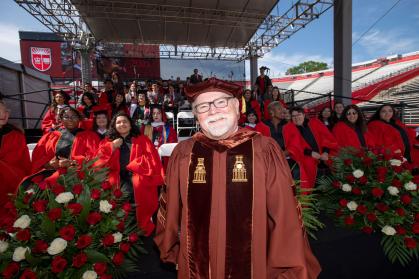 Allison Smith, president of the Rutgers University Student Assembly, told her fellow graduates that not knowing exactly what they will do in the future is an opportunity that they all must embrace.
"Whatever we do next, however far we travel, we will always be united by our home here on the banks," she said. "And if you look at what Rutgers alumni are doing now, I have a feeling we will all be just fine."
Despite a rocky four years, Matt Ziegler from Manalapan said he never doubted his class would make it to the moment of commencement.
"I think it is pretty special," said Ziegler, who graduated from the School of Arts and Sciences with a degree in psychology. "We experienced a little bit of everything. We went through the coming to college experience, the lockdown and the transition out of the lockdown. I think that is what defines us the most.''
Margaret Schroeder of Newark, who transferred from Essex County College two years ago, was grateful for her time at Rutgers.
"We didn't know it was going to come this fast,'' said the public health major who is graduating from the School of Arts and Sciences as she marked the moment with fellow transfer students. "It's been an amazing journey, and we love it, and we are happy to be here today to celebrate with every other person who is graduating."
An estimated 19,039 graduates received degrees, certificates and diplomas from Rutgers this year, the most, 13,786, from Rutgers-New Brunswick and RBHS.
Another 1,824 will graduate from Rutgers University-Camden on Monday, May 15, where the Honorable Dana Redd, former Mayor of the City of Camden and a 1996 graduate of the Rutgers School of Business-Camden, will deliver the keynote address at the Freedom Mortgage Pavilion. World-renowned jazz musician, composer and educator Terence Blanchard will deliver remarks at Rutgers University-Newark's commencement ceremony for 3,429 graduates on Tuesday, May 16, 2023, at the Prudential Center in Newark.
Ralph told graduates to be tolerant, use their voices to celebrate differences and treat people the way they would like to be treated.
Look in the mirror, she told students. Love what you see.
"Respect it, empower it, encourage it, be kind to it because the better you can be to yourself, the better you can be to everyone else," Ralph said.
Finally, Ralph told graduates to find their joy, hold on to it, wrap themselves in it and live in it because, she said, it is a key to a happy life.
"Sing your song, dance your dance, paint your picture, support the arts," Ralph urged. "Listen to the orchestra and Beyoncé too. Write your poem, your play, your book or your speech. Let your inner artist out, you future doctor, lawyer, teacher, forensic scientist, farmer, global warrior, college president, politician, social media influencer."
She told students the world is not coming to an end.
"It is coming to a new chapter – and trust me, it starts with you."
Commencement 2023 in Photos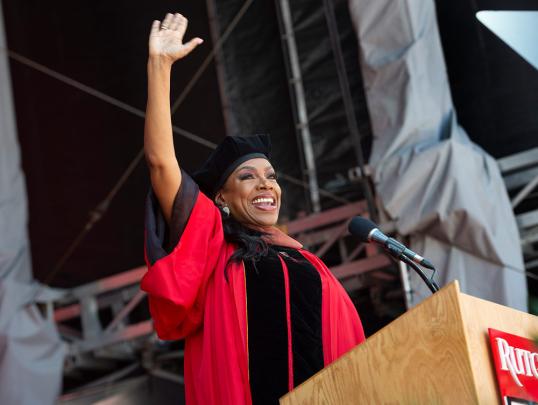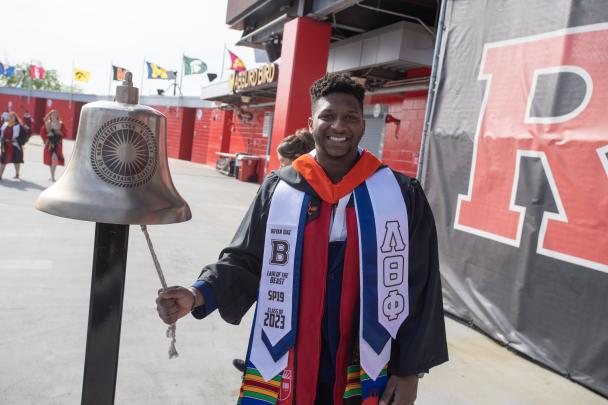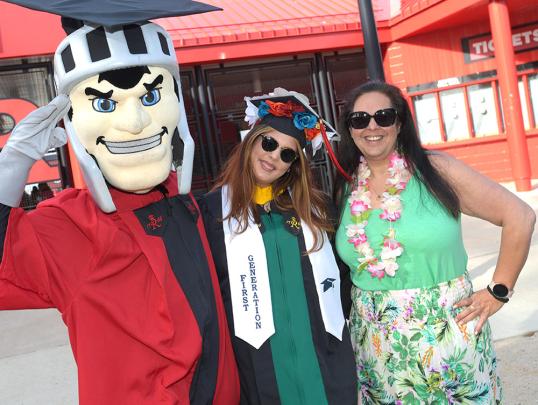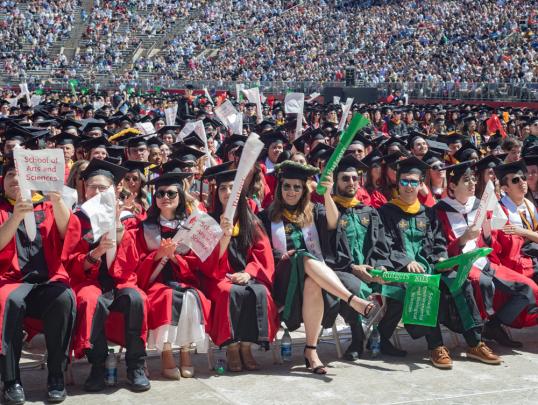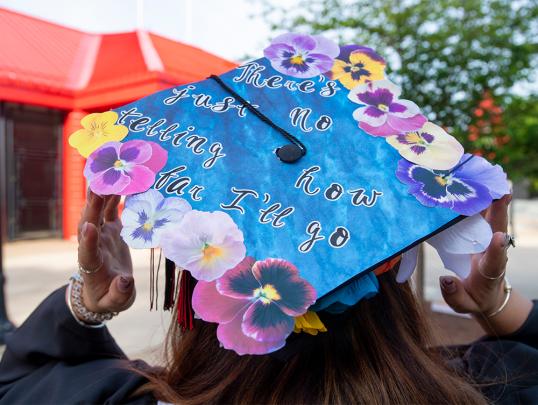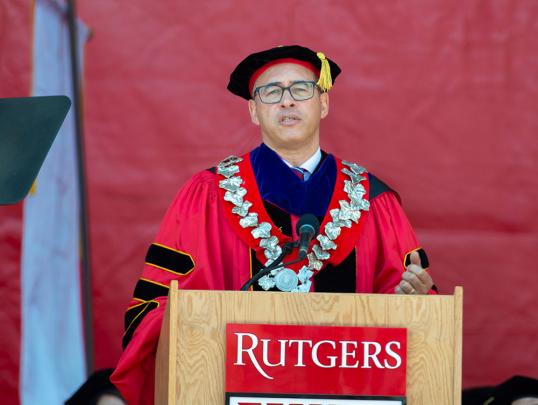 "The best advice I can give is to figure out what you are passionate about and then figure out how to turn that into a career,'' Sheryl Lee Ralph told graduates.
Nick Romanenko/Rutgers University
Commencement is a day of tradition including the ringing of the Red Lion Bell, named after the former tavern, the Sign of the Red Lion, where Rutgers held its first classes in the 1770s.
Nick Romanenko/Rutgers University
The Scarlet Knight poses with first-generation graduate Kalani Foster from the School of Environmental and Biological Sciences and her mother, Christie Foster, outside SHI Stadium before the ceremony.
Nick Romanenko/Rutgers University
An estimated 19,039 graduates received degrees, certificates and diplomas from Rutgers this year, the most, 13,786, from Rutgers-New Brunswick and RBHS.
Nick Romanenko/Rutgers University
The mortarboard is generally believed by scholars to have developed from the biretta, a similar-looking hat worn by Roman Catholic clergy. Personalized graduation caps is another beloved commencement tradition.
Nick Romanenko/Rutgers University
The secretary of the university carries the university mace, an ornamental staff symbolizing the authority of the president that is part of the academic procession at the start of commencement.
Nick Romanenko/Rutgers University
"It is my hope that the community that you have made at Rutgers will resonate in positive ways for decades to come," President Jonathan Holloway said.
Nick Romanenko/Rutgers University