Rutgers art museum showcases illustrations by Jennifer Mack-Watkins from You Gotta Meet Mr. Pierce! The Storied Life of Folk Artist Elijah Pierce
How do you illustrate a children's book about a beloved wood carver? Enlist a wood carver.
The Zimmerli Art Museum's latest exhibition showcases the illustrations of the new children's book You Gotta Meet Mr. Pierce! The Storied Life of Folk Artist Elijah Pierce, published by Kokila. The exhibition – on display now through July 30 in the Duvoisin Gallery at the Zimmerli, 71 Hamilton St., New Brunswick – is free to all.
The book, by authors Chiquita Mullins Lee and Carmella Van Vleet, tells the story of Pierce (1892-1984), a barber in Columbus, Ohio, who Zimmerli officials note was "a self-taught artist who produced wood carvings of animals, religious scenes and social commentaries on contemporary life, becoming one of the most celebrated folk artists in America." The book features illustrations by artist Jennifer Mack-Watkins done in mokuhanga, a traditional Japanese woodcut technique.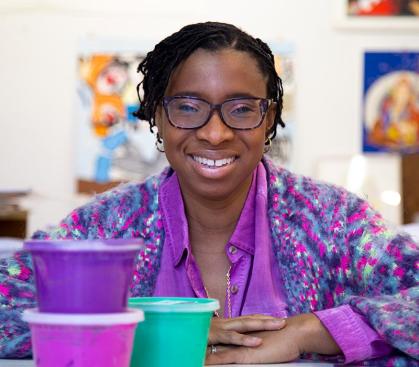 "Because woodcut is a difficult and time-consuming process, it is seldom used for contemporary children's illustration, making it a rare treat to see Mack-Watkins use this technique to beautifully illuminate the story of folk artist Elijah Pierce," said Nicole Simpson, the associate curator of prints and drawings at the Rutgers museum. 
"This is my second time displaying my work in the Zimmerli," said Mack-Watkins. "It is such a beautiful museum that always does a great job of relating to how the work fits into society, historically and present." 
In addition to having works in the Zimmerli's permanent collection, Mack-Watkins has another Rutgers tie: Her husband is a graduate of the Mason Gross School of the Arts. 
 
What drew you to the story of Elijah Pierce? 
Mack-Watkins: At first, I had no idea who he was, until I began to research. I discovered that similar to my mother, who owned a barbershop and salon, Elijah Pierce owned a barbershop. The fact that he used his barbershop as an art gallery is beautiful because it was a place to introduce art to the community. He was a phenomenal storyteller who was able to use his art as a way to share events, ideas and everyday life experiences through the work he created. 
Can you describe your process for creating illustrations for a children's book? 
Mack-Watkins: I began by getting familiar with Elijah Pierce. I found films, books, articles and photographs. I came across two films produced by Jeffrey Wolf and Carolyn Allport and was able to connect with them. As I worked on the book, I would keep them updated with my progress. I also utilized their photo archives digitally because it was important to me that I capture the essence of who he was through his facial expressions, gestures, fashion sense and the barbershop. After images were carved, all 34 blocks were printed and then I used mixed media to complete the illustrations. 
Employing the Japanese woodblock technique for a children's book is unique, right? What challenges did you face? 
Mack-Watkins: Mokuhanga ("moku" means wood and "hanga" means print) is very unique because I use water-based paint and sumi-e ink to apply to a wood surface and print to create an image on paper. The technique of mokuhanga allows me to combine my love of African American and Japanese culture and the process medium of printmaking. There isn't a way to erase, go back or do over. Instead, you learn how to embrace however the wood chooses to be carved at the moment. I had to make sure to take my time to produce each detail with the characters and setting of the book.
Why is Pierce's story important to young audiences? What are some takeaways you hope they might receive? 
Mack-Watkins: The book shares the story of Pierce's childhood, how he overcame challenges in life, his entrepreneurship and how he told a story through visual imagery. These stories were religious, biographical, social and political. It was the world and how he viewed it through his eyes. He was self-taught and created beautiful works of art that continue to remind us of the history of our country and how much work is still needed to fight for equality for all. I kind of see Pierce's work like the evening news and a visual Bible combined. I hope that the audience continues to discover overlooked individuals in history. I hope that this encourages others to learn more about Pierce's story and art. 
Upcoming free public programs include the Art Together family workshop on April 2 and an artist's talk on May 11. Visit the Zimmerli's events page for details.