Announcement of the RUMP Retreat
May 5, 2021
Dear Rutgers–New Brunswick Community:
We are pleased to announce the first Rutgers retreat as part of the Rutgers University Microbiome Program (RUMP). This one-day virtual retreat on May 14 is open to all in the Rutgers community to attend. We have more than 50 oral and poster presentations scheduled as well as at least two extraordinary outside speakers.
We welcome your attendance, but you must register to attend (registration is free). After you register, we will send you the retreat schedule, abstracts, and instructions.
A successful retreat will help us build RUMP across the university.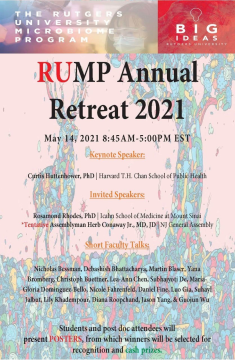 RUMP Annual Retreat 2021
May 14 8:45 a.m.–5:00 p.m.
Keynote Speaker
Curtis Huttenhower, Ph.D.
Harvard T.H. Chan School of Public Health
Invited Speakers
Rosamond Rhodes, Ph.D.
Icahn School of Medicine at Mount Sinai
Assemblyman Herb Conaway Jr., M.D., J.D.
NJ General Assembly (*Tentative )
Short Faculty Talks
Nicholas Bessman, Debashish Bhattacharya, Martin Blaser, Yana Bromberg, Christoph Buettner, Lea-Ann Chen, Subhajyoti De, Maria-Gloria Dominguez-Bello, Nicole Fahrenfeld, Daniel Fine, Luo Gia, Suhayl Jalbut, Lily Khadempour, Diana Roopchand, Jason Yang, and Guojun Wu
Students and post doc attendees will present posters, from which winners will be selected for recognition and cash prizes.
For any questions, please contact: rump@cabm.rutgers.edu
Please use the hyperlink above to register.
We hope to see you there!
Sincerely,
Martin Blaser
(On behalf of the RUMP Leadership Team with Liping Zhao and Maria Gloria Dominguez-Bello)
Christopher J. Molloy, Ph.D.
Chancellor, Rutgers University­–New Brunswick