TOPxRutgers
TOPxRutgers is the interdisciplinary student team representing Rutgers University-New Brunswick in the yearly TOP University Design Sprint. 
The Opportunity Project (TOP) brings technologists, government, and communities to rapidly prototype digital products—powered by federal open data—that solve real-world problems for communities across the country.
Design Teams
Design and build a digital product that uses federal open data
Collaborate with other sprint participants including government data experts to explore and use available data sets, as well as user advocates to understand user needs
Conduct user research to ensure products are solving for real user needs
Join virtual "milestone" calls during the sprint to share progress, ask questions and provide feedback to other teams
Attend in-person event to present final products
Own and maintain the product after the sprint, or develop a strategy for handoff
TOPxRutgers 2023
This year, TOPxRutgers is participating in a sprint focused on Promoting Competition in the Credit Card Market and sponsored by the Consumer Financial Protection Bureau (CFPB).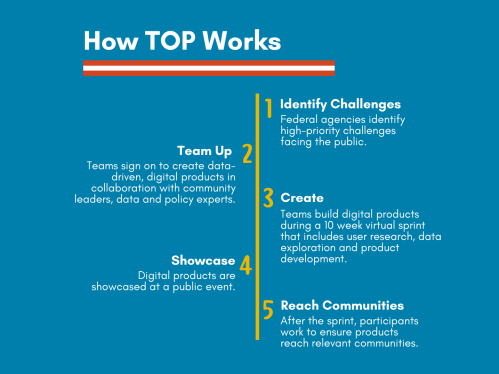 We understand that your participation is extra and on top of your academic coursework. There will be weekly team meetings on Friday afternoons (1.5hrs/week) plus tasks to keep pace with the challenge milestones (2-4hrs/week). 

Your main commitment in the sprint is to build a digital product that uses federal open data (in addition to any state, local, and private data you have access to), and to join weekly meetings during the sprint. The team will complete a functioning MVP (Minimum Viable Product) by the end of the sprint.

That's up to you! The only requirements are to build a digital solution that addresses the problem statement and uses federal open data.

Teams create a post-sprint strategy where they decide if as a team they want to maintain the product, archive their work, or if there is an opportunity to publish and/or hand off the work to the sponsoring partner.  For example, IDEA is currently working with the Environmental Protection Agency to publish the 2020 Rutgers IDEA TOP team's product on the EPA's website.