Using Genomic and Environmental Methods to Unravel Hypertension Health Disparities in Black Women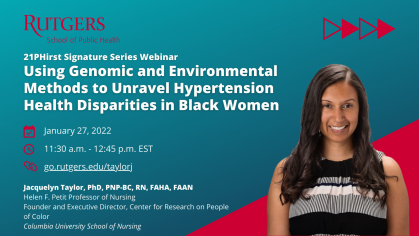 Join the School of Public Health for a 21PHirst Signature Series Webinar by Dr. Jacquelyn Taylor, Helen F. Petit Professor of Nursing and founder and executive director, Center for Research on People of Color at the Columbia University School of Nursing.
Taylor will discuss an unconventional research trajectory in hypertension genomics. She will highlight how mentorship, pilot funding, and interdisciplinary contributions to advancing science can lead to a career that helps determine important impacts and contributions to reducing health disparities.

This webinar is open to all.