Sandy Rodriguez: To Translate the Unfathomable | Exhibition and Artist's Lecture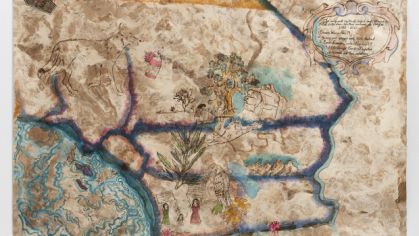 The Center for Women in the Arts and Humanities is pleased to welcome renowned artist Sandy Rodriguez, the 2022-23 Estelle Lebowitz Endowed Visiting Artist, for a public lecture. The Lebowitz program annually brings to the University community and general public the work and ideas of exceptional women artists through solo exhibitions, lectures, and short campus residencies.
Sandy Rodriguez: To Translate the Unfathomable will be on view from January 17 – April 7, in the Mary H. Dana Women Artists Series Galleries, Douglass Library. Rodriguez's recent work consists of maps, botanical studies, and figural compositions painted in hand processed watercolors on amate paper with techniques, forms, and pigments of Mesoamerican manuscripts produced by the Mexica people and other Mexican natives in the first century after the Conquest of Mexico (1519-21).