Planning Your Backyard Vegetable Garden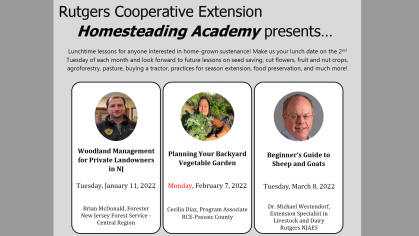 The monthly lunchtime webinars offered by the Rutgers Cooperative Extension Homesteading Academy provide introductory lesson on all things homesteading to N.J. residents interested in home-grown sustenance. In this webinar, Cecilia Diaz, a Program Associate with RCE Passaic County, shares insight on the basics of planning and designing for the installation of your small-scale vegetable garden at home. Including site selection, methods to maximize space, and crop production to make the most of your garden space.
These are free webinars. Register once here and receive the Zoom link to attend webinars through March.