Art & Design: "Inside Songs" and "Déjà Rêvé": BFA Thesis Exhibitions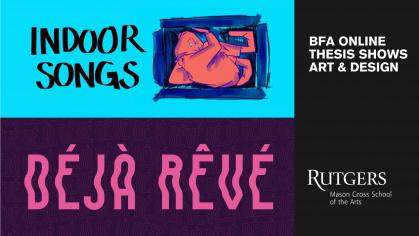 Mason Gross School of the Arts is proud to bring its annual BFA Thesis Exhibitions online to audiences far beyond New Brunswick, New Jersey. An online reception was held on May 1.
In the midst of a global pandemic, undergraduate thesis students have come together, virtually, to revive, collaborate, and create—and to present work at the culmination of their undergraduate studies at Rutgers.
The online thesis gallery combines two exhibitions:
Inside Songs; features 45 students in Visual Arts
Déjà Rêvé; features 26 students in Design.
The self-curated virtual exhibitions reflect the breadth of students' practice and capture the interdisciplinary mission of the program, featuring works in design, drawing, media, painting, photography, print, and sculpture. Themes and approaches range widely, from personal concerns of memory, perception and anxiety to global issues of immigration, representation, and labor practices. In the current moment, many of these young artists and designers are reframing their work, forced to look inward and still very much aware of the worlds they inhabit.