Art and Activism in the Age of Pandemic and Protest: Salamishah Tillet in Conversation with Brittney Cooper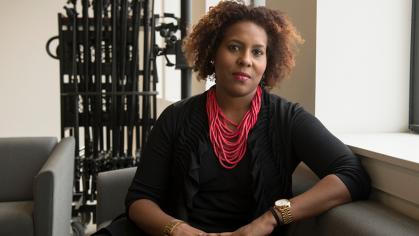 Associate professor Brittney Cooper will talk to Salamishah Tillet about Tillet's scholarship and writing on the role of art in social justice, including the civil rights movements and Black Lives Matter, and about their mutual commitment to black feminist art and activism.
Salamishah Tillet is the Henry Rutgers Professor of African American Studies and Creative Writing Rutgers University–Newark, the Founding Director of the New Arts Social Justice Initiative at Express Newark, and the Associate Director of the Clement Price Institute on Ethnicity, Culture and the Modern Experience.
Brittney Cooper is Associate Professor of Women's, Gender and Sexuality Studies and Africana Studies at Rutgers University–New Brunswick. She is the author of the award-winning Beyond Respectability: The Intellectual Thought of Race Women and Eloquent Rage: A Black Feminist Discovers Her Superpower, which was named a top book of 2018 by NPR, The Atlantic and others.