Tomlinson-Clarke Is Named Provost of Rutgers–New Brunswick
Chancellor Francine Conway appointed the acclaimed psychologist and professor to advance academic and faculty development 
Saundra Tomlinson-Clarke, a veteran faculty member and administrator, has been promoted as Rutgers–New Brunswick's provost and executive vice chancellor for academic affairs.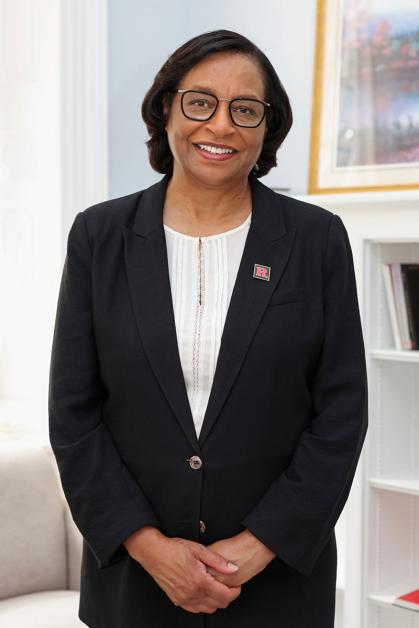 Chancellor Francine Conway appointed Tomlinson-Clarke to the new role, following Tomlinson-Clarke's service for two years as senior vice provost for academic and faculty affairs. 
"With my direct knowledge of her professionalism, character and commitment to the success of our faculty and students, I have no doubt that Provost Tomlinson-Clarke will help lead Rutgers–New Brunswick to ever greater levels of success," Conway said. 
As provost, Tomlinson-Clarke will continue to support the chancellor in providing support to all academic areas related to research, growth in academic program development aligned with the Academic Master Plan and faculty. This appointment sharpens Rutgers–New Brunswick's focus on supporting academic excellence across its academic units, residential colleges and institutes.  
Tomlinson-Clarke also will oversee initiatives that help faculty members advance in their careers through recruitment, mentoring and leadership development. 
"It takes thriving, fulfilled and successful faculty members to produce thriving, fulfilled and successful students – and student success is, of course, our highest goal," Tomlinson-Clarke said. "I am grateful for this opportunity and proud to continue supporting our academic mission." 
Tomlinson-Clarke, a professor in the Department of Educational Psychology at the Graduate School of Education, has served on the Rutgers–New Brunswick faculty for more than three decades. She also is a licensed psychologist and fellow of the American Psychological Association whose research focuses on the development of culturally responsive interventions to enhance learning. 
Conway, who led Rutgers–New Brunswick under the hybrid title of "chancellor-provost" for two years, was appointed as chancellor by Rutgers President Jonathan Holloway earlier this summer.