The program, now in its 27th year, is led by artistic director Claudio Mir, a 2023 Rutgers African American Alumni Alliance Hall of Fame inductee
Standing on the stage at Paul Robeson Community School for the Arts, several productions are happening at once. Groups of students rehearse their dance steps on stage, in hallways and among chairs in the auditorium for the final presentation.
It is a group of about 40 New Brunswick children who created their own original short films, took photographs, learned dance steps and developed original music beats.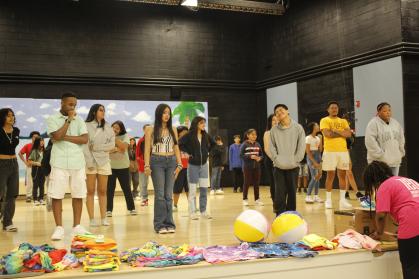 The films are the latest project of Artists Mentoring Against Racism, Drugs & Violence: Healing Through the Arts (AMARD&V), an innovative anti-violence arts-based, community-building summer program for youth living in New Brunswick.
"Programs like this are so important because a lot of kids growing up in some areas don't know what's out there for them until you show them something different than what they're used to," said Claudio Mir, who leads the initiative as artistic director. "I remember growing up in the Dominican Republic and getting caught up in the gang culture. If my mother didn't challenge me to change my ways, I would have never made it to where I am now."
For the teenage Mir, this meant staying home, listening to the radio and absorbing the culture of his country. "It made me find and fall in love with theater. I am so grateful for that and know how powerful that can be at that age."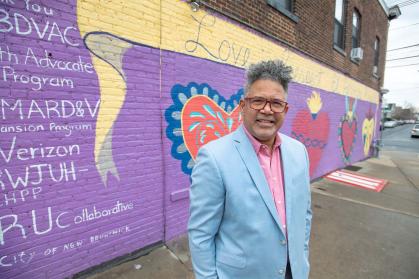 The Rutgers-New Brunswick program, which is hosted by a coalition of organizations serving the New Brunswick community, including the Collaborative Center for Community Engagement under the Division of Diversity, Inclusion, and Community Engagement, the Robert Wood Johnson Hospital Community Health Promotion Program, the Puerto Rican Action Board, Middlesex Arts Institute, New Brunswick Public Schools, New Brunswick Cultural Center, Suydam Street Reformed Church and Mason Gross School of the Arts.
AMARD&V began in 1996 while Mir was completing his BFA at Mason Gross School of the Arts and worked at the New Brunswick Arts Institute. "I used to work with the Institute for Arts Education, which was an arts organization that worked mainly in schools and had this amazing summer program, where teenagers who wanted to become artists would work with us for four or five weeks of the summer on their skills," said Mir. "Once I came on at the Collaborative Center, I knew we could bring something similar to the kids in the New Brunswick community."
Initially funded with a grant from the Dodge Foundation, the program focused on working with community artists on a large-scale mural around a theme of community, anti-violence and embracing creativity.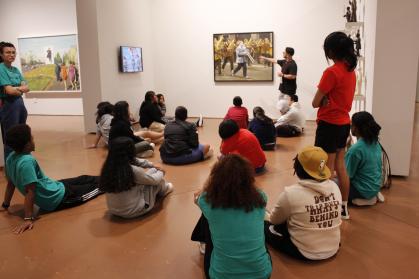 The program, now with the addition of director Mariam Merced and program coordinators Yesenia Hernandez and Alejandra Mendez, has evolved with a focus on training and mentoring local artists to share with youth their arts skills in a safe space where youth can express themselves about their aspirations, dreams, and fears while creating a sense of cultural pride and purpose.  
Every summer, up to 40 students from ages 10-16 get to build on the relationship between home, community and world violence and work closely with local community artists to express their feelings about these issues of identity, inequalities, race and discrimination through the creation of art pieces, theatrical presentations, photography, sculpture, dance and video. There are weekly workshops held on resiliency, empathy, self-esteem, violence prevention and gang and drug prevention. In addition, recreational trips to museums, roller-skating and miniature golf are scheduled weekly for the camp's participants. The program ends with a parade around the school neighborhood, with students in costumes, on stilts, dancing and playing various instruments.
The camp, which meets five days a week, has been held at the Paul Robeson Community School for the Arts since 2019, when the coalition of organizations that hosts the program partnered with the New Brunswick Board of Education, which also provides transportation and meals for the students in the program.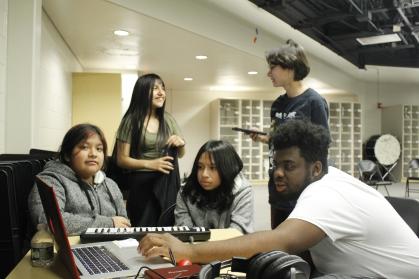 Students spend time working with counselors, often undergraduate or graduate students from Rutgers, in addition to MFA and BFA students from Mason Gross and community artists, on photography, performance art, visual arts, dance and theater. The program has hosted renown artists including drummer Josh Robinson, trumpet player and painter Ricardo Basilio Coke, jazz trumpet player Emilio Rodriguez, silkscreen artist Alex Guerrero, visual artist Ingrid Morales, actor Pierre Jan Gonzalez, photographer Ulises Flores, stained glass artist Zack green, New York-based visual artist Darrell Wilson, Puerto Rican artists Kisha Burgos, Pedro Adorno and Kathy Vigo and theater director Maureen Heffernan. 
One of the program's priorities is to bring in artists of color and with backgrounds similar to the students to show the students all of the different paths available to them in life.
"I know that's impactful for them, because they have told me it's not even just, 'oh, this person looks like me,' but it's 'this person has wisdom about similar experiences that I can learn from, they're putting me in a position to gain knowledge and meet people that I would never had a chance to,'" said Mir.
What keeps Mir motivated is two-fold. The first is his wife Mariam Merced. "When the program was struggling to find a home and I was ready to just give up (and get my summers back), it was my wife who told me not to quit because young people are a having tougher time finding who they are and developing the skills to be successful as good human beings. I kept working and pushing to create a safe space for art to happen within our communities. I'm always so proud of all the young people the program has touched and everything we have been able to accomplish since then," said Mir.
"Seeing former students pursue education and careers in the arts is so rewarding," said Mir. "Sometimes parents will come back years later and thank us for encouraging their kids to pursue their dreams and how the camp helped them find community or purpose. That is a feeling that never gets old."
Artists Mentoring Against Racism, Drugs & Violence: Healing Through the Arts (AMARD&V) 2023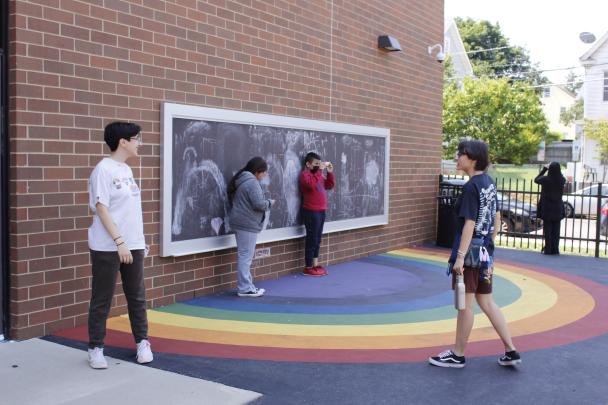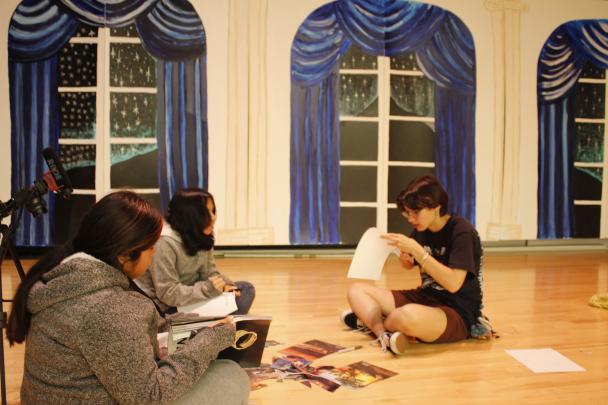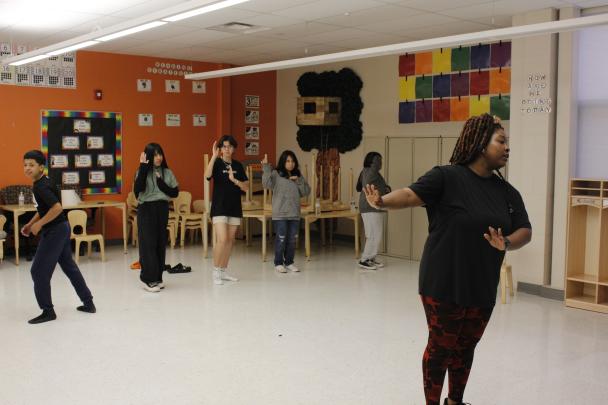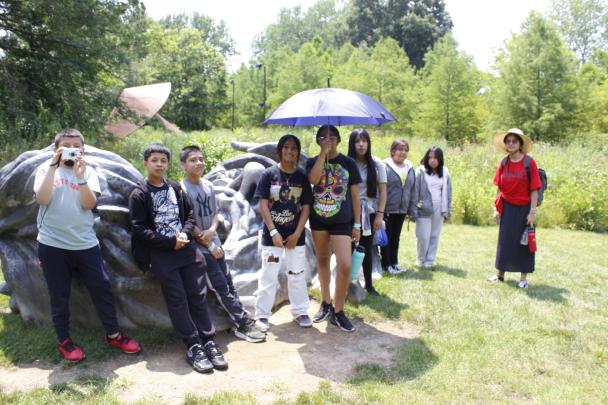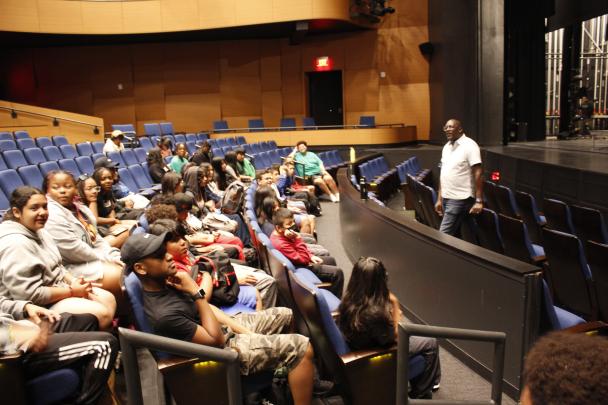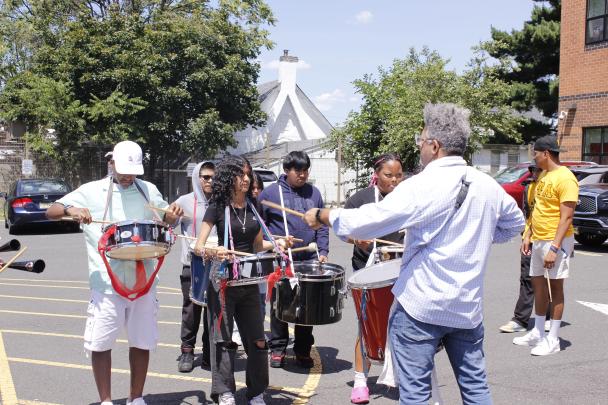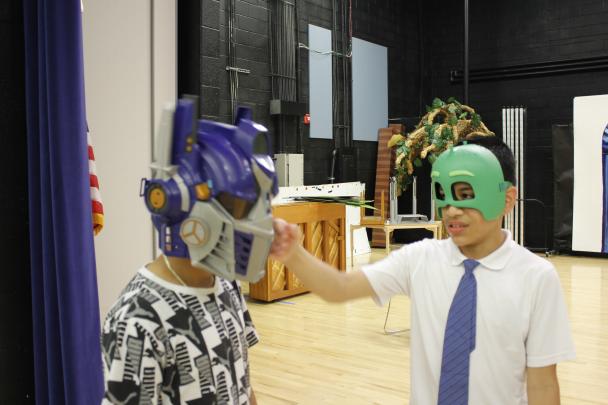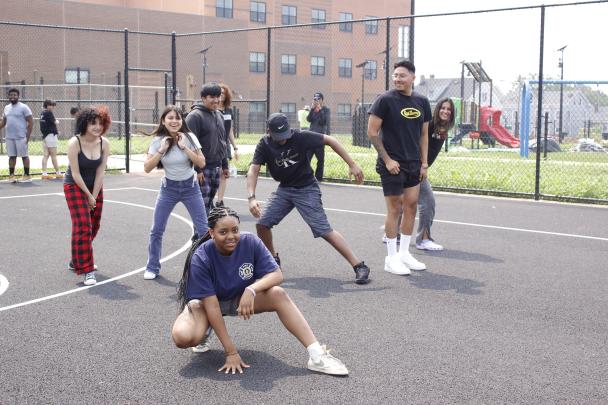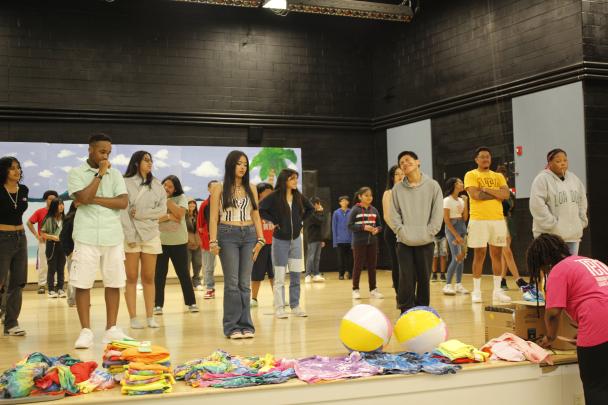 Students of the AMARD&V program working on photography
Frank Deigh/Collaborative Center for Community Engagement
Students of the AMARD&V program working on a scrapbooking project
Frank Deigh/Collaborative Center for Community Engagement
Students of the AMARD&V program working on video production
Frank Deigh/Collaborative Center for Community Engagement
Students of the AMARD&V program learning African folk dances
Frank Deigh/Collaborative Center for Community Engagement
Students of the AMARD&V program visiting Grounds for Sculpture in Hamilton, NJ.
Frank Deigh/Collaborative Center for Community Engagement
Students of the AMARD&V program learning about theatrical productions
Frank Deigh/Collaborative Center for Community Engagement
Claudio Mir and students of the AMARD&V program playing instruments in the parade
Frank Deigh/Collaborative Center for Community Engagement
Students of the AMARD&V program working on a video production project
Frank Deigh/Collaborative Center for Community Engagement
Students of the AMARD&V program during a field day outside
Frank Deigh/Collaborative Center for Community Engagement
Students of the AMARD&V program learning about theatrical productions
Frank Deigh/Collaborative Center for Community Engagement