Before starting her sophomore year at Rutgers School of Nursing, Talia Rosen had never spoken with another Orthodox Jewish woman who identified as queer. 
Now preparing to receive her bachelor of science degree in nursing in May, the Teaneck native has spent the past two years building what she describes as a small, vibrant community of gay and Jewish students on the university's New Brunswick campus. 
Rosen is president of Jewish Allies and Queers – JAQs – a student-run organization designed to provide a safe and welcoming space for Jewish members of the LGBTQA+ community.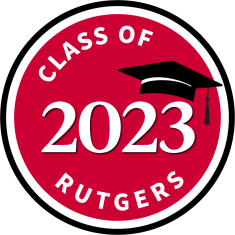 "Every week, five to 10 undergraduate students come together to watch queer movies and talk about all the issues we face – no judgment, just support and acceptance," she says. "The majority of us are Orthodox, or they were raised Orthodox and don't practice as such now." 
The branch of Judaism she identifies with, which adheres strictly to the laws in the Torah, has not always proved welcoming of people who identify as LGBTQA+, Rosen acknowledges. The presence of a safe space – provided by the Rutgers Hillel Foundation – is especially welcomed. 
In addition to housing the JAQs programs at no charge, Hillel offers the organization staff support and free publicity. 
"I'm still a little nervous when I tell people about JAQs, given the stigma that still surrounds being gay. The acceptance and love I have found at Rutgers are not what the rest of the world looks like," Rosen says.  
Yet she considers herself lucky, growing up with parents who cared more that she would ultimately marry a Jew than about the gender of the person she chose. 
Rosen has been out to her friends since the age of 16 or 17. But not until she spent a gap year in Israel after graduating from the Frisch School, a Modern Orthodox high school in Paramus, did she feel it was right to share that status with her parents. 
Her father, Rabbi Daniel Rosen, teaches high school English. Her mother, Julie Cardonick, is a lactation consultant and a doula. 
"When I came out to them, my mom didn't bat an eye – she always says 'love is love.' The day after I told [my dad], he pulled me aside to make sure he understood and could be as accepting as possible, and he has never been anything but."
She said the same is not always the case in the wider Orthodox world she inhabits. 
"It's true that gays are generally less welcome in the Orthodox community,'' Rosen says. "We're not where we want to be yet [in terms of widespread acceptance], which is why an organization like JAQs is so important." 
The organization is designed to help students navigate the world as LGBTQA+ Jews, and to work toward visibility and validation. Programs include movie nights, speakers and exploration of inter-sectional identities. 
In addition to her Judaism and her bisexual identity, the third pillar on which Rosen's world rests is her commitment to the world of medicine, and her role in it. 
Her interest began during her senior year in high school – watching Grey's Anatomy may have been the spark, she says with a grin. The gap year in Israel before starting Rutgers Nursing School only intensified her determination. 
At Bar Ilan University in the Tel Aviv suburb of Ramat Gan, a training course for EMTs required students to ride along with an ambulance crew. The fast pace of the experience got her adrenaline flowing while helping her pin down a career path. 
"At one point, we were sent to take care of a patient who'd been in a motorcycle accident. We had to stabilize him – he was losing blood quickly – and tend to his wounds. When we got to the hospital, the nurses grabbed him and took over," she says.  
Then and there, Rosen decided she wanted to be part of that scene. 
With her nursing degree in hand, she'd like to find a job in a hospital emergency department, perhaps on Manhattan's Upper West Side. A master's degree is also on her wish list. 
Rabbi Reed, interim executive director of Rutgers Hillel, describes Rosen as an active Jewish leader on campus who expresses her commitment in multiple ways. 
"In addition to her work with JAQs, she served for a year as the Shabbat and Social Action chair at Hillel, is currently on the Chabad student board with a focus on women's engagement and exemplifies her commitment to both Jewish values and medicine in her volunteer work at hospitals, where she regularly visits with patients," Reed says. 
"Talia has developed a driven and self-sufficient JAQs board that will be able to carry on this important work after she graduates."