Chantel Amissah spent the spring producing social media videos highlighting works by female artists 
As a research intern at the Zimmerli Art Museum, Chantel Amissah dedicated her last semester at Rutgers introducing works by women artists to the social media masses. 
Amissah, a first-generation student whose parents are Ghanaian immigrants, graduated in May with a bachelor's degree in political science (in which she concentrated on women's, gender and sexuality studies) from the School of Arts and Sciences at Rutgers University–New Brunswick and a minor in theater.  
Throughout the spring, Amissah created a video series spotlighting different women artists and their contributions to global women's rights, which she shared on the museum's Instagram and Facebook pages. 
"Art has always been in my life in some way," the Newark resident said. "It's always been a passion of mine. It's also always been just something that gave me peace and tranquility." 
 
The "Exploring Women Artists" series highlighted prints, paintings and photographs by artists such as Colombian photographer Sandra Bermudez and her 2000 photo print "Good Night," which "astutely addresses femininity and body positivity through her work," Amissah noted in an Instagram post.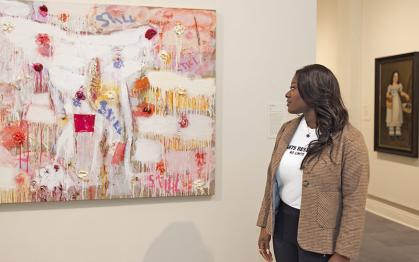 Amissah was a scholar of the Institute for Women's Leadership (IWL), a Rutgers-affiliated organization that brings awareness to women's issues worldwide through hands-on activism and diplomacy. She also was a member of the Douglass Residential College and a member of the New Jersey Educational Opportunity Fund (EOF) program.  
In middle school, Amissah was introduced to the art club.  
"I think that's what really ignited my passion," the IWL Leadership Scholar said. "I got to really express myself in a way that I haven't ever before." 
A requirement of IWL's Leadership Scholars Program is to secure an internship and take a coinciding class where "we talk about best practices, we talk about the best way to get to gain a lot out of the internship," said Amissah, who wanted to meld her "political science side" with her artistic one. 
An internship at the Zimmerli made sense, said Nicole Simpson, the associate curator of prints and drawings at the Rutgers museum. 
"One of the things we like to do with all of the interns at the Zimmerli is draw from their strengths and interests and see how that aligns with the mission of the museum," said Simpson, adding that one of the museum's main new missions is to increase the number of works by women on view in the Zimmerli's collection. 
I think people really connect to students talking directly to them about art. It really showcases a fresh perspective.

Nicole Simpson

Zimmerli associate curator of prints and drawings
"We came up with this idea for Chantel to focus on exploring the different women artists we have on view and presenting them through social media to reach a broader audience," Simpson said. "I think people really connect to students talking directly to them about art. It really showcases a fresh perspective." 
Simpson said she and Amissah toured the galleries several times and talked about the artists. 
"I told her what I knew about them, and then she did some independent research," said Simpson, noting Amissah's "remarkable background" and her deep interest in political science, women's issues and the plight of young girls "particularly in Ghana" as well as the performing and visual arts.  
"She basically would write up scripts and then together we would go through an editing process," Simpson said. "I think it's something you don't typically see at museums, and it was something that she was very interested and excited about." 
As with art, Amissah said she was drawn to politics early in life. 
 
"I've always had a fervor for advocacy and policy," said Amissah. "Also, I've had people in my family who are heavily involved in politics in Ghana. So, I think it's always just been a part of my life in some way. It was always just a conversation at our house. My aunt and my dad would have political debates for hours. And then, at some point, when I had the ability to articulate my point of view, I would get in the conversation, too." 
Amissah said she probably will be pursuing work in the political science field, "maybe something dealing with diversity, equity and inclusion or in the corporate world dealing with corporate social responsibility." 
 
That said, "I don't want to let go of art," she added. "I really want to explore curating and possibly be in the museum world in some way or either host an art gallery featuring my art."