Rainbow Graduation Marks 25 Years Bringing Rutgers LGBTQIA+ Community Together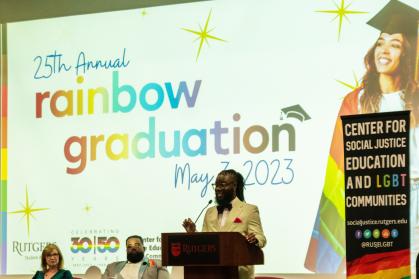 The 25th annual Rainbow Graduation celebrated the achievements of current and past graduates this year while marking a milestone anniversary and honoring those who support Rutgers' LGBTQIA+ community.
The May 4 event provided an emotional and uplifting recognition of the challenges and triumphs the Class of 2023 experienced and recognized students who have continued traditions of pride and activism on campus.
"It's an opportunity for the center to witness the culminating experience of our current students,'' says Keywuan Caulk, director of the Center for Social Justice and LGBT Communities (SJE) at Rutgers-New Brunswick, "those who we have worked super closely with and those who we have helped to evolve in their identity. This event is not just about their academic achievements, although it is rooted in that, but it is also about their activism on campus and their community building. So, the combination of being able to celebrate all of who they are, is why we're here."
The event was attended by family, friends, mentors and other significant people in the graduates' lives.
"It's a safe space for us to all come in and not have to worry about who's looking at us because we're different, or who's judging us because we love who we love or are who we are," said graduate Angelina Huber, a double major in journalism and media studies at the School of Communication and Information and women's, gender and sexuality studies at the School of Arts and Sciences. "And I think it's an important thing that a lot of schools should include. Everyone should feel seen."
Salvador Mena, vice chancellor for student affairs at Rutgers-New Brunswick, agreed.
"Rainbow Graduation reflects and embodies who we aspire to be as a beloved community at Rutgers. A space that affirms the student participants' journey and humanity and celebrates their achievements in a community space where joy, care and love are expressed," Mena said.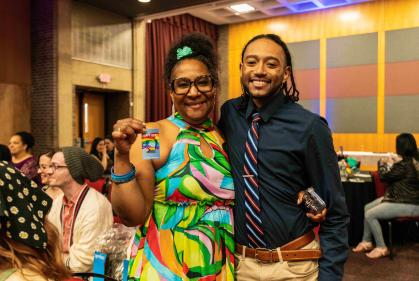 Throughout the ceremony, photos from the past year's events were shared, awards were given to both students and community members and then the presentation of a certificate, rainbow graduation stole and rainbow tassel as each graduate was recognized individually as they walked across the stage.
"My favorite part is our new gratitude pinning, a part of the ceremony that we implemented last year. It's an opportunity for our students in their celebratory moment to remember how and who helped them get here. It's a tearjerker for sure, but we get to say thank you to the people who held us up," said Caulk.
A Dream Deferred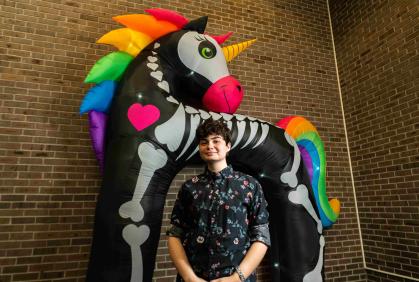 For Matthew Fontana, a Class of 2020 graduate, this year's celebration held special significance.
"At the 30th anniversary dinner for SJE a few weeks ago, I was talking to Keywuan and mentioned how nice it was to see everyone again, especially since we never got to have an in-person Rainbow Graduation because of the pandemic. Without hesitation, he said I should register for this year's ceremony and I thought he was joking, but he was serious. Of course I signed up, because the community here at SJE means the world to me," Fontana said.
Having been the recipient of the 2020 LGBT Task Force Award, which recognizes a student that does significant work for the LGBTQIA+ community on campus, made the comeback all the more memorable for him.
"My friends that I met through SJE really pushed me to be involved because I was so ready to just shut down because I was so anxious. I was really struggling to accept myself, but the community here is just so amazing and affirming. I finally felt like, for the first time, I was in a place where people respected me, they really saw me for who I was beyond just a gay, trans person and it just meant the world to me," Fontana said.
A Surprise Visit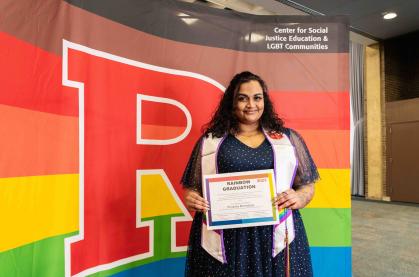 During the award ceremony, SJE graduate program coordinator Priyanka Bharadwaj was given a Graduate Student Recognition Award. After being prompted to give a short speech, Bharadwaj was prepared to go back to her seat, but instead was greeted with the surprise of a lifetime: behind her on the stage's big screen via Zoom was her father, who was in Wisconsin and could not make the ceremony in person.
"It totally took me by surprise, but it's definitely something that SJE would do. It's such a caring and supportive environment. Rainbow Graduation is just such a special tradition and I got to participate in it last year on the staff side, helping to plan it and awarding our graduates. Now to be on the other side is so special," Bharadwaj, a college student affairs major at the Graduate School of Education, said.
During his brief visit, Bharadwaj's father expressed his pride and admiration for his daughter, the work she does, gave her well wishes for her future career and thanked SJE for the opportunity to surprise her.
"I'm so happy to have made it here and to have all these amazing people supporting me. Especially my dad," Bharadwaj said.
An Unsung Hero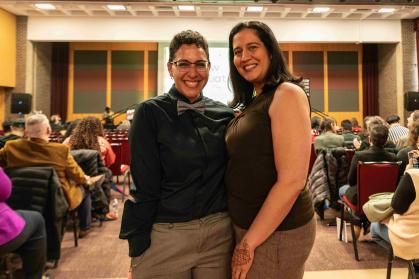 Gina Kandil, senior financial aid officer in the Office of Financial Aid, was also an honoree of the night, receiving the Dr. Cheryl Clark Award for her constant support of the students working in SJE's office. She helps students who have questions about their Federal Work Study funds or run into other issues, which she happily resolves.
"The fact that I'm being honored because I work closely with this department and what I do on my side, which does a lot for what they do, I'm grateful for that. The resources are not personally mine, but it's something I can facilitate. So it's no-questions-asked as long as we have the ability to do it. It's always about how I can help," Kandil said.
While giving her speech, students who have been personally impacted by Kandil's efforts gave her a standing ovation to show their appreciation for her efforts.
"These kids are everything I wish I knew how to be when I was in college, so I love to see it. I'm always going to support it. They're my babies, so when they come, I'll continue to support them however I can. I'm so thankful," Kandil said.