Support First-Generation Student Success
The RU1st Initiative supports first-generation student success at Rutgers–New Brunswick, which provides opportunities for students to have a successful personal, professional, academic, and social college experience. The RU1st Initiative is committed to intentional support to help first-generation students successfully graduate.
RU1st provides an opportunity for Rutgers to increase awareness about the experiences of first-generation college students and to share knowledge and best practices for first-generation college student success.
Students gain access to the RU1st transition course, academic advising and support, leadership experiences, and educational opportunity grants.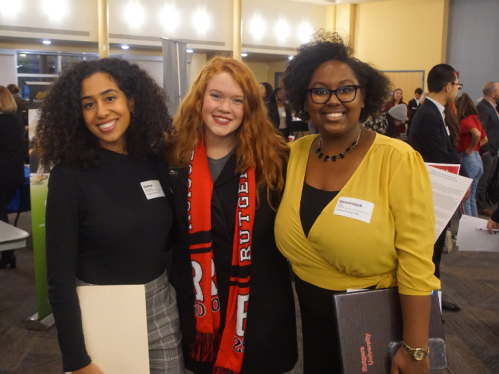 Young people in all socioeconomic groups have college aspirations. In fact, eight out of 10 expect to attain a bachelor's degree or higher, according to the U.S. Department of Education. But despite their aspirations, low-income students and those who are the first in their families to pursue higher education are severely underrepresented on college campuses. Studies show these students often lack the guidance they need to prepare for post-secondary education.
College student with "neither parent having received a four-year college degree".
At Rutgers-New Brunswick we think of it more as any student who may self-identify as not having prior exposure to or knowledge of an experience like Rutgers and may find having resources to assist in the transition helpful

30% of students enrolled in post-secondary institutions today are low income, first-generation college students. 89% of these students will not earn a bachelor's degree six years out from high school. They drop out of college at four times the rate of their peers whose parents have a postsecondary education. There are myriad reasons that these students struggle to access and complete college.
Namely, their parents might lack the ability to guide them in the college process having not navigated it themselves and they are often in schools and communities where college counseling and college-minded peers are lacking or nonexistent.
Academic preparation is sometimes another factor, but motivation to pursue college is not in question. Research shows that low-income, first-generation college students aspire to attend college at rates equal to their higher-income peers whose parents have a college degree

RU1st seeks to coordinate the support for first-generation students that occur on the New Brunswick campus at all of the undergraduate schools and departments with the aim to provide an opportunity to develop a sense of community for first-gen students at Rutgers–New Brunswick and help improve knowledge of and access to resources.

You should be prepared to buy books in the first days of each semester. However, you don't have to do that at the bookstore; compare bookstore prices with what you can find online to get the best deal.
Plan to have some extra money each time you travel to and from campus.
When you first arrive you will probably need some extra furniture or accessory items for your room, like lamps, cooking supplies if you're interested in that, rugs, hangers, bedding/blankets, towels, etc.

You can find resources at your school by visiting nbdiversity.rutgers.edu and contacting the RU1st liaison at your school.
Additionally, at Rutgers there are many services provided to support your academic success including the RU1st transition course, Learning Centers, Writing Centers, Byrne Seminars, FIGS, Cultural Centers, and so much more!

University Career Services provides resources to help explore your options including career counseling, resume review, and information on clusters.

There are programs designed, such as the Annual H.U.G.S. event that connected historically underrepresented students with corporate employers who provide internship and employment opportunities.
Academic advisors at the undergraduate schools for students to seek advice on issues including choosing a major

First-generation college students face all of the same struggles as their non-first-generation counterparts. However, there are some issues that are unique to this group. It is important for first-generation students to know that they are not alone and that there are resources available for them. First-generation students have a range of feelings about being the first in their family to attend and complete college. These feelings can include:

Excitement and Anxiety over being away from home at college, on their own, and the first in the family to attend college.
Responsibility to help pay for their education, perhaps even more so than students of higher socioeconomic status backgrounds.
Guilt and Shame about having the opportunity to attend college while others in the family had not been able or chosen to attend.
Embarrassment and Resentment over one's socioeconomic status or the level of education in one's family.
Confusion over the entire college process, from application to graduation to job or graduate school searches

Learn more about resources for parents and families at parents.rutgers.edu where you will find information about the Rutgers Parent and Family Association and Newsletter.
Attend Parent and Family Orientation to become knowledgeable about the resources/services available to your student since parent/family support is key to the academic success of college students.
Remind your students to make copies of all-important paperwork and to make sure to write down the name, department, date, and comments of the person they are speaking to when they contact different units on campus with questions.
Remember that pursuing higher education does not mean that students will lose the values they were raised with.
Your student may not be able to come home every weekend if they are living on campus—even if it is only 5 or 10 miles away and if they are living at home, they may not have the same amount of time to devote to family responsibilities as they did before.
Be patient with yourselves and one another, especially since this is a learning experience for everyone (both you and your student)—you will all be learning about this transition process together!

The pressure and stress that often comes with being in college.
To support me and try their best to understand what I am experiencing.
It is important for our parents to understand how hard college is and that the student will be under stress. The family should be supportive.
At times, students may feel overwhelmed and parents can be right there to support their children with words of encouragement. This goes a long way knowing that you believe in us!

You are not alone! Rutgers University has historically served first-generation students through various federal and state grant programs such as the Educational Opportunity Fund and TRIO Programs such as Upward Bound, Student Support Services, and the Ronald E. McNair Program. You can learn more about these programs at nbdiversity.rutgers.edu.

The path toward student success is a combination of academics, involvement, wellness, and spirituality. Successful students seek and utilize the many resources available to support their path toward graduation. Also, successful students find healthy ways to manage their time, money and maintain their health and motivation for staying in school.