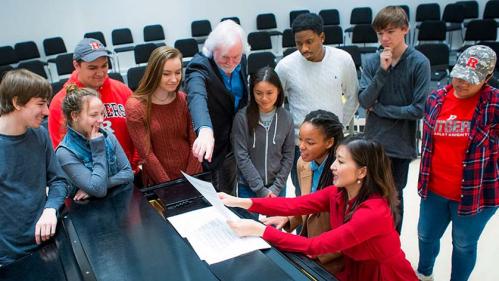 Byrne Seminars
First-year students can explore a potential major or try something new through a one-credit seminar.
Byrne Courses: Spring 2023
Professor: Hilit Surowitz (Religion)

Description: This seminar will explore the events of September 11th, 2001, and their aftermath from the perspective of American religious history. That is, the ways in which America's responses to 9/11 are in dialogue with religious themes and motifs. Some of the themes to be discussed include: A. The sanctification of urban space. Focusing on the ways in which Ground Zero is understood as a sacred pilgrimage site. B. Contested Space. The controversy over the construction of the Park 51 Islamic Community Center. C. Martyrs and Heroes. The ways in which first responders have been represented in American culture, with a focus on the use of traditional religious motifs and language. D. Architecture and Rebuilding. The cathedral-like architecture that graces the 9/11 Memorial and Museum site today. E. Ritual and Memory. The acts of ritualizing September 11th, and the religious dimensions of these ceremonies. The course will introduce students to the concepts of American Civil Religion, and sacred space and memory to name a few. Some of the theoretical issues to be explored are Mircea Eliade's concept of hierophany and axis mundi, Jonathan Z. Smith's discussion of ritual and sacred space, and the relationship between architecture and memory. These topics will be introduced through an examination of art, popular media, and graphic novels, among others.

Course Number: 01:090:101 section 19

Semester: Spring 2023

Professor: Ioannis Androulakis (Biomedical Engineering)

Description: Traumatic psychosocial events in early life, aka Adverse Childhood Experiences (ACEs: neglect, maltreatment, caregiver stress/depression, domestic/community violence) have been associated in epidemiological studies with increased lifetime risk of adverse health outcomes, including chronic non-communicable diseases such as diabetes, heart diseases and cancer, as well as psychiatric disorders. ACEs can have devastating, long-lasting effects on children's health and well-being. In New Jersey, 41 percent of children 0-17 years have experienced some of form of adversity during their early formative years. Nationwide, more that 46 percent of the 34 million children under the age of 18 are experiencing some form of adversity. This Byrne seminar will explore how to engage scientists, clinicians, policy-makers, practitioners and communities to work together advancing our fundamental understanding of the links between ACE and late-life health impacts and develop evidence-based approaches to mitigate the impact of ACEs and helping every child have a healthy start in life.

Course Number: 01:090:101 section 01

Semester: Spring 2023

Professor: Gal Hochman (Agricultural Economics)

Description:

This seminar provides interdisciplinary coverage of the design, operation, management, and economics of water reuse systems for finfish and plants growing on soilless platforms. By the end of the course, the student should have a fundamental knowledge of the design and management decisions influencing these systems and how research led us to the current technologies. 

The seminar will cover the following topics: 
•    Overview of recirculation systems 
•    Economic and risk evaluation 
•    Water quality monitoring and measurement 
•    Engineering design of individual unit processes 
•    System management 
•    The growing of aquatic plants in closed systems
•    Fish health management 

Throughout the course, we will use the case of striped bass and aquatic plants as an example. Replenishing striped bass numbers by reintroducing aquaculture-raised juveniles into native habitats can be achieved with the macrophyte aquaculture system (MAS). By employing duckweed's and macroalgae's water purifying and nutritive qualities, the MAS couples' fish and macrophyte growth into a single, closed setup that rears bass sustainably and cost-effectively. By reducing the need to purchase water cleaners and fish food, the MAS boasts several advantages of these aquatic systems, leading to lower production costs and environmental impacts over traditional aquaculture. In this example, research led to understanding the alternative feeds' value by determining if partial MAS-grown vegetation diets can cultivate striped bass as successfully as commercial pellet diets. 

Course Number: 11:090:101 section 01

Semester: Spring 2023

Professor: Doug Brownstone (Management and Global Business)

Description: This course is designed to offer students a direct hands-on experience in learning about and participating in a Hackathon – while learning techniques to solve business problems. Students will be exposed to and will practice advanced Hackathon techniques to enable them to better solve business problems and create new ideas. In addition, this class will enable students to effectively compete in Hackathon events that are now held around the world.

Course Number: 01:090:101 section 11

Semester: Spring 2023

Professor: Alex Bertuccio (Chemical and Biochemical Engineering)

Description: Have you ever wondered how beer is made? Maybe how a battery works? Or for that matter, how anything in your life is made? This seminar series will take a look at some of the "behind the scenes" engineering that makes products you use in your everyday life ranging from plastics to batteries to beer. We'll also delve into how some of these items affect the world. Other topics discussed are gene editing/ gene silencing, the engineering behind an automobile, and how clean is your water?

Course Number: 01:090:101 section 09

Semester: Spring 2023

Professor: Jim Miller (Marine and Coastal Sciences)

Description: What are the global geopolitical and policy implications of climate change? This seminar will introduce students to global climate change that is occurring in response to increasing levels of atmospheric greenhouse gases. After an introduction to the science of climate change, we will focus on potential future changes in water resources, both globally and in New Jersey, including the potential for increased floods and droughts, sea-level rise and coastal salt-water intrusion, and changes in groundwater reservoirs. Hands-on assignments will include learning about the sources of water in students' hometowns, how the water is obtained and processed, and what local companies are doing to address climate change. This seminar may include a boat trip on the Raritan River and/or a field trip to a local water processing plant.

Course Number: 11:090:101 section 12

Semester: Spring 2023

Professor: Angela O'Donnell (Education Psychology)

Description: This seminar will introduce students to collaborative and cooperative learning. We will explore ways to create successful learning and work teams. The content of the course is intended to provide some practical help to people who wish to use cooperative and collaborative learning in their classrooms or in other situations. We will explore what it means to be collaborative or cooperative and what impediments there might be. The primary focus of the seminar is on understanding why one might use cooperation or collaboration by examining underlying theory that might inform practical choices. The seminar will explore the journey towards a cooperative spirit and the outcomes that can result. 

Course Number: 01:090:101 section 05

Semester: Spring 2023

Professor: J.D. Bowers (Dean, Rutgers Honors College)

Description: Barbecue and Soul Food have been staples in the American food cultural landscape for centuries without much fanfare or recognition until a post-WWII nation witnessed a flurry of development in its culinary practices among both the family routines and the development of restaurants, Southern cooking, food shows, and cultural celebrations. 

Today there are TV shows, competitions, chain restaurants, mom-and-pop-hole-in-the-wall joints, cookbooks, and entire cultural manifestations and celebrations around both.

This course will focus on providing you with a deep and broad understanding of the realms of barbecue and soul food– including cultural, historical, agricultural/livestock, culinary, business, scientific, literary, contemporary pop culture, competition, and commercial aspects. We will, for example, explore how two foodways that revolve around meat play a role in the environmental realms of our society, the interplay of the chemistry behind the heat and smoke as well as its effects on health, and look into how and why both foodways have become such phenomenon. We will spend some (virtual) time with an author who has written a novel on 'cue, and we will also try to coordinate a visit, outside of class, to at least one, if not two regional joints, where we can speak with owners and pit-masters, customers and devotees, about their business models, their culinary decisions, and their traditions – yes, we will taste, but we will also learn, and use what we have learned, to understand the world of foodways and food culture and its intersections in our lives.

Course Number: 01:090:101 section 38

Semester: Spring 2023

Professor: Francine Conway (Chancellor-Provost; Graduate School of Applied and Professional Psychology)

Description: Have you ever wondered why the behaviors of some individuals appear to be contradictory to the beliefs they espouse? How is it that some people can make decisions yet have no recollection? Or why do some individuals perform behaviors outside of their awareness?   Why is an infant separated from a parent show no signs of relief when the mother returns? Why does an individual experiencing abuse during childhood become abusive to their children? These puzzling behaviors are examined throughout the course's introduction to psychological defense mechanisms.

Course Number: 01:090:101 section 50

Semester: Spring 2023

Professor: Mary Whelan (Environmental Science) and Ben Lintner (Environmental Science)

Description: Ecosystems emerge from the interplay of living things, climate, and the surface of the Earth.  Around the equator, organisms can count on fairly constant light and stable temperatures, as opposed to the nearly six months of freezing darkness experienced near the poles. In the tropics, lots of water and greenhouse gases like CO2 are exchanged with the atmosphere. In the Arctic, the cold temperatures have allowed huge stores of carbon to build up over time. Climate change affects all the inhabitants of the Earth System, from the smallest virus to the tallest redwood tree, by altering the balance of water and energy.  How much CO2 ecosystems take up or release in the face of a changing climate may, in turn, modify the climate state.  

How can we figure out how something as complex as climate interacts with many diverse and interrelated ecosystems? Studying the relationship of climate to ecosystems requires using tools from many different disciplines.  In this Byrne seminar, we will explore how we collect information about climate and ecosystems and make conclusions from real data. Our discussions will examine research from all over the world and how a local measurement can inform a global understanding.  Each week we focus on specific tools or methods that scientists use to formulate questions and reach conclusions about climate and ecosystems.  

We begin by looking at observations of CO2 and other compounds in the atmosphere and linking them to what is happening on the Earth's surface. By the end of the seminar, students will understand the fundamental principles of the relationships between climate and ecosystems, how these relationships are diagnosed, what they were like in the past, and how they may change in the future.  

Course Number: 11:090:101 section 11

Semester: Spring 2023

Professor: Sunita Chaudhary (Rutgers Cancer Institute of New Jersey)

Description: In this seminar learn how the most recent discoveries through cancer research are being translated into cutting-edge treatments for cancer patients. New approaches utilizing computer-assisted diagnostics, medical imaging and statistical pattern recognition allow for a more accurate diagnosis of a range of malignancies. Comprehensive genomic profiling of tumors through next-generation sequencing technologies offers the promise of personalized cancer therapy with targeted drugs. We will discuss the innovative immunotherapy approaches that are being utilized to harness the immune system in the fight against cancer and translational clinical trials that are being tested to study novel drugs in patients.

Course Number: 01:090:101 section 02

Semester: Spring 2023

Professor: Tracy Davis

Description: This course provides a broad overview of the multidisciplinary field of gerontology with an emphasis on key sociological, biological, and psychological aspects of aging. A special focus will be placed on the increasing population of older adults, the diversity among older adults, and career opportunities within the aging field.  Students will be encouraged to explore their own attitudes and beliefs about aging, what it means to age successfully, and gerontology courses and programs at Rutgers University.

Course Number: 01:090:101 section 08

Semester: Spring 2023

Professors: Richard Lutz (Marine and Coastal Sciences) and Costantino Vetriani (Biochemistry and Microbiology)

Description: The seminar will focus on deep-sea exploration from the origins to present times, and discussions will be based on a mix of oral presentations and documentaries. The seminar will expose students to the deep-sea environment and its inhabitants, and it will include discussions on ongoing ecological and microbiological research conducted at Rutgers in the most extreme environments on the face of the planet (e.g., deep-sea hydrothermal vents with temperatures in excess of 700°F located at depths of 1 - 2 miles beneath the ocean surface). The biotechnological potential of the deep-sea - e.g., the discovery of chemical compounds isolated from deep-sea vent organisms that may have pharmaceutical potential for curing certain types of cancer - will also be discussed. "Hands on" activities will include interactive exchanges between students and the professors focused on historical videos of deep-sea exploration. Among others, these videos include an Oscar-winning film documenting the initial biological expedition to deep-sea vents in 1979 (led by the first Director of Rutgers Institute of Marine and Coastal Sciences) and a special, large-screen Blu-ray showing for the class of an IMAX film entitled "Volcanoes of the Deep Sea" that was co-produced by Rutgers University featuring Rutgers scientists and research efforts. Rutgers was recently ranked 4th in the world among oceanographic research institutions and this seminar will expose the enrolled students to not only the cutting edge, deep-sea exploration that played a critical role over the years in helping Rutgers achieve that prominent world stature, but also to the many opportunities available to them related to oceanography at the University.

Course Number: 11:090:101 section 01

Semester: Spring 2023

Professors: Xenia Morin (Institute for Food Nutrition and Health) and James Simon (Plant Biology)

Description: All that most people want is appetizing food to eat that is convenient, affordable, and safe. But where does our food come from, and what are the consequences of our food choices and preferences, not only for our own health, but also the health of the planet? Join us on an exploration of a new concept called "One Nutrition", developed here at Rutgers. One Nutrition is based on the recognition that food and nutrition is not only essential to human and animal health, but that human and animal nutrition are interdependent and dependent on a healthy environment and a healthy planet. In this course, together we will trace the path food takes from its sources to our plates and stomachs, stopping along the way to consider both practical and existential factors that influence what we eat, including sustainability, environmental health, economics, ethics, food science, culinary science, and nutrition. We will also explore the role of research and innovation in advancing the One Nutrition approach to feeding the planet. This course is sponsored by the One Nutrition Program and the Center for Agricultural Food Ecosystems, New Jersey Institute for Food, Nutrition, and Health, and the Agriculture and Food Systems undergraduate program in the School of Environmental and Biological Sciences.

Course Number: 11:090:101 section 15

Semester: Spring 2023

*IDEA-Byrne seminar 

Professor: Nicholas Bello (Animal Science)

Description: "Globesity" is the term used by some to describe the worldwide impact of obesity. Several treatments are available for obesity, but do any of them work? In this seminar, we will explore the causes and consequences of obesity and current treatment strategies. Through hands-on experiments, we will analyze neural pathways that control food intake and body weight, and examine how obesity drugs work. We will explore obstacles to longterm treatment and efficacy standards of the FDA.

Course Number: 11:090:101 section 09

Semester: Spring 2023

Professor: Mark Robson (Plant Biology; Faculty Director, Byrne Seminars)

Description: This five-week seminar will discuss what we eat and the origin of foods and how we grow and prepare them. We will look at the two ends of the food supply, the one billion people who suffer from lack of calories and food insecurity and the one billion people who are now clinically obese and suffer from a series of non-communicable diseases. We will talk about how food is grown, shipped, and marketed. We will discuss personal choices and better eating.

Course Number: 11:090:101 section 07

Semester: Spring 2023

Professor: Triveni Kuchi (Rutgers Libraries)

Description: With emerging information and communication technologies, the plethora of information constantly generated is overwhelming. Such an information environment directly affects the way you discover, keep, use, or re-use information for your research. How do you manage your bazillion files? What organizing schemes or strategies for managing information are out there? What works, what doesn't, and why? This course will focus on understanding what information management entails; and how it requires an active, deliberative selection among alternatives, and a critical and habitual pursuit of analyzing and re-categorizing information. Through readings, class discussions, hands-on labs, and guest speakers, students will reflect, analyze, compare and use information organizing schemes or tools for managing a variety of different types of information. Final presentations will allow each student to creatively explore particular information management tools that are used at either the organizational or the individual level in 

Course Number: 01:090:101 section 33

Semester: Spring 2023

Professor: Mark Robson (Plant Biology; Faculty Director, Byrne Seminars)

Description: There are almost eight billion people in the world today and the population will grow to close to ten billion by 2050.  Almost eighty five percent of the population live in developing countries.  One of the challenges for this ever-growing population is providing a secure food supply.  We will discuss the trends in global food production and the technology used to increase global food supply. We will also explore the ever-growing global obesity epidemic – while there are 900 million under nourished people in the world there is a larger number of people, close to 1.4 billion, who are overweight.  Finally, we will look at the overall health of the global population, their jobs, their lifestyle, and the relationship to global environmental health issues, in particular those dealing with problems such as water and air pollution, food production and safety, and infectious and occupational diseases. Professor Robson will share experiences from developing countries in Southeast Asia and West Africa. Case studies and current research will be used as illustrations.

Course Number: 11:090:101 section 06

Semester: Spring 2023

Professor: Michael DeLuca (Jacques Cousteau National Estuarine Research Reserve)

Description: Students will learn about strategies to adapt to or mitigate the impacts of a changing climate on living resources, critical habitats, community resilience to coastal hazards, and the relationship to economic activities such as aquaculture and wind energy development

Course Number: 11:090:101 section 16

Semester: Spring 2023

*IDEA-Byrne seminar

Professor: Lily Todorinova (Rutgers Libraries)

Description: In this course, we will develop an understanding of information as a commodity, with a richly contested value for both individuals and societies. This course will engage with different types of information inequalities, such as those between economically rich/poor societies, as well as situations where information is restricted or censored. From the level of societies, information is politically and economically charged. The ubiquity of information technology in the West makes it easy to overlook the persistence of vast areas of information poverty in the world. This global digital divide of access to technology and information literacy, continues to threaten human rights, development goals, and political stability. Information also has a private and personal value. We will examine case studies of how governments and corporations quantify information and what this means about our own information "worth." In addition to class discussions, we will develop information literacy skill s and use scholarly resources available through the Rutgers University Library to explore these topics.

Course Number: 01:090:101 section 31

Semester: Spring 2023

Professor: Chloe Hawkings (Entomology)

Description: Invasive insects are an underappreciated component of global development. Insects unintentionally introduced to non-native ecosystems can negatively affect food security, human health and disrupt ecosystems. As the frequency of insect invasions around the world increases with global trade and temperature changes, it is crucial to understand the biological traits that contribute to their success as invaders and their ecological, agricultural, and public health impact to make informed decisions to mitigate their effects. In this seminar, we focus on insect invaders and their implications on human health through the pathogens they carry and their impact on our environment. 

Course Number: 11:090:101 section 14

Semester: Spring 2023

Professor: Derek Shendell (Environmental and Occupational Health and Justice)

Description: This course addresses indoor air and environmental quality (IEQ or IAQ) problems and mitigation approaches. The course examines major sources, commonly identified pollutants (exposure agents or risk factors for acute and chronic adverse health effects), and factors determining pollutant concentrations in indoor environments. The course also examines health risks associated with various IAQ problems in contrast to other relevant types of health risks (from outdoor air, etc). Risk management options and recommendations, including regulatory and technical approaches, will be reviewed and discussed.  

Course Number: 01:090:101 section 21

Semester: Spring 2023

Professor: Jeff Friedman (Dance)

Description: This I.D.E.A. seminar offers students a framework for thinking interdisciplinarily, including the arts, humanities and $.T.E.M. fields, and provides 3 case-studies that exemplify this framework from the working scholarship and artistic production of the instructor. A workshop with a guest artist provides hands-on experience.

Course Number: 01:090:101 section 39

Semester: Spring 2023

*IDEA-Byrne seminar

Professors: Evelyn Wang (Dance) and Paul Ocampo (Dance)

Description: This course will investigate various dances, traditional arts and culture of Taiwan, the Philippines, and neighboring countries. Through the language of dance, students will learn traditional arts and cultures using practices and modality that are fun, interactive and informative. This seminar is designed for students who want to expand their understanding of dance as an emblem of cultural identity and an expression of social order. Along with the practice of dance, we will experience how to prepare traditional foods associated with respective festivities. The food serves as a conduit for a holistic experience to deeper comprehension of Asian cultural arts and heritage. This seminar will include a field trip to New York City.

Course Number: 01:090:101 section 44

Semester: Spring 2023

Professor: Ronald Quincy (School of Social Work)

Description: In this seminar students will work on capacity building projects with the co-instructors to support several civil society and nonprofit organizations in Kenya. Students will engage with the Mandela Washington Leadership Fellowship Alumni on their Civil Society Organization Projects in Kenya through the use of electronic media (e.g. Skype). The seminar will engage students with Johnson & Johnson leaders based both in the U.S. and in sub-Saharan Africa about best practices in managing and leading African Civil Society Organizations. Students will take a trip to the U.N. to attend an international conference related to African Civil Society Organizations.

Course Number: 01:090:101 section 35

Semester: Spring 2023

Professors: Ines Rauschenbach (Biochemistry and Microbiology) and Ramaydalis Keddis (Biochemistry and Microbiology)

Description: What did surgery look like before doctors washed their hands and used aseptic technique? What allowed scientists to discover that microbes recycle carbon and nitrogen in the environment? How did people fear the unknown Spanish flu pandemic and how does this compare to the COVID pandemic of 2020? This seminar will highlight those questions and more to allow students to understand the impact that microbiology has had on society over the past hundreds of years and which experiments and discoveries shaped the knowledge that we have today. The course will include readings, mini lectures, discussion, and hands-on activities that will spotlight the past and present of microbiological discoveries.

Course Number: 11:090:101 section 03

Semester: Spring 2023

Professor: Scott Ordway (Music)

Description: The natural world has always been a primary source of inspiration for musicians. In recent years, composers have continued this tradition by creating powerful works in response to contemporary environmental issues such as global warming, carbon emissions, and wilderness conservation, among others. In this seminar, students will listen to and discuss classical and contemporary vocal and instrumental works that address and celebrate humanity's efforts to live in harmony with the natural world. They will furthermore investigate how video, sound recordings, and digital tools of analysis and fabrication can change both the perception and the representation of our environment. They will get insight in how to use these tools for their own research, compositions, and designs.

Course Number: 01:090:101 section 45

Semester: Spring 2023

Professors: Mary Nucci (Human Ecology) and Lena Struwe (Ecology, Evolution, & Natural Resources)

Description: This seminar is a beginner's introduction to nature journaling, an immersive way to explore, learn to see, describe and identify, and gain understanding of living organisms and nature present in our everyday lives, including in cities and indoors.  We will teach nature journaling through demonstrations of active, hands-on exploratory methods as a tool for 'seeing the world'.   Popular science level readings and guest speakers will provide students with fundamentals on biodiversity, conservation, and structure and function. All students will explore creative representation of biodiversity, using visual, written, and quantitative expression forms, through art and design through history, and its connection to wild living organisms.  The goal a basic understanding of how to communicate science in handmade journal pages. The known value of journaling for improved physical and mental wellbeing and development of important life skills will be explored through readings, discussions, group work, and individual assignments.  Students will practice and improve observation and organization skills, on-the-spot problem-solving, communication of quantitative and qualitative data, time management, geographic navigation, sense of place, and focus and attention on specific tasks.  Demonstrations of art techniques using pencil, ink, watercolor pencils, and watercolors will be included.  Students will be supplied with a personal art journal, pencil (graphite and blue), and kneaded eraser.  Assessment will be done through review of journals in class, online discussion forums, sharing of journal pages, and reading feedback.  The course is for journaling beginners and non-beginners – all are welcome.  No previous knowledge of natural sciences or art is required.  

Course Number: 11:090:101 section 05

Semester: Spring 2023

Professor: George Stauffer (Music)

Description: Is music an essential part of life? Is it truly necessary? History suggests that it may be, that we can't seem to live without it, that it appears to have been with us since the dawn of civilization, and that it will probably be with us when we breathe our last. The present seminar will explore the role of music in modern life—from ritual to rap, from ballet to Broadway, from concert to video commercial, from movie to muzak. It will weigh just how important music is, and why it so affects humans. We will look at the complex way music is processed by the brain and how it becomes embedded in memory. We will look at music in its various roles in society: in sports, in religion, in democracy, in movies. And we will look at a wide range of music, from Gregorian chant to Lady Gaga, stopping by Bach, Louis Armstrong, Tito Puente, Madonna, Bruce Springsteen, and many others on the way. Is music truly a human obsession, as Daniel J. Levitin claims? We shall see, in this seminar.

Course Number: 01:090:101 section 20

Semester: Spring 2023

Professor: Megan Lotts (Rutgers Libraries)

Description: Play can create a dynamic narrative that promotes engagement and community, as well as fosters creativity and problem-solving which are crucial to innovation.  Play also builds strong communication and social skills, and these skills can be helpful when creating knowledge, performing scholarly research, or engaging with one's peers. Play can be all-inclusive, encourage exploration and cross-disciplinary collaboration, as well as a chance to embrace failure as a positive part of learning. Developing creativity and problem-solving skills are experiences that are often lacking in higher education and yet a skill that many students are familiar with and will need in their future careers. This course will look closer at play, why it is an important part of our everyday lives, as well as its presence in higher education. This course will involve readings, creating games, keeping a play journal, field trips, and more. 

Course Number: 01:090:101 section 26

Semester: Spring 2023

Professor: Martin Gliserman (English)

Description: This seminar will work on one of the most beautiful and appealing texts of the early part of the 20th century— Virginia Woolf's To the Lighthouse. This novel takes us on a physical journey as a culmination of a psychological journey—it moves us in space and time very deeply into the minds of the characters. In turn, the seminar will take its own journey into this text in a way that redefines "reading between the lines." The work we will be doing in the seminar is directly related to an ongoing research project on a group of one hundred novels written between 1719 and 1997. The project, teXtRays: Reading 2.0, investigates networks of meaning in literary novels and does so at micro and macro levels—it is looking for large patterns about all the novels, but it is also looking at fine details within individual texts. We will attempt to demystify some of the processes of making meaning in the novel we study. Please see: teXtRays.com 

Course Number: 01:090:101 section 16

Semester: Spring 2023

Professor: Miriam Jaffe (English Writing Program)

Description: In this seminar, we will each use storytelling as a research methodology to produce a short autoethnographic case study, thus revealing our many layers of consciousness. We will examine our own individual experiences to recognize the value of our cultural capital--that is, what we already know. Sometimes, we may not actually be aware of how much we already know, so the advantage of the case study is that it does not pretend to control outcomes through these types of assumptions. In case study writing, we engage in cultural humility, avoiding the assumption that there is an inherent end-point or predetermined goal for the research writing. To offer an example in a way that is "experience-near" requires that we are inevitably intertwined with our natural environments, which generalizable data often fails to capture, even with the best measures. Together, we will enter an intersubjective world, not a subject/object world of certainty, as we "me-search" our way into research. Putting our collective stories into conversation with each other, we will challenge dominant narratives and big box data, which perpetuate privileges for the mainstream.

Course Number: 01:090:101 section 04

Semester: Spring 2023

Professor: Barbara Angeline Greenspan (Dance)

Description: Authentic jazz dance lies in the freedom of its participants to enthusiastically express their individual spirits. The roots of the African-American-based, social dance form are burrowed firmly in the duality of individual and community contributions and benefits. Jazz dance, in this enduring, social context, is simultaneously celebratory and defiant; inviting and mutinous; explosive and cool. The release of these powerful, communicative forces—united in the embodiment of Africanist dance elements—has been used throughout American history to address social injustices. This seminar explores social jazz dances and their historical connections to social justice. Students will also learn the power of dance as a physical communication, capable of addressing, shaping and changing societal issues.

Course Number: 01:090:101 section 43

Semester: Spring 2023

Professors: Richard Anderson (Division of Continuing Studies; Rutgers Makerspace) and Dan Swern (School of Communication and Information)

Description: Cities face challenges when it comes to messaging about available social services, historical curiosities, and creative culture. Community access isn't necessarily limited by financial or bureaucratic barriers, but through wayfinding and navigation due to poor signage or a dearth of public information. Through web-based tools in XR (extended reality, inclusive of augmented and virtual reality), our smartphones can give us the ability to immediately reveal resources hidden in plain sight as well as provide on-the-fly context and insight for both our built and natural environments. XR integrates real world experience with virtual world access. When produced as a robust community-based ecosystem, XR adds another layer of texture to the places where we live and work, and fundamentally changes the way we think about a traditional neighborhood. By using the mobile camera to frame and interact with the world, we're helping people frame and interpret what they are seeing. Through the use of game mechanics and incentives, we're enhancing and encouraging exploration and fighting isolation between individuals. Students will learn augmented reality 3D-modeling and game development in Unity (ubiquitous developer software), and meet with New Brunswick community and nonprofit leaders to marry their applied technical and creative skills with real world service access needs. Deiner Park on College Avenue Campus will serve as the real world workspace for XR development as it is public space right on campus that represents a convergence of unique creative, environmental, residential, transportation, and service access challenges and opportunities to be explored in the technology lab.

Course Number: 01:090:101 section 06

Semester: Spring 2023

Professor: Ani Javian (Dance)

Description: As yoga, meditation, and other somatic techniques become popularized, the word "mindful" gets tossed around in our culture without truly considering its significance. What does it mean? This seminar works toward understanding and experiencing mindfulness via an introduction to general somatic principles such as self-reflection, sensory awareness, and body/mind integration. Through guided movement explorations and other opportunities for increased self-awareness, we may become more adept at tuning in to our interior selves, to the world around us, and to the earth that supports us. There will be some movement, some drawing, and some discussion as we practice listening to cultivate a holistic body/mind approach to our daily lives. No prior movement experience is necessary. 

Course Number: 01:090:101 section 42

Semester: Spring 2023

Professor: Carl Kirschner (Spanish and Portuguese)

Description: The world of intercollegiate athletics has changed dramatically from the days of regional competitions without media coverage to the present national stage with television and internet coverage. What were the factors underlying the change? What role have the universities played? What role has the National Collegiate Athletic Association (NCAA) played? This seminar will review the history of intercollegiate athletics with a special emphasis on the last ten years. Significant case studies of positive and negative behaviors by players, coaches, and universities and the reactions (sanctions) by the NCAA will be studied.

Course Number: 01:090:101 section 47

Semester: Spring 2023

Professors: Patricia Morton, Wise Young, and Martin Grumet (Cell Biology and Neuroscience)

Description: Using present day examples from stem cell and spinal cord injury research and clinical trials, this course will enable students to look beyond the headlines to the underlying facts and issues in scientific research, to critically raise and examine ethical questions, and to understand that the purpose of science is to improve the lives of people. Students are encouraged to find and report on examples in movies, television, newspapers, magazines, journals, and other contemporary sources. The class includes tours of the W. M. Keck Center and Stem Cell Research laboratories. In addition, one session will feature a guest and family dealing with spinal cord injury who will share their experiences and answer questions.

Course Number: 01:090:101 section 27

Semester: Spring 2023

Professor: Gary Minkoff (Management and Global Business)

Description: In this seminar, student participants will be introduced to the entrepreneurs, inventors, supporters, and investors that make new businesses and new ventures happen in New Jersey. We call this the local ecosystem of entrepreneurship and innovation and Rutgers is a central player in this process of new venture creation. We will learn about entrepreneurship from alumni, faculty, and guest speakers from around New Jersey and participants will be able to develop and pitch their own ideas to a panel of entrepreneurial students and alumni.

Course Number: 01:090:101 section 25

Semester: Spring 2023

Professor: Jeff Boyd (Biochemistry and Microbiology)

Description: The scientific misconception that all microbes are bad germs is not lost as students enter college. Most people do not understand that microbiology is a part of their everyday lives and it is ingrained in their personal history; socially, as well as biologically. The goals for the course are to excite incoming students about microbiology, inform them about how important microbiology is to their everyday lives and cultural heritage, and recruit students to STEM disciplines. New Jersey has a large immigrant population, which contributes to Rutgers having the most diverse student body of any American university. Peoples from every culture and religion enjoy signature-fermented foods. Although students may have a cultural appreciation for these foods, they typically do not understand the importance of microbes in producing them and they may not have an appreciation for the fermented foods of other cultures. Throughout the course, students will be introduced to microbial physiology and the basics of fermentation. We will discuss what the microbes gain from fermenting sugars or amino acids and what we gain from the fermented foods and from ingesting live microorganisms. We will discuss the historical importance of fermented foods and the importance of fermentation byproducts as flavor enhancers and preservatives. We will then embark on a journey through representative cultures and their signature fermented foods. We will conduct hands on activities such as making yogurt, food tastings and a laboratory visit. We will end the course by discussing alternate biotechnological applications of microbes and how microbes can be used to help address problems currently facing humanity and the earth.

Course Number: 11:090:101 section 17

Semester: Spring 2023

Professor: Jeff Boyd (Biochemistry and Microbiology)

Description: Over the past fifty years, high speed passenger trains have emerged as a critical transportation resource throughout the world. The era began with the Japanese Bullet Train (Tōkaidō Shinkansen) first service on 1 October 1964. The Japanese high speed train system now provides over 400 million passenger trips per year, and travels at a top speed exceeding 300 km/hr. Similar high speed passenger trains have been developed in Europe, China and the US. The Byrne Seminar will trace the development of high speed passenger trains and their future.

Course Number: 01:090:101 section 37

Semester: Spring 2023

Professor: Nicole Houser (English Writing Program)

Description: Are you interested in learning more about the linguistic and cultural diversity of our community? Would you like
to participate in a new research project that documents the rich linguistic diversity of Rutgers New Brunswick? In
this course, you will conduct field work to collect and analyze various types of linguistic data (signs,
advertisements, interviews with community members) to investigate all languages spoken in the New Brunswick
community, present and past. Your findings will contribute to a large-scale research initiative on linguistic
diversity at Rutgers, "The Linguistic Landscape Project."

Course Number: 01:090:101 section 15

Semester: Spring 2023

Professor: Trip McCrossin (Philosophy)

Description: The problem of evil, as Susan Neiman has described it, is the perniciously difficult to satisfy "need to find order within those appearances so unbearable that they threaten reason's ability to go on," as when (at times incomprehensibly) bad things happen to (at least relatively) good people, and (at least relatively) good things to (at times incomprehensibly) bad people. Central to her watershed perspective on the problem are two related propositions. She proposes, on the one hand, that midway through the Enlightenment, the problem of evil developed, in addition to the traditional theological version—according to which human reason strains, in the above "find order" spirit, to reconcile conspicuous human suffering with faith in divine wisdom, power, and benevolence, which either makes or allows it to happen—a more secular version as well. Here, while it's no longer in response to suffering's ostensibly divine origin, reason strains similarly nonetheless, so much so as to call into question, as the theological version does already, reason's very ability to make the order it so fervently desires. She goes on to propose, on the other hand, that in response to both versions of the problem primarily two competing perspectives arise, which competition defines us still today, beginning with the public rivalry between Rousseau's and Voltaire's, the former insisting that "morality demands that we make evil intelligible," the latter that "morality demands that we don't." The seminar is designed to have participants work together to identify and elaborate the various ways in which these competing perspectives endure in philosophy and popular culture.

Course Number: 01:090:101 section 14

Semester: Spring 2023

Professor: Johanna Bernstein (Assistant Dean for Global Programs; Chemistry and Chemical Biology)

Description: What is that sculpture made of? How does an artist choose which materials to use? How long will these materials last? How can you tell if something is a fake? We will answer these questions by looking at art and cultural objects from the point of view of an artist or craftsman, a scientist, an art conservator, and a historian. Using a series of case studies from museums and cultural institutions around the world, this seminar will show how technological advances have influenced the creation of art and our ability to examine them. Topics will include forensic analysis and the degradation of materials, technical art history, and analytical sciences applied to the preservation and conservation of historic objects.

Course Number: 01:090:101 section 46

Semester: Spring 2023

Professor: Stephen Schnetzer (Physics and Astronomy)

Description: This seminar explores what we have learned about the fundamental physics of elementary particles and cosmology over the past fifty years along with the current mysteries and unknowns. Through discussions, students will gain an idea of what fundamental physics research is and the pressing questions that we are currently striving to answer. The seminar is based on an article by Steven Weinberg from the New York Review of Books entitled "Physics: What We Do and Don't Know." The seminar will be at a serious level, but the use of mathematics will be kept to a minimum. Students who have taken college-prep level mathematics in high school should be well prepared.

Course Number: 01:090:101 section 34

Semester: Spring 2023

Professor: Michael Shakarjian (Pharmacology and Toxicology)

Description: In this semester we will examine potential weapons of biowarfare---including biological, chemical, and nuclear weapons---from several perspectives. Topics include their mechanism of action, biological impact, detection and recognition, epidemiology, and treatment. Using risk assessment and critical thinking we will evaluate the potential dangers and effectiveness of using these types of weapons. We will also investigate strategies for defense against attacks, and the bioethical challenges of anti-bioterror research.

Course Number: 01:090:101 section 23

Semester: Spring 2023

Professor: Labros Sidossis (Kinesiology And Health)

Description: The purpose of this course is to introduce students to the concepts of wellness of healthy lifestyle for the prevention and treatment of lifestyle-related diseases, such as cardiovascular diseases, diabetes, stroke and obesity. Students will gain an insight into the concept of wellness, become familiar with the components of healthy lifestyle (e.g., nutrition, physical activity, sleep, stress, social life etc.) and understand the role of lifestyle choices in health promotion and disease prevention. Students will gain evidence-based knowledge to adapt a healthy lifestyle during their studies at Rutgers University

Course Number: 01:090:101 section 28

Semester: Spring 2023

Professor: Ebelia Hernandez (Education Psychology)

Description: What does it mean to be Latino, Latina, Latinx?  What do we share in common and how are we different?  This seminar examines the diversity of the Latinx experience, such as our differing political views, language, unique immigration histories, being gay/queer, the difference between ethnic identity (Latinx) and racial identity (Black, white, indigeno, etc.), and others.  Why does white women passing as Latinx bother us?  We will pair learning about Latinx identity development and pop culture (e.g., One Day at a Time, Pose, Gentefied), current news, social media, and other forms to understand what being Latinx means today, and what it means to college students in particular.

Course Number: 01:090:101 section 12

Semester: Spring 2023

Professors: Charles Keeton (Physics and Astronomy; Academic Dean, School of Arts & Sciences Honors Program) and Brian Ballentine (Senior Vice President, Strategy)

Description: Officially, Rutgers is a public land-grant research university – but what does that all mean? Why does Rutgers exist? Besides classes, what else happens at Rutgers, and why? How do students benefit from having teaching, research, and public service all under the same "roof"? In this seminar, students will explore the mission of the modern research university by interviewing a variety of people who carry out its work – from professors in the lab to deans to members of the president's office. By understanding how Rutgers works, students will gain insight into how to make the most of their time here. We will conclude by drafting our own mission statement for the university and comparing it with the official mission statement.

Course Number: 01:090:101 section 22

Semester: Spring 2023

Professors: Rebecca Mark (Institute for Women's Leadership) and Mary O'Dowd (RBHS-Clinical Affairs)

Description: The COVID-19 pandemic has amplified what many public health professionals have known for years: being a woman, or LGBTQ+, particularly a black, indigenous, or person of color, makes a significant difference in health outcomes. Unequal power relations, poverty, violence, and decreased access to education disproportionately affect women and girls, creating barriers to attaining the best possible level of health. Without access to quality healthcare, plagued with intergenerational diseases brought on by systemic racism and violence, women are facing an international health crisis.  At the same time, women are not only caring for the health of children and the elderly, but they are also disproportionately in essential low-paying and non-paying caretaker roles in hospitals, nursing homes, schools, and communities. Inspired by the life of alumna Anita Ashok Datar, a Rutgers '95 graduate who dedicated her career to public health issues, especially those concerning women and children, this seminar will connect current challenges and progress in women's health with research and programs at Rutgers. The seminar will allow students to make meaningful connections with women leaders in New Jersey and at Rutgers providing an opportunity to see the diversity of professions and professionals working in the fields of healthcare, and public health. We will learn from case studies in the new volume Junctures in Women's Leadership: Health Care and Public Health edited by Mary E. O'Dowd (guest professor for the course) and Ruth Charbonneau. Students will have a chance to meet with authors, public health advocates, providers, and activists. We will employ DESIGN THINKING (moving from empathy to action) as a pedagogical tool to construct interdisciplinary, innovative solutions.   

Course Number: 01:090:101 section 40

Semester: Spring 2023

*IDEA-Byrne seminar

Professor: John Evans (Dance)

Description: This seminar will help you focus on finding calm in your life while joining the ranks of busy college students. Through the study and practice of yoga, we will explore how to build a stronger mind-body connection. This seminar will assist you in learning how the practice of yoga can support a happy and healthy life. Through centering and breathing techniques, strengthening and stretching yoga postures, and simple meditations, students will begin to gain a better sense of well-being. We will investigate mindfulness trainings and yoga sequences throughout the ten-week seminar. 

Course Number: 01:090:101 section 41

Semester: Spring 2023

Professors: Cara Cuite (Human Ecology) and Rachael Shwom (Human Ecology)

Description: In this seminar we will explore the question: If eating meat is cruel to animals, bad for your health and bad for the environment - why do we continue to do it?  Student will read writings by ethicists, environmental scientists, historians, anthropologists and others to explore the roots of and implications of meat eating in the US and other societies.  Students will write short paragraph reflections on these readings to relate them to their own experiences and knowledge and come to class to discuss these readings. They will use an on-line app developed by the instructors research team to understand the environmental implications of their diet and meat eating.  They will have a speaker from Rutgers dining services to learn about what Rutgers is doing to reduce meat consumption, visit a Halal market, go have a vegan lunch, and watch the documentary Cowspiracy.   For the final couple of weeks, we will work together as a class to develop ideas about how we may reduce meat consumption in American diets.

Course Number: 11:090:101 section 04

Semester: Spring 2023
We invite Rutgers–New Brunswick faculty to teach a Byrne First-Year Seminar in the 2022-2023 academic year. This program, which will celebrate its 15th anniversary in 2022, connects full-time Rutgers faculty with our new students as they begin their undergraduate study. We are excited about the long-term potential of these seminars to reshape our students' sense of what Rutgers means as a research university. Connecting students early-on with our faculty make a significant difference in the ways they define their academic and career goals. We hope that many of the outstanding scholar-teachers across the New Brunswick/Piscataway campuses will join us.
Questions? Contact James Register at byrneseminars@rutgers.edu or call 848-932-6971.
Course Requirements
Byrne Seminars are taught by full-time faculty and/or senior administrators. Courses range in topics meant to arouse the intellectual curiosity of our undergraduates and introduce first-year students to the resources of Rutgers.
The following are requirements of all Byrne Seminars. Failure to meet the requirements will result in the cancellation of the course.
Courses must meet for 1.25 hours once per week for 10 weeks, or for 2.5 hours once per week for 5 weeks.
There is a 20-student maximum in each seminar; 10-student minimum.
All instructors must review, sign, and return the Byrne Instructor Agreement by the established date.
The individual listed on the Instructor Agreement must be the person who is teaching the seminar. Our office must be notified if any changes are necessary.
Using the syllabus template, instructors must submit a copy of the syllabus to our office by the established date. Posted office hours must be included on the syllabus.
Requests for seminar enhancement funding must be submitted via our website by the last week of September for the fall semester, or last week of February for the spring semester.
Grading and Course Material
The course syllabus must clearly demonstrate how grades will be assigned and include a grading rubric. Students who are successful in the Byrne Seminars will earn one academic credit; therefore, the assigned work must be reasonable. Attendance and class participation are essential and should make up at least 50 percent of the course grade. To earn a passing grade, students should not miss more than two class meetings.
Reading: Based on successful seminars, we recommend a maximum of 30 pages of reading per week. Students should be asked questions based on the required readings which will prompt discussion during class.
Writing or Presentations: Based on successful seminars, we recommend a maximum of 5-7 pages of formal writing, 15-20 minute presentations, opportunities for group work, or some combination over the course of the entire semester.
Compensation
As of the 2022–2023 academic year, faculty and senior administrators will receive $2,500 research stipends. Faculty who co-teach a Byrne Seminar with one other colleague receive $2,000 each. Research funds will be transferred into your account via journal entry within 30 days after the completion of the course. The account information and the name of your business contact person must be sent to Senior Program Coordinator James Register by the established date. Please note that research funds will not be transferred until our office has received the signed agreement, a copy of your syllabus, your account information and your business contact person.
Seminar Enhancement Funding
The Office of the Provost has set aside a limited amount of funds which may be used for field trips, outside speakers, and special events. Requests for seminar enhancement must be submitted via this online form. Funding is available on a first come, first served basis.
Field Trips
All field trips for which you want support from the Office of the Provost must be approved beforehand. All students are required to participate in the field trip. A trip itinerary and waiver forms must be submitted no later than two weeks after the seminar start date. Appropriate transportation for your trip, NJ Transit tickets or a bus, will be arranged. Instructors will also be reimbursed for admission fees/tickets and for reasonable food requests depending on the duration of the trip.
Outside Speakers
Our office will pay up to $250 toward a speaker's fee. For payment of speakers and honoraria, the name, contact information, and social security number of speaker; date of speaking engagement; course information including the course name, date, time, and location; expectations of the speaker, such as name of speech or topic discussed, question and answer, discussion, book signing, etc.; and the agreed-upon cost of speaker, invoice, and W9 form are needed.
Our faculty brochure provides an overview of the Byrne Seminars program. Please review our syllabus guide for required items such as academic integrity, absence reporting, and disability services