A Rutgers Professor's Efforts to Bring Civic Engagement into Classrooms across the Globe
Educators throughout the world are joining together to determine what needs to be done to develop educational tools for students to become more civically engaged in the democratic process.
Elizabeth Matto, director of the Eagleton Institute's Center for Youth Political Participation, and the lead editor of Teaching Civic Engagement Globally, says it is urgent for students worldwide to understand how democracies flourish.
Matto spoke with Rutgers Today about an upcoming virtual discussion with the editors and contributors of Teaching Civic Engagement Globally about why the political engagement of students is crucial.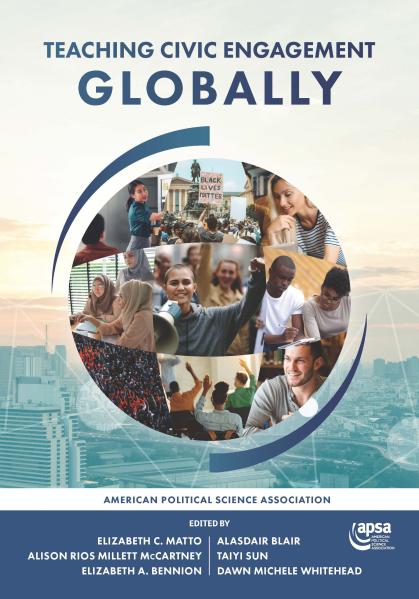 What are some best practices in teaching civic engagement?
First, universities and faculty of all disciplines must prioritize preparing the next generations of informed and engaged democratic citizens. Civic and political learning can be woven into the fabric of a campus in various ways, including engaging in frequent political discussion to building a campus climate that prioritizes social cohesion to offering meaningful leadership roles to students. Second, it's important democratic learning comes to students of all disciplines. There is a growing toolbox of civic engagement applicable to all disciplines – including STEM – that offers faculty ways to weave democratic learning into their coursework without sacrificing core curricular content. Third, to paraphrase John Dewey, we learn by doing. Experiential learning that allows students to go into their community and practice the lessons learned has been an effective way to build the knowledge, skills, and disposition of thoughtful and dedicated democratic citizens.         
How can Rutgers students become more politically engaged?
The most obvious and most recognizable form of engagement is regular voting. The Center for Youth Political Participation has nonpartisan, accurate, comprehensive information available online for Rutgers students. Visit RU Voting Rutgers for campus-specific voting information and RU Voting National for Rutgers students voting outside of New Jersey. Self-government requires more than just voting on Election Day, though – it takes paying attention to politics, engaging in political discussions, expressing your opinion, holding elected officials accountable, and being an active part of your community's civic life. Politics matters to the lives and futures of young adults – it's imperative that young adults ensure their voice is heard not just every few years at election time, but all the time.
What will readers take away from the latest volume of Teaching Civic Engagement Globally?
Readers will take away greater awareness of the critical role that teaching democratic citizenship plays in sustaining or expanding democracy – this holds for both established and establishing democracies. Democratic practices can be found in various contexts, and good governance does not only take shape in one form. The book includes examples, models, and best practices of teaching civic engagement from various settings. Studies published in this text contribute to identifying how teacher-scholars are educating students in democracy and the nature of the scholarship of teaching and learning taking place. The worldwide contributor base helps us consider the diverse set of challenges and opportunities to teach civic engagement with examples of inventive techniques and areas of potential growth. There is an urgency and shared responsibility we all have to play an active role in supporting democratic education. The book reflects on the improvements made, the challenges that remain and shares examples of effective civic engagement education around the world that can move civic engagement education forward in various cultural and economic contexts.
Anyone interested in participating in a discussion on Sept. 14 at 12 p.m. to learn more can sign-up here.