Rutgers-New Brunswick Executive Vice Chancellor Named an Outstanding Woman in Higher Education
Diverse: Issues in Higher Education highlights Felicia McGinty's role as administrator, mentor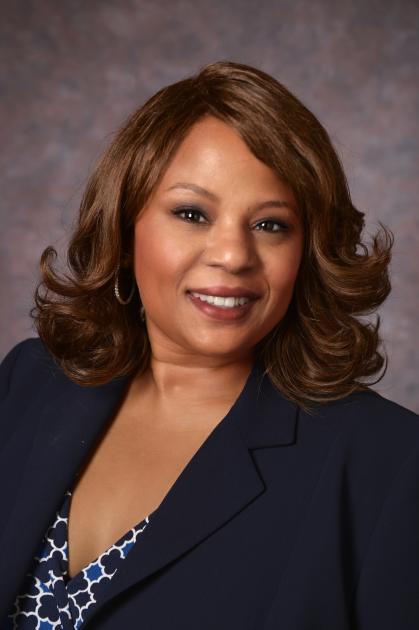 Felicia McGinty, Rutgers University-New Brunswick's executive vice chancellor, described as a champion for students and a driving force for diversity, inclusion and equity, was named one of this year's 25 outstanding women in higher education by Diverse: Issues in Higher Education magazine.
"This recognition is truly humbling. As a first-generation college student who has experienced the transformative power of higher education, I see the value in Rutgers' commitments to expanding access to underrepresented students and to fostering the success of all students. I am proud to contribute toward those goals," said McGinty, who discussed her experiences as first-generation student at  Rutgers' First Generation Week 2021.
McGinty, a key member of Chancellor Molloy's executive leadership cabinet, directs the day-to-day administrative operations of Rutgers-New Brunswick including direct oversight of student affairs, communications and marketing, human resources, information technology, disability services, career exploration and success, and the Zimmerli Art Museum. She also oversees policy development and implementation and other critical functions that support the student experience and advance Rutgers-New Brunswick's academic, research and service missions, as well as all aspects of administration, strategic planning and capital planning initiatives.
She has served as executive vice chancellor since August 2018 following five years as vice chancellor for Student Affairs during which she oversaw the largest residential college life program in the United States with more than 16,000 students living on campus. She also piloted a campus climate survey on behalf of the Obama administration in partnership with the Center on Violence Against Women and Children, and led the campuswide End Sexual Violence campaign.
"Felicia is an outstanding administrator with a wealth of experience and understanding," Molloy said. "She has been the driving force to transform the student experience and create a campus climate that embraces diversity, inclusion and equity. Under her leadership, Student Affairs has emerged as a national leader, garnering recognition as 'One of the Most Promising Places to Work,' and has been featured by the White House and the Office of Violence Against Women for our comprehensive efforts to end sexual violence."
Aasha Shaik, a political science and Middle Eastern studies major who graduated from Rutgers in May and now attends Yale Law School, said, "Dr. McGinty has been a great champion and support system for me and other students. No matter how busy she was as a vice chancellor, she always made time to catch up and offer encouragement, in person and remotely. She is someone I look up to deeply as a trailblazing woman of color."
Meredith Davis, associate vice president of student engagement at Syracuse University, said, "Felicia is a close friend and mentor who taught me how to listen first, even when you enter into a position of power and influence. It's important to listen to stakeholders, learn the culture of the campus, observe and become a student of the place and the position you're in. Then you become much more effective at having conversations about executing decisions to help shift the culture or sustain the culture. I saw her ability to listen become an asset for the institution and the students at the University of California, Santa Cruz (where McGinty served as vice chancellor for student affairs before joining Rutgers) when responding to student protests and concerns."
Monroe France, associate vice president for global engagement and inclusive leadership at New York University, said, "As a mentor and a friend, Felicia has had a significant impact on my career. Over the years, I've seen her speak many times about the race and ethnicity, the values of diversity, equity and inclusion, and about strategies and tactics for preparing for crises on campus. She speaks eloquently about how leadership at a university must include listening to and engaging with students, and the challenges of balancing that advocacy with other aspects of administration. Along with that is the importance of having your own network of colleagues and peers who can help you process these challenges. We also cannot underestimate the importance of representation. By being in these spaces at Rutgers, the National Association of Student Personnel Administrators and others as the person she is, including as a Black woman, she has an inspiring impact on other professionals and on Black women in particular."
Christopher Catching, vice president of student affairs at Stockton University, met McGinty when he was an undergrad at Montclair State University, where McGinty served as director of new student experience. "She was the first young person I'd seen who had a doctorate. She changed the perception for me of what a doctor could look like," Catching said – and the impression put a stamp on his own career. McGinty became a trusted mentor to whom he still turns for brainstorming and guidance. "She contributed to my love of teaching, and what I saw in her accomplishments helped me shape my own aspirations for success," he said.
Keisha Dabrowski, Rutgers-New Brunswick's associate vice chancellor for administration and engagement, said one thing that stands out most about McGinty is her fearless and uplifting leadership style. "Felicia would begin a meeting with her leadership team in Student Affairs by asking the team to be bold in sharing ideas. She said, 'I want all of your perspectives at this table. Be ready to challenge each other, while supporting each other and working together to get the job done. Don't just say yes to me; I want you to challenge me. Our goal is what's best for the students,'" Dabrowski said. "As a leader and a mentor, she has supported so many of us in our professional growth and encouraged us to hold the door open for others. She's creating a legacy of lifting while you climb."