Graduate School of Education dean discusses benefits of ensuring first-generation student success
Rutgers University-New Brunswick joins colleges and universities nationwide in celebrating First Generation Week, a campaign to recognize the experience and accomplishments of students who are the first in their families to attend college. Throughout the week, the university asks students, faculty, staff and alumni to share their first-generation stories and discuss the ways the first-generation students enrich the campus culture.
First-generation college students have the same needs as all students, though the college student experience is still mainly organized to serve the traditional 17-22 year olds who may not have to work to take care of themselves, parents or dependents, says Wanda J. Blanchett, Distinguished Professor and dean of Rutgers University-New Brunswick's Graduate School of Education.
"Despite many first-generation students being brilliant, persistent and well-equipped for the university experience, they often do not have the financial and social capital that can help them afford college, successfully navigate the complexities of the system of higher education and manage the obligations they may have outside of college," Blanchett said.
About one-third, or nearly 11,000, of Rutgers-New Brunswick's undergraduate students are the first in their families to attend college. Rutgers fosters the success of first-generation undergraduate and graduate students through the New Jersey Equal Opportunity Fund, TRIO Works, the Ronald E. McNair Postbaccalaureate Achievement Program and others, including academic support through the Learning Centers and rich social service opportunities through Student Involvement.
Throughout the week, first-generation students, faculty, staff and alumni are asked to use #RUFirst and share their first-generation stories on social media. In an email to the Rutgers community, Rutgers-New Brunswick Chancellor Christopher J. Molloy shared his experience as a first-generation Rutgers student.
"I, too, was the first in my family to attend college," Molloy said. "I attended Rutgers as an undergrad and was inspired by the staff and faculty to continue my education. I've found that my story is not unique at Rutgers; like me, many of our faculty and staff are first-generation. It's one of the reasons we understand the grit of our students and are deeply committed to access. We know first hand how education can be an equalizer."
Blanchett said one of the most important ways colleges can foster first-generation students' success is to stay in touch with them and make sure they are aware of the full suite of federal and university resources available to meet their needs, from financial aid to mentoring programs.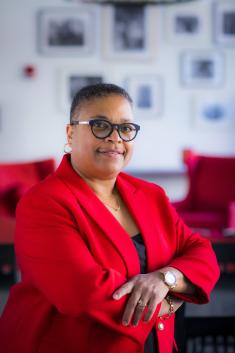 "A lot of universities provide information about these programs during the orientation process, when students are overwhelmed by the transition to the college student experience. But if this is not communicated effectively and at the right time, students may not recall those resources when they need them," she said. "Universities should also establish strong early warning systems, so when things are not going well, we can connect students with help as soon as they need it."
Blanchett said a bachelor's degree is associated with significant increases in lifetime earnings as well as benefits to graduates' families and communities.
"Within families, college graduates are more likely to be in a position to help lift their families," Blanchett said. "Local communities benefit from increased tax revenue, local spending, and the social capital that college graduates exercise. Most importantly, whether in their communities, on campus or in their families, first-generation college students of all backgrounds tend to pay it forward and serve as role models and mentors to many others."
College education and experience helps students gain these beneficial skills by providing their first real experience to work, study and socialize with people whose backgrounds and worldview differs from their own.
"The simple fact that first-generation students made it here means they're superheroes," Blanchett said. "They just need us to do everything we can to support their success."