Eric Ortega combines degrees in dance and political science to pursue his dream
Eric Ortega keeps his foot in multiple worlds, whether working as an executive producer for ABC News or keeping his love of dance alive as an instructor with local studios.
Ortega was recently hired by ABC to serve as executive producer of ABC News Live with Linsey Davis and executive producer of evening programming for the news organization's streaming channel ABC News Live. With degrees in dance and political science, Ortega has always merged his passions and recognized opportunities to achieve his goals.
"I do think of life in these big, blank-check moments. There are certain moments where it is just an infinite amount of possibility, and it's just based on what you make of it. And I think that's what Rutgers was – where so many people, so many interests, so many things came together," says Ortega, 35.
After graduating from County Prep High School in Jersey City, Ortega spent a year at another school in Virginia before transferring to Rutgers, where he was drawn to its strong dance program at Mason Gross School of the Arts and its proximity to New York City. "All I wanted to do was dance and explore that art form," he says.
But then he enrolled in a political science class to satisfy a core curriculum requirement and found the course "riveting." Ortega was soon rescheduling his life to accommodate a second major – dancing from 8 a.m. to 5 p.m., taking political science courses in the School of Arts and Sciences on weekends and at night and attending dance rehearsals until 10 p.m.
"I was really oscillating between these two worlds," he says. "I never thought about dropping one. I was intellectually satiated by the political science curriculum while being creatively fulfilled with dance, and that was perfect for me. Both sides of my brain got to work in different ways throughout the day, and I found that's what motivated me every day."
After hearing political science professor William Field talk about an internship opportunity, Ortega applied and was selected, spending spring 2010 in Washington, D.C., with a health care lobbying firm. That led Ortega to a fall 2010 internship that turned into a part-time job in Sen. Robert Menendez's New Jersey office. He earned a Congressional Hispanic Caucus Institute fellowship on Capitol Hill and a job working for a congresswoman. He was still dancing, including a dance apprenticeship at STREB in Brooklyn, as a Rutgers student.
While working on the Hill, Ortega saw how news coverage could move a languishing bill forward, and he began cold calling TV stations, asking for a job. At 26, he started as an entry-level page at NBC. When Ortega asked his boss why she hired him, she replied that while he was qualified, he was also the only candidate who could start immediately; the others wanted the summer off.
"The biggest thing I learned from that was just always say yes and figure everything else out after. There are just so many people vying for the same thing, so raising your hand, saying yes and going 150 miles per hour toward whatever it is that you want will end up benefiting you in the end," Ortega says.
Ortega worked his way up, as a writer and producer on various NBC shows, until he was a line producer at MSNBC. He then jumped to VICE News to be a senior producer, attracted by the chance to develop long-form storytelling.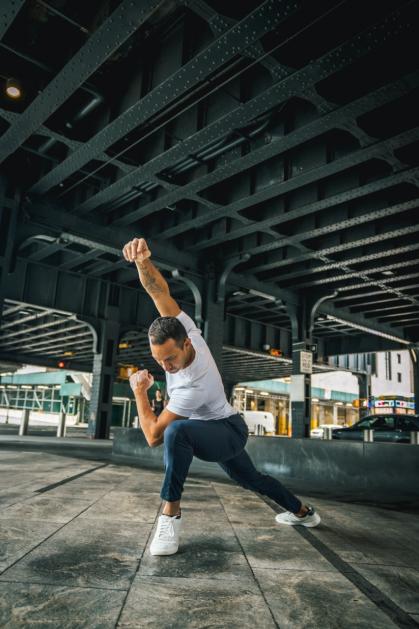 His latest move to ABC was a chance to combine all his news skills – long-form and breaking news. "I love both equally, the same way  as in college when I loved dancing and political science," says Ortega.
After working on the Linsey Davis show, which begins at 7 p.m., Ortega oversees breaking news until midnight. Ortega started the ABC job the week of the protracted voting for a new speaker of the House of Representatives. "I came in every day with a weekend bag," recalls Ortega.
Field calls Ortega a superstar, and is not surprised he has succeeded, after seeing how hard Ortega worked as a student.
"A student majoring in dance cannot do anything else: the program is too credit-heavy and time-intensive to allow more than a minimal exploration of a social science program. Eric Ortega is one of three students in the last 15 years who have violated this unwritten rule, successfully finishing a BFA and a major in Political Science," Field says. "Throughout all this journey, Eric stayed in touch with us, returning to campus physically or via Zoom to discuss careers and to inspire our current students. He continues to influence and inspire us."
Rutgers is also where Ortega met his wife, Kelly Buck, who was a fellow dance major. When Ortega needed a volunteer to perform in his senior piece, Buck raised her hand, starting the romance. "It was very cinematic," he says.
The couple has two young children and live in Connecticut. Buck is a choreographer and on faculty at a dance conservatory, and Ortega will be a guest artist on weekends. He also works with another studio, choreographing experiences for students. Despite news alerts constantly pinging his phone, Ortega makes time for dance.
"It kind of suspends time for a little bit when you have this group of students in front of you and you're teaching," he says. "You have to put your phone down and do what existentially fulfills you for a little bit. It's a welcome distraction, and also a creative fulfillment."