Rutgers Ecologist Heads Bold Experiment in Building Climate-Resilient Coastal Communities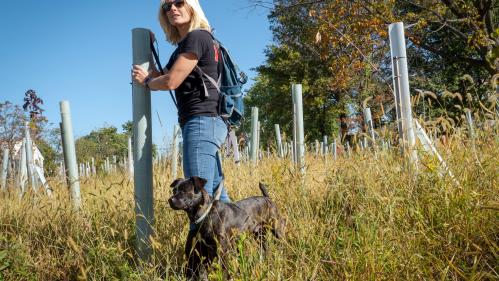 An effort led by Brooke Maslo aims to

redevelop property purchased through New Jersey's Blue Acres initiative

to protect flood-prone parts of the state
In the Watson-Crampton neighborhood of Woodbridge Township, New Jersey, meadows, marshlands and forests form a green, undeveloped crescent on the community's eastern edge.
At first glance, the acres of open space look like a natural buffer protecting homes from the whir of the nearby New Jersey Turnpike. But zoom in and the coastal neighborhood's secrets peer through the Google Maps foliage: empty driveways, dead-end streets and foundations of homes that no longer exist.
Here, on dozens of acres of New Jersey's storm-riddled coast, is a bold experiment in resilience that Rutgers ecologist Brooke Maslo is heading.
Ten years ago, when Superstorm Sandy tore up the East Coast, Woodbridge scored a direct hit, and nearly every home in Watson-Crampton was underwater. Dozens of those dwellings were demolished and their occupants relocated inland. As for the lots, they were converted into a flood-protection zone that Maslo, an associate professor in the Rutgers Department of Ecology, Evolution and Natural Resources, helped design.
"We didn't do disaster avoidance in Woodbridge, like putting up sea walls or levies designed to keep water out," Maslo said. "This was about resilience. We wanted to create spaces that allow water to absorb naturally into the ecosystem and filter out on its own, to give the floodplain an opportunity to do what a floodplain is supposed to do."
The redevelopment in Woodbridge was facilitated by the Blue Acres initiative, a flood protection and recovery program managed by the New Jersey Department of Environmental Protection (DEP) that includes acquisition and clearing of flood-prone property.
Since 1995, Blue Acres has purchased homes in Federal Emergency Management Agency (FEMA)-established, flood-prone areas or within 100-year flood plains. After the homes are demolished, the lots are turned into open space. Since its inception, Blue Acres has lined up about $250 million in state and federal funding to purchase properties throughout New Jersey, according to DEP spokesman Larry Hajna. It has made offers on 1,134 homes, closed deals on 800 and knocked down more than 640, including 165 in Woodbridge.
"DEP works to establish community buy-in by meeting with local officials, then with interested homeowners," Hajna said. "Woodbridge is a great example of how that process worked."
Flood-related buyouts aren't unique to New Jersey. As climate change has accelerated the frequency of extreme weather events, communities in Alabama, Missouri, North Carolina, Tennessee and elsewhere have implemented similar programs. In the 1930s and 1940s, the federal government even relocated entire communities to make way for dams and other large-scale, flood-protection infrastructure projects.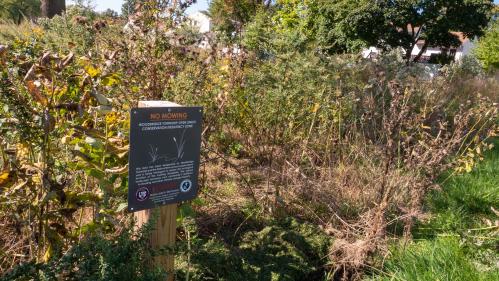 What is unique, however, is Rutgers' program to transform purchased properties into functioning ecosystems. In New Jersey, the DEP's involvement officially ends when the land is cleared. Karen O'Neill, a Rutgers sociologist who has studied global instances of coastal retreat, told Scientific American that "you hardly ever see a comprehensive ecological restoration. It just doesn't exist."
Before 2012, funding for flood mitigation was sparse, but Sandy refocused attention on the dangers of living in low-lying towns. (Superstorm Sandy caused more than $70 billion in property damage, including an estimated $29.4 billion in New Jersey, according to the governor's office). Many might expect a similar response to the devastation wrought by Hurricane Ian in Florida.
Once the money flowed, the real work began.
"When we started in 2015 there was really no guidance on what to do," Maslo said. "The state just said, 'OK, the land is deed-restricted, it must be managed as open space with no permanent structures,' but that was about it."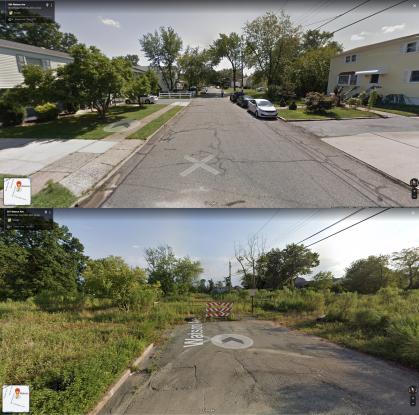 The town contacted Maslo, who also is an Extension Specialist for Rutgers working with New Jersey communities, for help.
Because Blue Acres properties tend to be clustered to increase mitigation potential, the first task for Maslo was to survey the site. Her team mapped each Blue Acres parcel, did vegetative, soil and habitat assessments, compiled endangered species lists and mapped critical infrastructure such as firehouses, hospitals, child care facilities and recreational areas.
This information was then used by her team, which included landscape architects and engineers, to produce a floodplain restoration plan to increase the community's resilience during future flooding. The result is a patchwork of small parks and boardwalks lined with berms, bioswales, stormwater wetlands and concrete channels.
A recent $608,000 grant from the National Fish and Wildlife Foundation's Coastal Resilience program will fund completion of work in the Watson-Crampton neighborhood and cover the planning costs for two other Woodbridge communities: Avenel and Sewaren. By the time the project is completed, some 120 acres of former residential land will be converted to floodplain habitat and folded into the existing fabric of wetlands and open space within the township.
The work is already paying dividends. In 2021, when the remnants of Hurricane Ida inundated parts of New Jersey, areas of Woodbridge that had been restored stayed dry. In other parts of Woodbridge, including a Blue Acres-identified area where people didn't accept buyouts, "there was devastation," Maslo said.
Success in Woodbridge has created opportunities for Maslo to work with other vulnerable New Jersey cities and towns, primarily on designing floodplain mitigation plans. Through a grant from the DEP's Resilient NJ program, Maslo also is writing a handbook to advise communities on how to restore Blue Acres properties and enhance their resilience to flooding. Topics range from the broad (defining landscape resilience) to the hyper specific (understanding open-space typologies).
Maslo does run into occasional resistance with her work, especially from residents who aren't ready to move to higher ground.
"A lot of people think of buyouts as abandonment or retreat," she said. "We're trying to reframe that narrative and explain that transitions are actually opportunities for new public amenities and for flood management."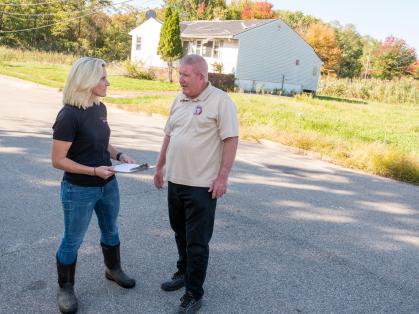 Maslo said with the right support – and more funding – flood-prone communities can be convinced to follow Woodbridge's lead and more homeowners living in high-risk areas will relocate. As the effects of climate change lead to more severe weather, the number of New Jersey homes in harm's way is projected to increase. Maslo estimated that by 2045 as many as 100,000 residential properties in the state will be at risk for flooding. By the end of the century, that number increases to 250,000.
"The storms are going to arrive when they arrive," she said. "We can't prevent or avoid them. What we can do is reestablish the functions of natural systems and use them to increase resilience."
The arguments are persuasive – for residents of all types. A constant presence in the field and office is Maslo's dog, Poseidon. But unlike the Greek god of the sea, Maslo's four-legged colleague shares something in common with Blue Acres families who have moved.
"He's terrified of water," Maslo said.
Rutgers led the pursuit of climate solutions after Superstorm Sandy. Visit "In Sandy's Wake" to learn how.