Need a Headshot With That Resume? Professional Photos Are a Snap at Rutgers–New Brunswick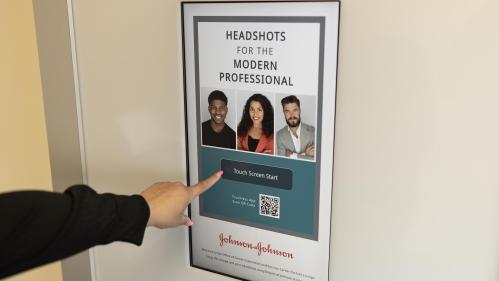 The Office of Career Exploration and Success opens photo lounges for career-minded students at College Avenue and Busch campuses
For job-seeking college students at Rutgers University–New Brunswick, get ready for your close-up. 
The Office of Career Exploration and Success is opening two career portrait photo lounges in both office locations, thanks in part to its sponsor, Johnson & Johnson. 
The office is hosting a private ribbon-cutting ceremony at its College Avenue campus location followed by a student open house from 11 a.m. to 2 p.m. on Wednesday, Sept. 6, on the fourth floor of 106 Somerset St., New Brunswick.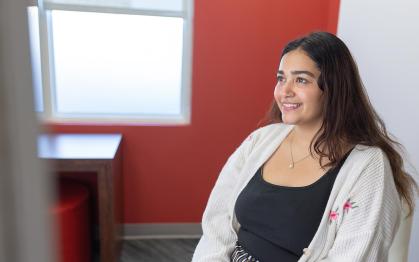 There also is a self-service photography studio on Bush campus at 604 Bartholomew Road, Piscataway. 
The portrait studios officially open to students on Thursday, Sept. 7, and will be available Mondays through Fridays, typically from 9 a.m. to 4 p.m. Rutgers–New Brunswick students may schedule an appointment to use a photo studio via their Rutgers Handshake profile. 
Kait Weiss, associate director of strategic outreach with the Office of Career Exploration and Success, discussed the need for photo lounges for career-minded college students. 
Institutions such as the University of Miami, the University of Michigan and now Rutgers–New Brunswick are providing photo lounges for their students. Why? 
Weiss: I knew from day one when I saw this technology that Rutgers–New Brunswick needed to have it. The pandemic put a slight damper on the timeline, but with the generous support of our employer partner Johnson & Johnson, the Career Portrait Lounge will be a self-service photography studio available to our students to take their candidacy and digital brand to the next level.  
First-impressions matter, and now in the digital age, that first-impression can often be your online profile on a social platform or Handshake that is attracting or deterring employers.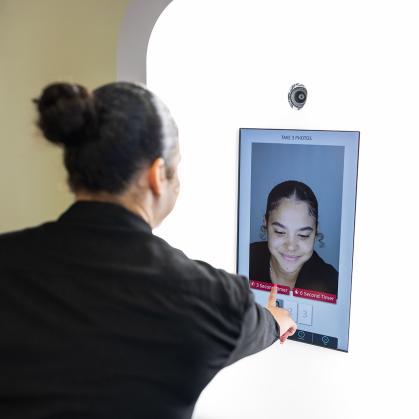 Why is it crucial for job seekers to have good headshots? 
Weiss: Your headshot visually defines who you are and how you want to be seen by others. Research shows that LinkedIn members with a photo receive more engagement and connection requests than those without. Your headshot builds authenticity, credibility and confidence. The extra finesse puts you one step ahead of other candidates.  
How should students prepare for their professional photograph? Any tips? 
Weiss: We encourage individuals to visit our career portrait lounge webpage for articles, tips and guidance for the career portrait lounge. I like to advise students to keep the look simple, avoid wild patterns and colors, practice their smile ahead of time and if you wear glasses take some with and without. Most importantly, be you! 
Your photo is an expression of who you are — how you are in your headshot should correlate with how you are in person for an interview, or first time on the job.  
What is Johnson & Johnson's sponsorship role with the photo lounges? How did the health care-products company get involved in the project? 
Weiss: Johnson & Johnson has been a prominent Knights of the Round Table employer partner over the past few years and has shown a steadfast commitment to the professional success of our students and alumni since 2014.  
They were approached for this exciting opportunity because of their continued involvement with Rutgers and their joint interest in providing headshots for candidates. 
Besides free career headshots, what other services does Rutgers Career Exploration and Success provide? 
Weiss: We offer career-related advising, resources and programs to help individuals discover their interests, values and skills; explore careers and academic pathways and develop skills through internships and experiential opportunities; and pursue their post-graduation goals.  
Each year we offer career and internship fairs, advising appointments, workshops, employer information and networking sessions, an interviewing program, and various online tools and resources. In addition, we offer a variety of high-impact programs, including First-Year Interest Group Seminars, Intern for a Day, the 4WARD: Career Pathways Program, the Rutgers Internship and Co-op Course and the Rutgers Summer Service Internship Program.