Opening Reception: Komar & Melamid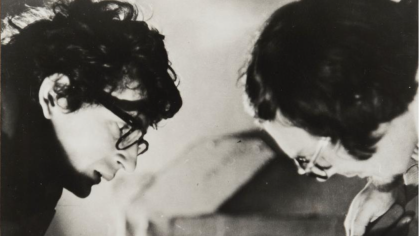 Be among the first visitors to experience Komar & Melamid: A Lesson in History, a new retrospective of the two renowned Russian-American artists Vitaly Komar and Alexander Melamid, who worked together as a duo from 1972 to 2003.
Born in Moscow, Komar and Melamid emerged from the circle of Soviet nonconformist artists who rejected the government's dictate that limited artists to the propaganda-based style of Socialist Realism. They founded Sots Art, a style that employs a provocative, ironic approach to expose the absurdities of the official art and of the regime as a whole. As with American Pop Art's reaction to the overproduction of consumer goods, Sots Art was a reaction to the overproduction of ideology that rendered Communist slogans and symbols nonsensical. After immigrating to the U.S. in 1978, Komar and Melamid applied their artistic practices to production in the American art market.
The exhibition includes installations, paintings, prints, and artifacts from the museum's renowned Norton and Nancy Dodge Collection of Nonconformist Art from the Soviet Union, augmented by loaned works from national and international institutions and archives, as well as private collections, inviting visitors to experience works that are rarely exhibited.
The evening features remarks from the team who organized the exhibition.
Free visitor parking is available by pre-registration. Until this process is completed, your vehicle is not registered and you may receive a citation. Special event parking and special event permits are only for visitors to the university and does not include free metered parking. Faculty, staff, and students must park only in lots where they are authorized to park. Please note, this is a unique link for this event and not valid for any other dates or events