Adaptive Sports, Health, and Wellness Day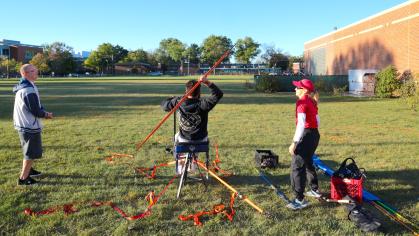 The adaptive sports activities portion of programming always receives high reviews from our students, faculty, and community members. These activities bring the world of sports for people with disabilities, including competitive track and field, soccer, wheelchair basketball, goal ball, judo, swimming, and sitting volleyball, to life. Participants will walk away with a better understanding of sports and how they offer people with disabilities the opportunity to compete, exercise, and develop skills as well as a lifelong network.
Note: Please make sure to wear comfortable clothing and shoes. Many participants find wearing athletic wear, including sneakers and comfortable shoes, is best. If you are participating in the swimming portion of the event, bring your swimwear.
Schedule:
12:00 p.m. to 1:00 p.m.
Event Setup - Volunteers and staff set up sports activities in the field and gym area. Workshop rooms are prepared for presentations.
1:00 p.m. to 4:00 p.m.
Blind Soccer (Outside Field) - Learn the basics of this sport, and watch or participate with some of the best blind soccer players in the state.
Beep Baseball (Outside Field) - Learn about and participate in beep baseball for blind individuals.
Para Athletics (Outside Field) - Take part in numerous track and field activities designed for individuals with varying disabilities.
Judo for People Who Are Blind or Visually Impaired (Inside Gym) - Join us and learn from an expert what it takes to excel in this sport and how people who are blind or visually impaired can use judo both for self-defense and self-improvement.
Yoga (Inside Gym) - A combination of Yoga, Mindfulness, Brain Dance, and Motivation all from a chair. It will explore movement while in a seated position that will stretch the body, connect the brain and body with some fun dance, and then quiet everything with the use of breath and imagery. This exercise is designed to make you smile, enjoy yourself, and think about the movement in a new and invigorating way.
4:00 p.m. to 7:00 p.m.
Wheelchair Basketball (Inside Gym) - Is one of our most popular events. All are offered an opportunity to participate, allowing you to see what it is like to play against a professional wheelchair basketball team.
Swimming (Inside Gym - Pool) - Please bring swimming gear.
Seated Volleyball (Inside Gym) - This is a sport that is excellent for individuals with physical disabilities below the waist or amputations. It is both competitive and a great way to stay in shape.
Goalball (Inside Gym - Full Side Court) - Learn all about goalball while participating and competing with other teams.
Attendance and Parking:
This is a free event, and there is no registration necessary.
Parking is available in lots 99B, 99C, and 99D on Cook Campus. Register for parking.
If you are bringing a large group or need parking, please email javier.robles@rutgers.edu for the parking link. You may receive a summons if you are not registered to park at the university.
Accessibility Services:
Accessible entrance
Microphones used to amplify sound
Accessible seating available
If you anticipate needing any type of accommodation or have questions about the access provided, please call Javier Robles at 848-932-7046 or email javier.robles@rutgers.edu in advance of your participation.