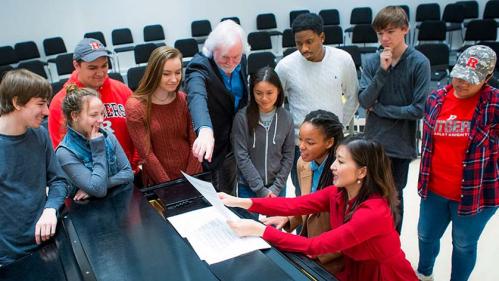 Byrne Seminars
First-year students can explore a potential major or try something new through a one-credit seminar.
Byrne Courses: Humanities
Professor: Barbara Cooper (History)

Description: What do you think when you hear the word "Sahel"? For many of us, the image we have of this region of Africa stretching from Senegal to Sudan is of starving babies and desert sands. In this course, we will draw upon the many thoughtful documentaries and feature films focusing on West Africa to try to understand the reasons for endemic malnutrition, but also to appreciate the landscape, economy, and lifeways of the people who live in this challenging but beautiful region.

Course Number: 01:090:101 section 52

Semester: Fall 2022

Professor: Peng Liu (Asian Languages and Cultures)

Description: This freshman seminar will introduce students to basic concepts in Mahayana Buddhism. It will familiarize students with Buddhist institutions and cults in premodern China, Japan, and Korea. Students will also read excerpts from The Lotus Sutra, The Vimalakirti Sutra, The Diamond Sutra, and The Platform Sutra, which have been widely transmitted and venerated among monastic and lay Buddhists in East Asia. In addition to reading religious texts, students will see how Buddhist teachings are vividly embodied in secular works, such as miracle tales, poetry, and visual arts. They will recognize the influences of Buddhism on secular/popular writings and understand how abstract Buddhist philosophy transforms into quotidian aesthetic experiences. During the semester, the class will have two field trips to museums in NYC, where students can have an opportunity to closely examine Buddhist murals, statues, and ritual objects.

Course Number: 01:090:101 section 29

Semester: Fall 2022

Professor: Christie Lutz (Special Collections and University Archives)

Description: In this course, students will learn about what archives and special collections are and how they can be used for research. We will be examining popular culture collections in Rutgers Special Collections and University Archives that document a wide range of topics such as the New Brunswick music scene, cookbooks from around the Garden State, magazines representing a wide variety of subcultures, protest movements posters, and Jersey Shore memorabilia. This hands-on use of archival materials will enable students to better understand the world around them.

Course Number: 01:090:101 section 23

Semester: Fall 2022

Professor: Paul Schalow (Asian Languages and Cultures)

Description: Friendship can be understood as the human need to appreciate and be appreciated by another person. At first glance, it seems a natural and unproblematic part of our lives. But, when dealing with friendship across cultures, the concept of friendship becomes surprisingly complex. In this seminar, students will draw on their experience of Japanese pop culture, cinema, and texts to explore how friendship is configured across divisions of age, status, ethnicity, gender, and even species. Students will also share their knowledge of how friendship is represented in literary and cinematic traditions besides Japan's.

Course Number: 01:090:101 section 09

Semester: Fall 2022

Professors: Paul Ocampo (Dance); Chien-Ying Wang (Dance)

Description: This seminar will investigate various dances and traditional arts and culture of Taiwan, the Philippines, and neighboring countries. Through the language of dance, students will learn traditional arts and cultures using practices and modality that are fun, interactive and informative. This seminar is designed for students who want to expand their understanding of dance as an emblem of cultural identity and an expression of social order. Along with the practice of dance, we will experience how to prepare traditional foods associated with respective festivities. The food serves as a conduit for a holistic experience to deeper comprehension of Asian cultural arts and heritage. This seminar will include a field trip to New York City.

Course Number: 01:090:101 section 57

Semester: Fall 2022

Professor: Simon Wickhamsmith (English; Writing Program)

Description: Look out of your window and find something which has not been crafted, sown, destroyed, manipulated, or imposed by humans. Are we really the most powerful, the most intelligent species? (And what do we mean when we talk about power and intelligence, anyhow?) If we keep quiet, and listen instead, if we stop trying to do something, and observe instead, we will notice that, at the same time as we try to adapt the world around us, the world around us is undergoing its own process of adaptation. But rather than thinking of opposition - of imposition versus adaptation, of humans versus nature - we could instead look at how we fit into what the Potowatomi environmental scientist Robin Wall Kimmerer calls the "democracy of species". This course will ask you to look at the world in a new way, neither to condemn our human species, nor to elevate nature for sentimental reasons, but in order to consider how we can refine our perception of where we, as individuals and as a species, fit in alongside, and enjoy the company of - inter alia - wood and water, tarantulas and tardigrades, cats and cassowaries, the common cold and the Covid-19 virus.

Course Number: 01:090:101 section 13

Semester: Fall 2022

Professor: Miriam Jaffe (English Writing Program)

Description: In this seminar, we will each use storytelling as a research methodology to produce a short autoethnographic case study, thus revealing our many layers of consciousness. We will examine our own individual experiences to recognize the value of our cultural capital--that is, what we already know. Sometimes, we may not actually be aware of how much we already know, so the advantage of the case study is that it does not pretend to control outcomes through these types of assumptions. In case study writing, we engage in cultural humility, avoiding the assumption that there is an inherent end-point or predetermined goal for the research writing. To offer an example in a way that is "experience-near" requires that we are inevitably intertwined with our natural environments, which generalizable data often fails to capture, even with the best measures. Together, we will enter an intersubjective world, not a subject/object world of certainty, as we "me-search" our way into research. Putting our collective stories into conversation with each other, we will challenge dominant narratives and big box data, which perpetuate privileges for the mainstream.

Course Number: 01:090:101 section 32

Semester: Fall 2022

Professor: Barbara Angeline Greenspan (Dance)

Description: Authentic jazz dance lies in the freedom of its participants to enthusiastically express their individual spirits. The roots of the African-American-based, social dance form are burrowed firmly in the duality of individual and community contributions and benefits. Jazz dance, in this enduring, social context, is simultaneously celebratory and defiant; inviting and mutinous; explosive and cool. The release of these powerful, communicative forces—united in the embodiment of Africanist dance elements—has been used throughout American history to address social injustices. This seminar explores social jazz dances and their historical connections to social justice. Students will also learn the power of dance as a physical communication, capable of addressing, shaping and changing societal issues.

Course Number: 01:090:101 section 01

Semester: Fall 2022

Professor: Ani Javian (Dance)

Description: As yoga, meditation, and other somatic techniques become popularized, the word "mindful" gets tossed around in our culture without truly considering its significance. What does it mean? This seminar works toward understanding and experiencing mindfulness via an introduction to general somatic principles such as self-reflection, sensory awareness, and body/mind integration. Through guided movement explorations and other opportunities for increased self-awareness, we may become more adept at tuning in to our interior selves, to the world around us, and to the earth that supports us. There will be some movement, some drawing, and some discussion as we practice listening to cultivate a holistic body/mind approach to our daily lives. No prior movement experience is necessary.

Course Number: 01:090:101 section 51

Semester: Fall 2022

Professor: Jonathan Holloway (President, Rutgers University)

Description: What does it mean to be an American? The story of the African American past demonstrates the difficulty of answering this seemingly simple question. If being "American" means living in a land of freedom and opportunity, what are we to make of those Americans who were enslaved and who have suffered from the limitations of second-class citizenship throughout their lives? African American history illuminates the United States' core paradoxes, inviting profound questions about what it means to be an American, a citizen, and a human being. This class considers how, for centuries, African Americans have fought for what the black feminist intellectual Anna Julia Cooper called "the cause of freedom." The course begins in Jamestown in 1619, when the first shipment of enslaved Africans arrived in that settlement, and continues through the rise of Black Lives Matter. At a moment when political debates grapple with the nation's obligation to acknowledge and perhaps even repair its original sin of racialized slavery, this class invites students to wrestle with the country's capacity and willingness to realize the ideal articulated in the country's founding document—namely, that all people were created equal.

Course Number: 01:090:101 section 38

Semester: Fall 2022

Professor: T. Corey Brennan (Classics)

Description: The year 2021 markd the 400th anniversary of the formation of the Villa Ludovisi, a sprawling art-filled garden property in north-central Rome, largely but not completely dismantled in 1885. To tell its story at this significant juncture, this seminar draws on a deep reservoir of Rutgers-funded research on this cultural landmark, and offers students hands-on work with recently recovered and comprehensively digitized documentary sources and historical images, including the results of a new (2019) photographic campaign of Ludovisi-commissioned frescoes. The seminar also adds to the analytic mix an entirely fresh and invaluable perspective—the family's unusually rich and well-informed oral history, captured by Rutgers student filmmakers over the course of two recent summers. Students will research the story of the improbably large urban green space that in 1621 the brash and enterprising Cardinal Ludovico Ludovisi created to make his home, and document how his Villa Ludovisi and the vast art collection he formed for it (in just 18 months) won the open-jawed admiration of a long list of noted visitors in the centuries to follow. Amazingly, the Cardinal's secondary palace and its immediate property remain wholly intact as a private residence, handed down in unbroken succession to the heads of the Ludovisi (later Boncompagni Ludovisi) family right to the present day. As a capstone to the seminar, Byrne students are assigned an unpublished object, image or archival document relating to the Villa Ludovisi, and present a short in-class report on the findings of their guided research.

Course Number: 01:090:101 section 06

Semester: Fall 2022

Professor: Trip McCrossin (Philosophy)

Description: The problem of evil, as Susan Neiman has described it, is the perniciously difficult to satisfy "need to find order within those appearances so unbearable that they threaten reason's ability to go on," as when (at times incomprehensibly) bad things happen to (at least relatively) good people, and (at least relatively) good things to (at times incomprehensibly) bad people. Central to her watershed perspective on the problem are two related propositions. She proposes, on the one hand, that midway through the Enlightenment, the problem of evil developed, in addition to the traditional theological version—according to which human reason strains, in the above "find order" spirit, to reconcile conspicuous human suffering with faith in divine wisdom, power, and benevolence, which either makes or allows it to happen—a more secular version as well. Here, while it's no longer in response to suffering's ostensibly divine origin, reason strains similarly nonetheless, so much so as to call into question, as the theological version does already, reason's very ability to make the order it so fervently desires. She goes on to propose, on the other hand, that in response to both versions of the problem primarily two competing perspectives arise, which competition defines us still today, beginning with the public rivalry between Rousseau's and Voltaire's, the former insisting that "morality demands that we make evil intelligible," the latter that "morality demands that we don't." The seminar is designed to have participants work together to identify and elaborate the various ways in which these competing perspectives endure in philosophy and popular culture.

Course Number: 01:090:101 section 59

Semester: Fall 2022

Professor: Tracy Chang (Labor Studies and Employment Relations)

Description: "Inner Engineer" is a comprehensive science-based yoga and meditation program designed by Sadhguru (2016). The program equips one with effective tools to build competence on self-mastery of mind, body, emotion, and energy. With this self-transformation, students will be energetic, joyful, mindful, healthy, and fully functioning and realize their highest potential in college, work, and life. Students will learn the Inner Engineering tools and learn about the research project that examines the effect of the tools on employee wellbeing and engagement in the workplace. Students will read the book "Inner Engineering" and keep a reflective journal weekly and engaged in didactic inquiry in class.

Course Number: 01:090:101 section 04

Semester: Fall 2022
Professor: Lisa Klein (Materials Science and Engineering)

Description: What is needed to improve the sustainable energy technologies we already have? What is needed to make new technologies practical and clean in the area of energy generation? We will explore energy storage in devices such as batteries and energy conversion in devices such as solar cells and fuel cells. We will talk about active research at Rutgers on alternative energy materials and systems. In the lab, we will assemble and test our own dye-sensitized solar cells.

Course Number: 01:090:101 section 49

Semester: Fall 2022

Professor: Nicholas Bello (Animal Sciences)

Description: "Globesity" is the term used by some to describe the worldwide impact of obesity. Several treatments are available for obesity, but do any of them work? In this seminar, we will explore the causes and consequences of obesity and current treatment strategies. Through hands-on experiments, we will analyze neural pathways that control food intake and body weight, and examine how obesity drugs work. We will explore obstacles to long-term treatment and efficacy standards of the FDA.

Course Number: 11:090:101 section 04

Semester: Fall 2022

Professor: Karl Matthews (Food Science)

Description: This course provides a window into the world of food microbiology and food science. We will explore popular trends and myths related to food microbes. Discussions will center on topics including probiotics, double-dipping, food safety myths (e.g., the five-second rule), and how to avoid foodborne illness when traveling and in your residence. Finally, we will address the issue of food additives/antimicrobials in the context of food safety.

Course Number: 11:090:101 section 08

Semester: Fall 2022

Professor: Mark Robson (Plant Biology; Faculty Director, Byrne Seminars)

Description: This five-week seminar will discuss what we eat and the origin of foods and how we grow and prepare them. We will look at the two ends of the food supply, the one billion people who suffer from lack of calories and food insecurity and the one billion people who are now clinically obese and suffer from a series of non-communicable diseases. We will talk about how food is grown, shipped, and marketed. We will discuss personal choices and better eating.

Note: this seminar runs from 10/8 to 11/5.

Course Number: 11:090:101 section 12

Semester: Fall 2022

Professor: Mark Robson (Plant Biology; Faculty Director, Byrne Seminars)

Description: There are almost eight billion people in the world today and the population will grow to close to ten billion by 2050. Almost eighty five percent of the population live in developing countries. One of the challenges for this ever-growing population is providing a secure food supply. We will discuss the trends in global food production and the technology used to increase global food supply. We will also explore the ever-growing global obesity epidemic – while there are 900 million under nourished people in the world there is a larger number of people, close to 1.4 billion, who are overweight. Finally, we will look at the overall health of the global population, their jobs, their lifestyle, and the relationship to global environmental health issues, in particular those dealing with problems such as water and air pollution, food production and safety, and infectious and occupational diseases. Professor Robson will share experiences from developing countries in Southeast Asia and West Africa. Case studies and current research will be used as illustrations.

Course Number: 11:090:101 section 11

Semester: Fall 2022

Professor: Lei Yu (Genetics)

Description: Humans have been using nature-made ingredients (herbs, extracts of plants and animals, and minerals) to treat various diseases and disorders since ancient times. In modern day science, medicine-making is one of the largest industries and job markets for the college-educated. In this seminar, we will use examples of potion-making from the Harry Potter book series as a literary platform to introduce scientific approaches for medicine-making science and processes. This class will involve extensive class participation and discussion. The focus will be to introduce the students to medical research and to develop skills in critical thinking>.

Course Number: 01:090:101 section 21

Semester: Fall 2022

Professor: A.J. Both (Environmental Science)

Description: We all need (and love) to eat. But do you ever stop and think: how is your food produced and where does it come from? How can we maintain a safe and year-round supply? In this course, we will look at ways in which we can use technology to create more sustainable systems of agriculture. In particular, we will investigate the challenges and opportunities associated with greenhouse production. Students will be exposed to greenhouse crop production, review and discuss the necessary inputs required for greenhouse production, complete a writing assignment and make their own presentation discussing a topic related to greenhouse production.

Course Number: 11:090:101 section 01

Semester: Fall 2022

Professor: Paul Meers (Plant Biology)

Description: Biotechnology has been perceived and portrayed in various ways by Hollywood and filmmakers around the world. In this course, we will explore the occasionally wide gap between public perception and the way science really "works." Students will view and discuss the portrayal of bio- and nanotechnologies in popular movies. Misconceptions and accurate portrayals will be analyzed to introduce students to a basic understanding of the latest exciting work in rapidly emerging areas such as genomics and epigenetics. Students will be given and overview of how some of these areas are being addressed in real research. Students will present science movie film clips and thumbs up/thumbs down reviews on the science and the art as a required assignment.

Course Number: 11:090:101 section 09

Semester: Fall 2022

Professors: Elena Ashkinadze (RWJMS, Perinatal Genetics); Natalie Jacob (School Of Public Health)

Description: Genetics and our health: the good, the bad, and the… ethical? This seminar will give a basic overview of how our genetics influences our health. We will explore different specialties in clinical genetics and work to answer questions such as how cancers run through families, considerations of reproductive genetics, and how genetic syndromes can affect individuals across a lifespan. We will investigate multifactorial disorders and discuss what we know, what can be predicted and what we can prevent. We will touch on what is precision medicine? What can 23andMe tell me about my health? And how can genetics shape the future of healthcare? This class is meant to be an introduction to genetics and how it applies to our life and our health.

Course Number: 01:090:101 section 39

Semester: Fall 2022

Professors: Christina Kaunzinger (Landscape Architecture); Shan Reeves (Community Based Counselor); Jesse Stratowski (Coordinator of Adventure Recreation)

Description: "Are you feeling tired, irritable, stressed out? Well, you might consider…Nature.", so begins a Nature Rx video campaign which spoofs prescription drug commercials to communicate the health benefits of time spent in Nature  http://www.nature-rx.org/.  Scientific studies indicate that time in nature decreases blood pressure and depression and increases brain function and feelings of connection to people and the environment.  The non-profit organization Parks Rx America hosts a real prescription program where health care providers can prescribe their patients time in local parks and has inspired some universities to create Nature Rx programs of their own.  In this seminar community-based counselor Shan Reeves, adventure recreation coordinator Jesse Stratowski, and ecologist Christina Kaunzinger will introduce you to the natural spaces of Rutgers, the scientific evidence for Nature Rx, and nature-based activities to improve mental and physical well-being.  Students will also design, install, and promote a meditation trail on Cook/Douglass campus to benefit the entire university community.

Course Number: 11:090:101 section 16

Semester: Fall 2022

Professors: Samuel Gunderson (Molecular Biology and Biochemistry); Alice Liu (Cell Biology and Neuroscience)

Description: Huntington's Disease (HD) is a horrific familial neurodegenerative disease controlled by a single mutant gene called the mutant Huntington's (mHtt) gene that is transmitted in an autosomal-dominant mode. The mutation that causes HD is the expansion of a DNA sequence (CAG repeats) within the 1st exon of the Htt gene which codes of an extended stretch of glutamine residues (Q) in the mHtt protein. The pathogenic mechanism of mHtt is not clear. The aim of this seminar is to learn the basics of biological information flow. Within this context, we will learn and discuss the cause and role of mHtt protein aggregation and pathogenic transcript processing that result in cellular dysfunction.

Course Number: 01:090:101 section 22

Semester: Fall 2022

Professors: Chloe Hawkings (Entomology); Benjamin Lintner (Environmental Sciences)

Description: Understanding global climate dynamics is an essential part of adapting our society to be more sustainable. As climates change around the world, insects can be a useful model to assess these ecological impacts. Insects are the most diverse group of animals on the planet and provide necessary ecosystem services in all terrestrial environments. As temperatures change it is important to assess how insects adapt. Insects intersect with humans in many ways which can change as a result of climate change. Understanding the dynamics of pests and focusing on the abundance of insects in tropical environments can aid our understanding of ecosystem health. In this seminar we focus on the mechanics of climate change and look at the effect on insect populations.

Course Number: 11:090:101 section 14

Semester: Fall 2022

Professors: Ines Rauschenbach (Biochemistry and Microbiology); Ramaydalis Keddis (Biochemistry and Microbiology)

Description: What did surgery look like before doctors washed their hands and used aseptic technique? What allowed scientists to discover that microbes recycle carbon and nitrogen in the environment? How did people fear the unknown Spanish flu pandemic and how does this compare to the COVID pandemic of 2020? This seminar will highlight those questions and more to allow students to understand the impact that microbiology has had on society over the past hundreds of years and which experiments and discoveries shaped the knowledge that we have today. The course will include readings, mini lectures, discussion, and hands-on activities that will spotlight the past and present of microbiological discoveries.

Course Number: 11:090:101 section 17

Semester: Fall 2022

Professor: Derek Shendell (School of Public Health)

Description: We spend most of our time indoors in various places. This course will address basic science and engineering concepts of indoor air and environmental quality (IAQ). We will identify major sources and conditions for commonly identified pollutants, and discuss their presence and concentrations in the air and on surfaces. Pollutants are exposure agents or risk factors for acute and chronic adverse human health effects. We will examine basic concepts of why and how outdoor/ambient air pollution can also affect IAQ and health. We will review common options to manage (reduce or prevent) risks and improve IAQ, including consumer products, regulations and more technical approaches.

Course Number: 01:090:101 section 19

Semester: Fall 2022

Professor: Joan Bennett (Plant Biology and Pathology)

Description: Microbes are organisms too small to be seen by the naked eye. The best known cause diseases but most microbial species are an essential and beneficial part of the living world. The course will discuss the role of selected microbial 1) diseases in human history (e.g., plague, syphilis, tuberculosis); 2) foods (e.g. bread, miso, yogurt) and beverages (e.g., beer, wine) fermentations; 3) sources of biologically active chemical compounds (e.g. hallucinogens, penicillin, streptomycin); and 4) processes (e.g. biodeterioration.

Course Number: 11:090:101 section 10

Semester: Fall 2022

Professor: Aaron Mazzeo (Mechanical and Aerospace Engineering)

Description: Pulp-based paper has conveyed information with printed lettering, diagrams, and illustrations for hundreds of years. In these conventional formats, the flipping or turning of pages has required human manipulation. Recent research efforts are beginning to add life and active functionality to paper-based structures in the form of mechanical grippers, manipulators, and locomotors. In this hands-on seminar, students will review state-of-the-art research in paper-based robotics (i.e., paperbotics) and active origami, and then exercise creativity to build paper-based machines that will be capable of motion and interaction with humans. By also planning the aesthetics of their projects, participants in this seminar will go beyond building gadgets to craft functional pieces of art.

Course Number: 01:090:101 section 30

Semester: Fall 2022

Professor: Stephen Schnetzer (Physics and Astronomy)

Description: This seminar will introduce students to the ideas behind the coming quantum computing revolution. We will discuss foundations of quantum information including qubits, entanglement and modern interpretations of quantum mechanics; applications of quantum computing in cryptography and other areas; the technologies being explored for realizing quantum computing; and the quantum information aspects of black holes and gravity. In the seminar, we will discuss technical subjects but at the level of a Scientific American article. Students need only have some understanding of physics and math at the high school level.

Course Number: 01:090:101 section 83

Semester: Fall 2022

Professor: Jingjin Yu (Computer Science)

Description: This seminar provides a gentle introduction on the subject of robotics and in particular mobile robots. The first 1/3 of the seminar introduces the state-of-the-art of robotics in industry and research, exposing the students to the wide spectrum of robotics technology, spanning medical (robotic surgery), transportation (autonomous vehicles), logistics (warehouse robots), and many conceptual developments. The second 1/3 of the seminar covers essential fundamentals of robotics including sensing, planning/computation, and control, providing the students with basic computational methods used in the field of robotics. The last 1/3 of the course focuses on giving the students some hands on experience by assigning them simple coding tasks, combined with demonstrations using robot platforms developed at the instructors lab, e.g., https://youtu.be/n9DOtgHHyGY.

Course Number: 01:090:101 section 15

Semester: Fall 2022

Professors: Zhimin Xi (Industrial and Systems Engineering); Mohsen Jafari (Industrial and Systems Engineering)

Description: Topics covered in this seminar include introduction of electrified vehicles with an emphasis on battery management systems, major autonomous vehicle functions enabled by the perception, planning and control systems, major safety and reliability issues of electrified and autonomous vehicles due to the new technology in lithium-ion battery and autonomous navigations, introduction of machine learning technology used for batteries in electrified vehicles, introduction of artificial intelligence (AI) methods typically employed in autonomous navigations, introduction for human-AI interaction and collective decision making, and introduction for system-level integration and design with other interdependent infrastructure systems such as power systems and wireless charging technology for electrified vehicles.

Course Number: 01:090:101 section 35

Semester: Fall 2022

Professor: Kimberly Russell (Ecology, Evolution and Natural Resources)

Description: Spiders have been both feared and revered by human societies throughout history. Learn about the biology, diversity, ecological and evolutionary significance of spiders as well as their presence in human culture. Students will observe and collect spiders as well as learn how to identify them. In addition, there will be readings, videos and discussion of spiders featured in mythology and popular culture. Students will work together to either create spider-themed art, make scientific illustrations of favorite species or design spider attracting scaffolds. The culmination will be a visit to one of the largest collections of arachnids in the world, housed at the American Museum of Natural History in New York City>.

Course Number: 11:090:101 section 13

Semester: Fall 2022

Professor: Saed Sayad (Computer Science)

Description: Statistics stands out as being one of the most difficult type of math mostly because of the abstract concepts and ideas. There are a lot of technical terms in statistics and It involves many mathematical concepts that may become overwhelming for the undergraduate students in particular. However, I believe in two kinds of teaching, In the first method (the traditional one), we teach the concepts first and then we expect questions from students. In the second method, we make students think and ask questions first, like an inventor or a discoverer, and then we explain the concepts to answer their questions. For example, we can ask students why an intelligent person spent his invaluable young life to invent "average" or "standard deviation". Or, if we have Mathematics, why we need "Statistics". When students feel the joy of creativity, they are more able to appreciate the second kind of teaching and they understand that they need to ask questions and learn the basic skills in order to become truly productive and create something new.

Course Number: 01:090:101 section 25

Semester: Fall 2022

Professor: Li Cai (Biomedical Engineering)

Description: Bioengineering and regenerative medicine seek to develop new therapies for patients with injuries and degenerative diseases. The source of cells for these therapies remains a hot topic of interest. The unlimited potential of stem cells has ignited the creativity and imagination of scientists across multiple disciplines. Future development of this technology depends on increased understanding and effective utilization of stem cells. This seminar will introduce students to the biological, biomedical, biomaterial, and bioengineering of this new discipline. Students will be introduced to the world of stem cells. We will discuss their definition, origin, and classification, as well as applications of these cells in regenerative medicine. Upon completion of this seminar, students will know the intellectual and conceptual vocabulary required to further pursue an interest in stem cell research and the regenerative medical profession.

Course Number: 01:090:101 section 04

Semester: Fall 2022

Professor: Amit Lath (Physics and Astronomy)

Description: In this seminar, we will investigate the concept of The Arrow Of Time by first understanding entropy. We will learn to use the Python programming language to calculate probabilities, and from that develop an understanding of entropy and the second law of thermodynamics. We will discuss the ideas of entropy and decay as they appear in literature and culture, including the hold they have in the collective imagination that leads to the rejection of quantitative metrics that show disease, war, and violence decreasing, and the average human condition improving. Finally, we will divide into groups to design and construct working time measurement devices. Using commonly available materials, the groups will make devices to measure one hour as accurately as possible. No clocks allowed!

Course Number: 01:090:101 section 41

Semester: Fall 2022

Professor: Doyle Knight (Mechanical and Aerospace Engineering)

Description: Over the past fifty years, high speed passenger trains have emerged as a critical transportation resource throughout the world. The era began with the Japanese Bullet Train (Tōkaidō Shinkansen) first service on 1 October 1964. The Japanese high speed train system now provides over 400 million passenger trips per year, and travels at a top speed exceeding 300 km/hr. Similar high speed passenger trains have been developed in Europe, China and the US. The Byrne Seminar will trace the development of high speed passenger trains and their future.

Course Number: 01:090:101 section 72

Semester: Fall 2022

Professor: Arnold Glass (Psychology)

Description: Ask me to tell you the story of my life, and I will weave an answer based on what I best remember of my experiences. But are all of my memories true? Did they really happen? Thirty years ago human memory was believed to be the result of some sort of recording device in the brain. We now know that autobiographical memory is a narrative that is constantly being rewritten. So, some of our memories of past experiences are in fact false. In this seminar, we will examine the popular theories of memory of the past hundred years and the scientific evidence of today. We will consider the new view of memory as something malleable and its implications for society.

Course Number: 01:090:101 section 14

Semester: Fall 2022

Professors: Francesca Maresca (Rutgers Student Health); Laura Stone (School of Nursing)

Description:

"Wellness must be a prerequisite to all else. Students cannot be intellectually proficient if they are physically and psychologically unwell." -Ernest Boyer

This course will explore the role that wellness plays in student success both inside and outside the classroom. Utilizing the dimensions of wellness (emotional, physical, social, academic) as a structure, students will investigate the impact of stress on multiple dimensions of wellness, delve into the research on wellness in higher education, explore wellness and its relationship to academics, and discover new strategies for improving their personal wellness. Students will learn how the dimensions of wellness are connected and impact various aspects of their higher education experience. Students will have the opportunity to put theory to practice in their own wellness behaviors, learn various perspectives of wellness on campus and proactively develop a personal wellness action plan through assessment and research.

Course Number: 01:090:101 section 55

Semester: Fall 2022

Professor: Labros Sidossis (Kinesiology and Health)

Description: The purpose of this course is to introduce students to the concepts of wellness of healthy lifestyle for the prevention and treatment of lifestyle-related diseases, such as cardiovascular diseases, diabetes, stroke and obesity. Students will gain an insight into the concept of wellness, become familiar with the components of healthy lifestyle (e.g., nutrition, physical activity, sleep, stress, social life etc.) and understand the role of lifestyle choices in health promotion and disease prevention. Students will gain evidence-based knowledge to adapt a healthy lifestyle during their studies at Rutgers University

Course Number: 01:090:101 section 26

Semester: Fall 2022

Professor: Charles Keeton (Physics and Astronomy; Academic Dean, School of Arts & Sciences Honors Program)

Description: How many times have you waited for an H bus only to see three LX's roll by? And when the H finally arrives, it's so packed that you can't get on? Have you ever wondered how the university decides how many buses to run, and when? The answer is by building models of student bus travel. Models, and algorithms based on them, actually permeate our lives, from weather forecasts to political predictions to online shopping and streaming. In this seminar, we will examine models and algorithms to see how they work, how they are built, and how they can be "scientific" even if they aren't just about science. Through a series of case studies, we will examine the simplifications and assumptions that are built into models, discuss circumstances in which they are reasonable, and consider how and why they break down. We will then think about our own model of Rutgers bus travel, focusing on the information and assumptions needed to make it work. Ultimately, our goal is to understand that "all models are wrong but some are useful" (George Box) and "algorithms are opinions embedded in code" (Cathy O'Neil)

Course Number: 01:090:101 section 03

Semester: Fall 2022

Professor: Christopher Manente (GSAPP, Executive Director, Rutgers Center for Adult Autism Services) and Vanessa Bal (GSAPP, Karmazin and Lillard Chair in Adult Autism)

Description: There are currently more than 5,000,000 adults with autism living in the United States, with 50,000 more that "age-out" of their school-based educational entitlement every year. Many adults with autism are without access to high-quality services and supports. As a result, these individuals are often relegated to long adult lives characterized by social isolation, unemployment, untreated psychological and physical health conditions, and near complete reliance on parents, family, and other caregivers to meet their basic needs. This situation represents a crisis for many adults with autism and their families.  This current state of affairs is largely due to a lack of trained staff, an absence of research related to the most effective practices for supporting adults with autism across settings & contexts, and few existing models for the delivery of high-quality clinical services.  This seminar will examine the nature of autism and the many ways in which a diagnosis of autism can impact a person's life throughout adulthood.  Additionally, the seminar will provide a guided exploration of the historical context of society's views and awareness related to autism and the many iterations of models for services and supports that have been implemented ranging from confinement in segregated institutional settings, other community-based models of care, and recent innovative models of services and support that are currently emerging for this population.  The seminar will place a particular emphasis on the dire need for highly skilled practitioners from a variety of academic and professional disciplines to get involved in the development of innovative solutions to the multitude of challenges faced by autistic adults in their pursuit of a meaningful adult life in their communities.

Course Number: 01:090:101 section 68

Semester: Fall 2022
Byrne Courses: Social Sciences
Professor: Milton Heumann (Political Science)

Description: We begin with reading a journalistic account of criminal justice in Chicago. This is followed by a more general discussion of criminal justice across many cities. Next a prosecutor, defense attorney , and judge speak to the seminar and share their experiences with particular emphasis on their most memorable cases and with their most poignant insights from their careers working in the courts. Students have the opportunity to carefully question the speaker, and test hypotheses derived from the readings against the speakers' experiences.

Course Number: 01:090:101 section 33

Semester: Fall 2022

Professor: David Tulloch (Landscape Architecture)

Description: From Yellowstone to Yosemite, National Parks and Parklands are designed to send all sorts of messages to their visitors. This class will explore ways that National Parks (focusing primarily on those in the US) communicate messages to visitors. Designers have also employed precisely aligned roads and buildings rich in symbolism to communicate with visitors at an experiential level. Published materials, such as the impressively consistent NPS brochures used at every park, and carefully designed signs provide an overt system of communication. The class will visit a NPS site to look for messages and learn more about this amazing network of natural treasures.

Course Number: 11:090:101 section 15

Semester: Fall 2022

Professors: Ronald Quincy (School of Social Work); Conrad Person (Senior Director Ret., Corporate Contributions, Sub-Saharan Africa, Johnson & Johnson)

Description: In this seminar, we will examine the challenges that nonprofit organizations encounter to amass the assets and resources needed to manage their charitable and public services. Traditional and nontraditional fundraising methods will be discussed, along with marketing principles. You will learn the art and science of "asking" for money, inside tips on successful grantsmanship; and how to write winning funding proposals. The seminar will focus on "how to land the big fish." Readings and discussions will be drawn from newsletters, journals, writings of top fundraisers, and "best practices" scholarship in this field of study. Following the course, students will be able to write grant proposals, and enhance their techniques on how to "ask" for funding.

Course Number: 01:090:101 section 76

Semester: Fall 2022

Professor: Nancy Schley (School of Social Work)

Description: The course will examine ways to establish positive, affirming relationships with peers, colleagues, professors, mentors, supervisors, and employers to enhance professional development. Communication patterns, active listening skills, Emotional Intelligence, Motivational Interviewing techniques and leadership skills will be discussed. Goals of the course include identifying ways to establish trust in relationships, embrace differences, share power, and engage in critical conversations. Creating a vision for the future and identifying personal motivation for growth through guided reflection is a cornerstone of the course. Experiential learning via didactic role play, small group discussion and exercises, and journal reflections will be the focus along with traditional lectures and readings.

Course Number: 01:090:101 section 36

Semester: Fall 2022

Professor: John Pavlik (Journalism and Media Studies)

Description: Understanding the nature and impact of digital technology on media and society is the focus of this seminar. Students examine the changing nature of media in the digital environment, including social media, and their consequences, especially implications for civility, democracy, journalism and beyond

Course Number: 01:090:101 section 16

Semester: Fall 2022

Professor: Edward Ramsamy (Africana Studies)

Description: The life and legacy of the esteemed Rutgers alumnus Paul Robeson embodies the idea of "global citizenship." A towering figure in the African American struggle for human dignity and democratic rights, he connected this struggle with those of other peoples around the world who were also fighting for political rights, cultural recognition and economic justice. For example, among many other social justice movements that he embraced, Paul Robeson pioneered the global solidarity movement against racial segregation and white supremacy in South Africa and supported and marched with various British union movements in the United Kingdom struggling for better working conditions. The seminar introduces students to the life and legacy of Paul Robeson, especially with respect to how he integrated "home" and "world" into his civil rights activism.

Course Number: 01:090:101 section 53

Semester: Fall 2022

Professor: Elie Honig (Executive Director, Rutgers Center for Critical Intelligence Studies)

Description: This course focuses on the role of the prosecutor both as a protector of the community and as an agent of justice. At every step of the criminal justice process—from investigation to arrest to bail to charging to plea negotiations to trial to sentencing—the prosecutor must make critical choices. Every one of these choices impacts not only the criminal justice system but also the citizens who face incarceration and the families and communities who rely on those citizens. This course examines how a prosecutor can do his or her job both with a passion for justice and with compassion for the people and communities impacted by the justice system.

Course Number: 01:090:101 section 42

Semester: Fall 2022

Professors: Richard Anderson (Division of Continuing Studies; Rutgers Makerspace); Daniel Swern (School of Communication and Information)

Description: Cities face challenges when it comes to messaging about available social services, historical curiosities, and creative culture. Community access isn't necessarily limited by financial or bureaucratic barriers, but through wayfinding and navigation due to poor signage or a dearth of public information. Through web-based tools in XR (extended reality, inclusive of augmented and virtual reality), our smartphones can give us the ability to immediately reveal resources hidden in plain sight as well as provide on-the-fly context and insight for both our built and natural environments. XR integrates real world experience with virtual world access. When produced as a robust community-based ecosystem, XR adds another layer of texture to the places where we live and work, and fundamentally changes the way we think about a traditional neighborhood. By using the mobile camera to frame and interact with the world, we're helping people frame and interpret what they are seeing. Through the use of game mechanics and incentives, we're enhancing and encouraging exploration and fighting isolation between individuals. Students will learn augmented reality 3D-modeling and game development in Unity (ubiquitous developer software), and meet with New Brunswick community and nonprofit leaders to marry their applied technical and creative skills with real world service access needs. Deiner Park on College Avenue Campus will serve as the real world workspace for XR development as it is public space right on campus that represents a convergence of unique creative, environmental, residential, transportation, and service access challenges and opportunities to be explored in the technology lab.

Course Number: 01:090:101 section 58

Semester: Fall 2022

Professors: Randi Chmielewski (Eagleton Institute of Politics); Elizabeth Matto (Eagleton Institute of Politics)

Description: In order for democracy to work, citizens need to be able to talk to each other. Addressing public policy challenges, such as stable economic growth, health care, and college affordability, requires reasoned deliberation, critical thinking, and open and civil discourse. Unfortunately, such models of political discussion can be few and far between in contemporary American politics. This seminar considers why engaging in honest but civil political discussion is integral to American democracy's success, and explores productive ways to go about it. Topics that we'll consider include: What are the effects of adversarial political interactions on the political process? What steps can be taken to ensure that political discussions are productive? How can we have respectful and honest conversations about public problems and their proposed solutions when we disagree? Students will be exposed to a range of examples of political deliberation (some contemporary and some historical), will witness models of political discussion regarding current policy issues, and will be offered opportunities to build their own skills in political discussion.

Course Number: 01:090:101 section 05

Semester: Fall 2022

Professors: Kristoffer Shields, Historian (Eagleton Center on the American Governor) and John Weingart (Associate Director, Eagleton Institute of Politics)

Description: As the chief executives of their states, governors shape policy, set the state agenda, and act as their state's representatives in the public eye. That not only makes some of them national political figures (and logical presidential contenders), but also usually the most important and powerful person in the state during their term(s) in office. In 2022, thirty-six states are holding gubernatorial elections. Which races are the most closely contested? Which have the greatest national implications? Which are the most fun? In this seminar, we will answer those questions and also look at the role of the governor in the future of our democracy. We'll learn from the examples of expert analysts, campaign professionals, gubernatorial staff members and a former governor or two, leading us to another set of important questions: Who becomes governor? Why do governors matter? Why should we care about governors of other states? What are the key issues in the 2022 races and what do they tell us about our political world? And perhaps most important: How can YOU be involved? 

Course Number: 01:090:101 section 61

Semester: Fall 2022

Professors: Amy Miele (Associate Director, Student Affairs Compliance and Title IX) 

Description: This course provides an introduction and exposure to the principles of restorative justice and its application to the treatment of social problems. In this course we will focus on the fundamental principles and practices of restorative justice, explores the needs and roles of key stakeholders (victims, offenders, communities, justice systems), outline the basic principles and values of restorative justice and introduces some of the primary models of practice.

Course Number: 01:090:101 section 60

Semester: Fall 2022

Professors: Doug Brownstone (Management and Global Business)

Description: This course is designed to offer students a direct hands-on experience in learning about and participating in a Hackathon – while learning techniques to solve business problems. Students will be exposed to and will practice advanced Hackathon techniques to enable them to better solve business problems and create new ideas. In addition, this class will enable students to effectively compete in Hackathon events that are now held around the world.

Course Number: 01:090:101 section 62

Semester: Fall 2022

Professors: Sharon Lydon (Associate Dean of Alumni and Corporate Engagement, Rutgers Business School)

Description: Throughout history, and certainly during the history of the United States and Rutgers University, progress has been synonymous with leadership. The revolutionary understanding of leadership is that it is everywhere and in everyone's capacity. While some may be born with a number of the attributes needed for outstanding leadership, it is well accepted, that leadership is something that can be learned and that can be studied. This seminar explores qualitative and quantitative research "on leadership," and reviews research and theory toward the goal of empowering students to be leaders in all aspects of life, including college, career, and community. Topics include leadership in academic, corporate, and nonprofit work environments, as well as leadership styles and competencies. Relevant issues related to women and ethnic minorities will also be discussed. The course includes readings and dynamic discussion, debate, role-play scenarios, and real-world visibility and exposure to leadership with distinguished course co-instructors, and guest speakers from academic, health care sector, and corporate leadership contexts.

Course Number: 01:090:101 section 64

Semester: Fall 2022

Professors: James W. Hughes (Dean Emeritus, Bloustein School of Planning and Public Policy) and David Listokin (Bloustein School of Planning and Public Policy)

Description: This seminar will provide students with an overview of both New Brunswick and Rutgers (College Avenue Campus) over time—from historic to current. We will examine the history and redevelopment of New Brunswick, New Jersey in the context of national and state-level broad economic and demographic changes, and national urban redevelopment policy. In parallel, we will study the evolution of Rutgers College Avenue Campus, including notable campus buildings. Also reviewed are redevelopment and historic preservation tensions and synthesis both in New Brunswick and at Rutgers. The course includes field trips to New Brunswick redevelopment sites and historic campus locations.

Course Number: 01:090:101 section 66

Semester: Fall 2022

Professors: Donna Gustafson (Chief Curator, Zimmerli Art Museum) and Hal Salzman (Bloustein School of Planning and Public Policy)

Description: 

In this seminar we examine the movements and counter-movements to war, both hot and cold wars of the past 100 years, through the lens of the visual arts, photography, film, and music, and will include guest lectures by artists along with museum and/or gallery visits. The seminar explores Art (Gustafson) and Public Policy (Salzman) to examine how recent and current policy issues have been and are represented in the arts, and the role of artists in public discussions of policy. Whether the isolationists or anti-fascists of World War II, the "war at home" along with the "hot war" in Southeast Asia, and the shutting down of dissent from within Russia during its invasion of Ukraine, art is an integral part of the politics of dissent as well as the efforts to create consent. Whether the socialist realism fostered by the Soviet state, or the abstract expressionism supported by the U.S. Central Intelligence Agency as visualization of freedom, governments see art as vital to their policy statecraft. Similarly, protest and resistance movements use the arts to engage their audiences and create a community in opposition.

At the university's Zimmerli Museum we have the opportunity to explore protest art and politics in the collection of non-conformist Soviet art, feminist protest posters by the Guerrilla Girls and others, and European political prints from the nineteenth century. We examine politics as reflected in the arts of hot and cold wars and the politics of those wars.

We will have guest artist lecturers, museum visits, and consider historic and contemporary examples of artists' engagement with war, politics, and policy. Through this intersection of art and politics, students will learn to unpack the visual politics of images and propaganda and also learn to visualize the effect of policy on those for whom the political is personal. 

Course Number: 01:090:101 section 69

Semester: Fall 2022
We invite Rutgers–New Brunswick faculty to teach a Byrne First-Year Seminar in the 2022-2023 academic year. This program, which will celebrate its 15th anniversary in 2022, connects full-time Rutgers faculty with our new students as they begin their undergraduate study. We are excited about the long-term potential of these seminars to reshape our students' sense of what Rutgers means as a research university. Connecting students early-on with our faculty make a significant difference in the ways they define their academic and career goals. We hope that many of the outstanding scholar-teachers across the New Brunswick/Piscataway campuses will join us.
Questions? Contact James Register at byrneseminars@rutgers.edu or call 848-932-6971.
Course Requirements
Byrne Seminars are taught by full-time faculty and/or senior administrators. Courses range in topics meant to arouse the intellectual curiosity of our undergraduates and introduce first-year students to the resources of Rutgers.
The following are requirements of all Byrne Seminars. Failure to meet the requirements will result in the cancellation of the course.
Courses must meet for 1.25 hours once per week for 10 weeks, or for 2.5 hours once per week for 5 weeks.
There is a 20-student maximum in each seminar; 10-student minimum.
All instructors must review, sign, and return the Byrne Instructor Agreement by the established date.
The individual listed on the Instructor Agreement must be the person who is teaching the seminar. Our office must be notified if any changes are necessary.
Using the syllabus template, instructors must submit a copy of the syllabus to our office by the established date. Posted office hours must be included on the syllabus.
Requests for seminar enhancement funding must be submitted via our website by the last week of September for the fall semester, or last week of February for the spring semester.
Grading and Course Material
The course syllabus must clearly demonstrate how grades will be assigned and include a grading rubric. Students who are successful in the Byrne Seminars will earn one academic credit; therefore, the assigned work must be reasonable. Attendance and class participation are essential and should make up at least 50 percent of the course grade. To earn a passing grade, students should not miss more than two class meetings.
Reading: Based on successful seminars, we recommend a maximum of 30 pages of reading per week. Students should be asked questions based on the required readings which will prompt discussion during class.
Writing or Presentations: Based on successful seminars, we recommend a maximum of 5-7 pages of formal writing, 15-20 minute presentations, opportunities for group work, or some combination over the course of the entire semester.
Compensation
As of the 2022–2023 academic year, faculty and senior administrators will receive $2,500 research stipends. Faculty who co-teach a Byrne Seminar with one other colleague receive $2,000 each. Research funds will be transferred into your account via journal entry within 30 days after the completion of the course. The account information and the name of your business contact person must be sent to Senior Program Coordinator James Register by the established date. Please note that research funds will not be transferred until our office has received the signed agreement, a copy of your syllabus, your account information and your business contact person.
Seminar Enhancement Funding
The Office of the Provost has set aside a limited amount of funds which may be used for field trips, outside speakers, and special events. Requests for seminar enhancement must be submitted via this online form. Funding is available on a first come, first served basis.
Field Trips
All field trips for which you want support from the Office of the Provost must be approved beforehand. All students are required to participate in the field trip. A trip itinerary and waiver forms must be submitted no later than two weeks after the seminar start date. Appropriate transportation for your trip, NJ Transit tickets or a bus, will be arranged. Instructors will also be reimbursed for admission fees/tickets and for reasonable food requests depending on the duration of the trip.
Outside Speakers
Our office will pay up to $250 toward a speaker's fee. For payment of speakers and honoraria, the name, contact information, and social security number of speaker; date of speaking engagement; course information including the course name, date, time, and location; expectations of the speaker, such as name of speech or topic discussed, question and answer, discussion, book signing, etc.; and the agreed-upon cost of speaker, invoice, and W9 form are needed.
Our faculty brochure provides an overview of the Byrne Seminars program. Please review our syllabus guide for required items such as academic integrity, absence reporting, and disability services