Rutgers Community Writing Workshop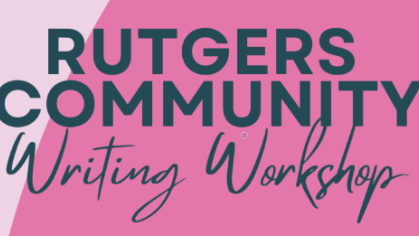 Join Roxane Gay, the Gloria Steinem Endowed Chair, and a brilliant group of writers, editors, and agents for a full day of workshops and panels on how to get your writing into the world.
A selection of masterclasses are available to attend including:
"Refuse to be Done: Novel Writing and Revision" with Matt Bell, author
"The Space Between" with Hafizah Geter, author
"What is Craft?" with Matthew Salesses, author
"The Universe is Made of Stores" with Vanessa Mártir, author
Additional guest speakers include:
Carmen Maria Machado, author of the bestselling memoir In the Dream House and the award-winning short story collection, Her Body and Other Parties
Courtney Maum, author of five books including Before and After the Book Deal  and the memoir The Year of the Horses
Deesha Philyaw, author of The Secret Lives of Church Ladies
Tickets are available for $50 per person. Spaces are limited and available on a first come, first served basis.