September 11, 2019
Dear Members of the Rutgers Community,
Today marks the 18th anniversary of the 9/11 attacks on the United States. Each year on this day we remember the thousands of lives lost in New York City, Washington D.C. and Pennsylvania. The victims included many members of the Rutgers community.
Many of us have vivid memories of that morning and the significance of those events continues to resonate across the world. We will never forget the sacrifices made and the enduring costs of a tragedy so fueled by hate. The countless acts of courage and unity demonstrated at the sites of the attacks, at Rutgers and around the world inspire us every day.
We encourage you to take a moment today to reflect and remember those who died and honor those who joined together to support one another in the quest for decency, kindness, and freedom.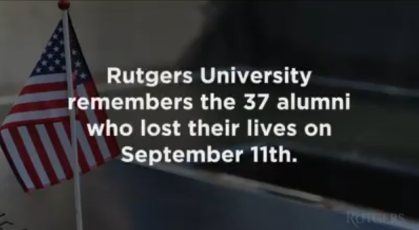 Watch as Rutgers takes a moment to reflect and remember the 37 Rutgers Alumni and thousands of others who lost their lives on September 11.
Sincerely,
Christopher Molloy
Chancellor, Rutgers University–New Brunswick
Brian L. Strom
Chancellor, Rutgers Biomedical and Health Sciences