Tyler Clementi Center 2020 Symposium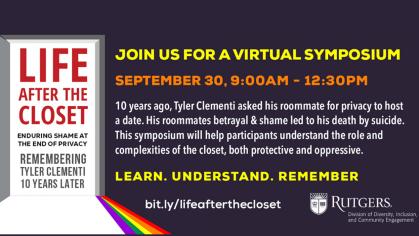 Ten years ago, Tyler Clementi asked his roommate for privacy to host a date. His roommate obliged in word, but without Tyler's knowledge or consent, live-streamed Tyler's time with his date. Tyler learned of this betrayal via social media and a few days later, died by suicide. 
This symposium will help participants understand the role and complexities of the closet, both protective and oppressive. We will contend with shame and the lives of gay men across generations, the consequences of the loss of privacy, and the way that intersectional, particularly minoritized identities, can shift experiences revealing the cost and utility of the closet.
Learn more and register for the event.
Symposium Schedule

9:00 a.m.–9:10 a.m.: Welcome from President Jonathan Holloway
9:10 a.m.–9:20 a.m.: Remarks from Jane Clementi
9:20 a.m.–9:55 a.m.: "What I Learned from Tyler's Story: Matters of Life and Death in a Screen-Centric World" - Richard Miller
10:00 a.m.–10:40 a.m.: "Shame and Understanding in the Lives of Gay Men across Generations" - Perry Halkitis
10:45 a.m.–11:00 a.m.: Wellness Break
11:00 a.m.–12:30 p.m.: "Shame at the Intersections of Race, Class, Gender and Sexuality" - panel discussion with:
Mignon Moore (Barnard College)
Perry Halkitis (Rutgers University, School of Public Health)
Ellen Short (Long Island University-Brooklyn) 
Remembering Tyler Clementi, Finding Support at Rutgers
Tyler's death sparked local and national conversations about sexuality, cyber-harassment, safety, and inclusion within and beyond college campuses. To learn more about Tyler's Story, visit the Tyler Clementi Foundation, a non-profit organization committed to end online and offline bullying, harassment, and humiliation. The Tyler Clementi Center for Diversity Education and Bias Prevention serves as a campus resource promoting understanding and engagement to build an inclusive campus community. This unique center blends a research focus with educational outreach initiatives targeting faculty and staff. The Center for Social Justice Education and LGBT Communities in the Division of Student Affairs leads campus efforts to foster an affirming campus experience for LGBTQ+ students by building community, providing support, and promoting learning.